New England Patriots: A Piece of Advice for the Patriots To Win the Super Bowl
December 22, 2011
I like this Patriots team.
Even with our disappointing losses to the Bills, Steelers and Giants, I feel pretty good. Yeah, we have the last-ranked defense in the league, but somehow I never fear the possibility of giving up big points or being outscored.
Sometimes our offense just isn't stellar, and on those occasions we're going to come up short. That's life. But I'll tell you what: The view from 11-3 is pretty nice.
This is a good team to have. For all the times they've made it difficult for the fans to keep the faith, I must say I'm pretty glad to be a Patriots fan.
I know a lot of people from Philadelphia, so naturally they're all Eagles and Flyers fans. When I'm with them, I see the pain in their eyes, and I suddenly regret all the times this year when I moaned and groaned about our shabby defense, or all the times I expressed disappointment about not winning a fourth Super Bowl.
Sometimes it's nice to stop and smell the roses.
And since the Bruins are on their way to repeating and building a dynasty, these roses are smelling particularly sweet.
But Patriots fans are still in a strange state of limbo right now. We don't want to get burned again. When you put yourself out there, and then your team goes one-and-out, it hurts.
We just won a hat and T-shirt game. We're the AFC East kings. It's nice. But as Boston fans, we've been trained to expect the whole meal.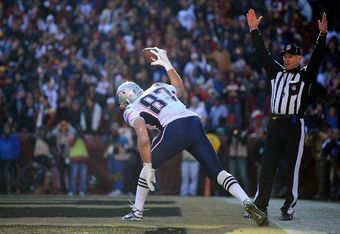 And the whole meal includes dessert.
On their radio show, Andy Gresh and Scott Zolak recently debated about whether or not Boston fans are spoiled.
Well, we are. And I like it that way.
But on this day, for a brief moment, I'd like to thank the Patriots for playing their hearts out this season.
Rob Gronkowski is in the running for MVP. Do you know how ridiculous that sounds to write?
Wes Welker is also in the running for MVP.
And guess what? When these MVP candidates are having mediocre games, we have Woodhead and Hernandez to carry the load. That's simply incredible. If we can get Edelman and Ochocinco up to snuff, we'll be walking on clouds.
We have a real shot to win a Super Bowl ring this season. I can't say I'm totally confident, but I can tell you I feel good.
If I could give the Patriots one piece of advice, it would be this: Do not be bullied.
The Patriots have gotten manhandled in three out of the last four postseasons, and they've developed a reputation as a soft team. The Steelers and the Ravens really believe they can push the Patriots around. I know they believe that.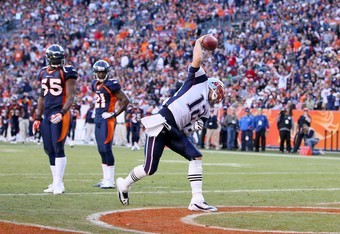 But I also know that, deep down inside, those teams are afraid of Tom Brady. It might not show, but there is fear there.
The Super Bowl is there for the Patriots. All they have to do is take it.
Do not be bullied. Do not be pushed around.
Yeah, they have the worst defense in terms of yards, but the Packers have the second worst. So what does that tell you? It tells you that numbers lie.
Do not be bullied. You're the Patriots, so act like it.
My question is this: Is this Patriots team starving for a ring? Championship teams are lean, mean and hungry. The 2001 Patriots were brash, brave, bold and ready to rip red meat apart with their teeth and drink the blood. Does this Patriots team have that kind of thirst and desire?
Just who is the new Tom Brady? He's not the same young, single, loud-mouthed punk with something to prove anymore. There's no Drew Bledsoe on the sidelines itching for his job back.
Tom's a family man now. He's financially secure, he's a legend cemented in the history books and he's complete as a person.
But is he Tom Brady 2.0?
Does this Tom Brady have the stomach to drink blood like his younger self? Will he lead his men into brutal warfare and risk his body to win it all? What does he feel inside? Is he still hungry?
Each morning when Tom Brady wakes up, he's a newer version of himself. His new priority in life is probably his family. But I do take comfort in that no matter what changes or evolves in his personal life, he'll always be the guy who was picked 199th in the draft, and that means he'll always be the Tom Brady from 2001, 2003 and 2004.
Championships are rarely won by the better team, but rather, they're won by the team who wants it more.
Guys like Woodhead, Edelman, Welker, Gronkowski, Hernandez and Green-Ellis don't come along very often. Even Chung, Mayo, Wilfork and Anderson are pretty special.
Well, they're all here.
And they've got Tom Brady and Bill Belichick. But what do these guys feel in their heart of hearts? Is the AFC East crown enough, or do they live for more?
When they lay their heads on their pillows at night and close their eyes, do they see the Lombardi Trophy?