NBA Season Preview: Charlotte Bobcats Bring Youth and Vigor
December 23, 2011
Streeter Lecka/Getty Images
The Bobcats are small, young and relatively inexperienced coming into this season. But with their brand new look comes a strong feeling of optimism within the franchise, and the excitement of being able to build around their young talent for the future.
Gone are the major pieces of their 2009 playoff squad; Raymond Felton (Portland), Stephen Jackson (Milwaukee),  Gerald Wallace (Portland) and Tyson Chandler (New York) have all moved on in their respective careers.
However, what the Bobcats lack in playoff experience they make up for with youth and energy.
Last season, DJ Augustin developed as the starting point guard for Charlotte, taking over the reins left by Raymond Felton when he left for New York. His scoring could use some improvement, but he has shown his ability to run the offense and move the ball around.
Gerald Henderson shined after the departure of Gerald Wallace last season. In his last eight games in April, Henderson averaged 16.3 points and 4.5 rebounds on 44.8 percent shooting. However, he had hip surgery in the summer, which will likely affect his rhythm and conditioning. If he is 100 percent going into the season, look for him to continue where he left off last year.
Tyrus Thomas was efficient in his reserve role last year with the Bobcats last season, but was constantly hampered by injuries throughout the season. Now that he is in a starter position, it is unclear if his body will be able to keep up with his talent.
Thomas is an exceptional athlete and a solid defender, but has already missed time with an ankle sprain. His constant injuries will likely affect his chemistry with his teammates, making it difficult for him to establish his role and place within the offense. Last year Thomas took over games offensively, and in others, it seemed he was hesitant to shoot the ball.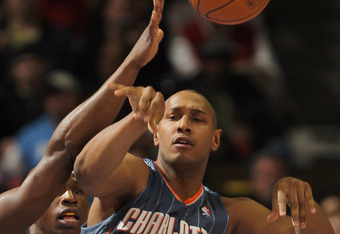 Doug Pensinger/Getty Images
The biggest concern with the Bobcats is Boris Diaw at center because of an out-of-shape DeSagana Diop and a less-than-impressive Melvin Ely. While he's an extremely talented and versatile player, there's no way he'll survive going up against the true centers in the East. As hard as he may try to stick with a player like Dwight Howard, Diaw will find him overmatched by Howard's sheer strength and size.
In addition, forcing Diaw to suffer the constant wear and tear as an undersized "big man" defeats the purpose of having such a versatile player capable of playing anywhere on the court. Bobcats fans will have to pray Diop gets into playing shape sooner rather than later, and that he maintains the same mobility he had before his Achilles injury.
Perhaps the most exciting player on the Bobcats roster is the newly drafted rookie Kemba Walker. Coming off a very successful year last season in college, Walker's potential is sky-high. If he can adjust to the NBA pace and game, Walker will provide excellent scoring off the bench for Charlotte.
Stuck behind teams like Miami, Orlando and Atlanta, don't expect the Bobcats to be anywhere near the top in the Southeastern Conference this season. However, if this core group can remain intact, we may see them up there in the next two or three.
My Predictions
1, Charlotte keeps its fourth spot in the Southeastern Conference, significantly better than the Wizards.
2. Gerald Henderson keeps his promise about shooting more threes this season and averages one a game, but at a sub-35 percent clip.
3. Diop never returns to "good" shape. Even if he manages to drop all the weight, he won't be nearly as useful as he was in Dallas.
Previous season previews: Atlanta Hawks, Boston Celtics