New York Islanders: John Tavares Given Diving Penalty After Being Cross-Checked
December 24, 2011
Bruce Bennett/Getty Images
With 3:01 in the third period, Joffrey Lupul laid a cross check on John Tavares. The Islanders were down 4-3 after coming back from a three-goal deficit and had controlled the momentum for much of the third period.
With the Isles expected a powerplay and a chance to tie the game and bring it to overtime, the refs also awarded Tavares a penalty for diving.
Diving? Yes, diving.
The crowds were furious, Tavares was furious, but the most furious person of all was assistant coach Doug Weight.
After the game, Tavares reported that the referee gave no explanation as to why he was given a diving penalty, ruining the Islanders last chance for a comeback.
Now, the Islanders played a great game after one of the worst starts to the first period I've ever seen. Giving up three goals in 15 minutes to the Leafs until Kyle Okposo finally scored in with five minutes left in the first.
After that first period the Isles showed they were the better team. Then, when they finally had a chance to tie up the game it was stolen.
This is not the first time the refs ruined an Isles chance for a comeback. 
On October 29th against the San Jose Sharks, where only a few seconds into overtime Travis Hamonic received a penalty for delay of game after an attempt to clear the puck caused it to hit the glass and bounce out of play.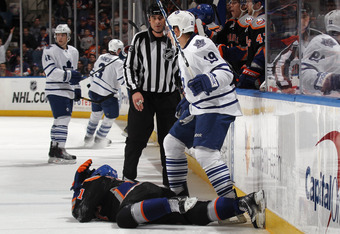 Bruce Bennett/Getty Images
On December 10th against the Pittsburgh Penguins, Travis Hamonic received a game misconduct for a so-called "elbow" on Brooks Orpik even though his elbow never touched his head.
As an Islanders fan with faith in the team, I'm tired of bad calls ruining possible chances. Obviously the powerplay wasn't guaranteeing anything, but the Islanders had scored on a powerplay earlier in the game and the Leafs, unfortunately, have the worst penalty killing in the NHL.  
I'll always have faith in my Islanders, but this is just ridiculous.