NBA Season Preview: Cleveland Cavaliers Rebuilding One Block at a Time
December 24, 2011
Mike Stobe/Getty Images
Last season for the Cavs was absolutely painful to watch. Watching them get Kyrie Irving only makes it a tad bit sweeter.
After losing in the LeBron James sweepstakes, everyone knew it would be a long rebuilding process for Cleveland. But watching how poorly they played revealed just what little support James had in his time there.
The Cavs were completely unable to establish themselves on offense, winding up 25th in the league in scoring and only scoring 95 points a game. They were terrible on defense, giving up 104.5 points a game to opposing teams, the eighth highest in the NBA. Their overall differential was -9.0—the worst in the league.
Sure, they lost their best player, but one would imagine a half-decent supporting cast would maintain some semblance of a professional basketball team. Instead, the Cavaliers looked like a bunch of D-Leaguers who had no place playing amongst the big boys.
Gifted the No. 1 pick from the Los Angeles Clippers for absorbing Baron Davis, the Cavaliers drafted Kyrie Irving out of Duke, giving Cavs fans something to hope for.
While Irving is definitely a cause for optimism, to say or even think that the Cavs will go anywhere this season would not only be foolish, but would truly diminish the extent of their problems.
The Cavs weren't horrible last season simply because they didn't have a point guard. In fact, Ramon Sessions had a career-best season last year, scoring 13.3 points on 47 percent shooting and 5.2 assists per game. Mo Williams also averaged 13.3 points and had seven assists to go with it.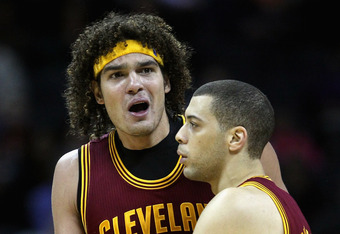 Streeter Lecka/Getty Images
No, the Cavaliers have a laundry list of problems from top to bottom.
Anthony Parker is old. People say he can still shoot the ball, but he only scored 8.3 points on 39.9 percent shooting last season. Keep in mind that that was without LeBron James, when the Cavs needed players to step up and contribute offensively the most.
They say he can still play shutdown defense, but with a defensive rating of 113, Parker is just an average defender. And his Defensive Win Shares rating of 0.6 is not at all impressive.
Speaking of old, it's quite clear Antawn Jamison can no longer be counted on to offensively take over a basketball game. Slowed down by age and injuries, Jamison is having a harder time fooling defenders and creating his own shot. He shot a career-low 42.7 percent, and his rebound has dropped significantly in recent years.
Anderson Varejao is a terrific hustle player, but to no fault of his own, he lacks a lot of the skill other players possess. It's unfair really, to see how hard he works and how much passion he plays with, and yet he's still just a decent center. He's solid on defense, but his offense could use some work.
Many people say Omri Casspi's due for a breakout year. I'm not going to dispute that, but it's really up to him to perform. Casspi was inconsistent in Sacramento, struggling at times and showing flashes of brilliance at others. He's got a solid stroke from the perimeter, but his defense will have to improve if he is going to guard the quicker, stronger small forwards in the league.
Don't expect too much from this year's squad. They're going to be better than last year, but it will still be a rebuilding year nonetheless. At least they have talent to build around Kyrie Irving and possibly Tristan Thompson, who is still very rough around the edges.
My Predictions
1. Cavs finish the season 16-50.
2. Irving takes the point guard position from Sessions and doesn't look back.
Previous season previews: Atlanta Hawks, Boston Celtics, Charlotte Bobcats, Chicago Bulls.