NBA Season Preview: What to Watch for and Expect from the Detroit Pistons
February 18, 2017
Kevin C. Cox/Getty Images
It was only a few seasons ago that the Detroit Pistons were perennial title contenders in the NBA. They made the playoffs seven times from 2000-10, and were victorious in the 2004 finals.
Detroit hasn't been able to reach the playoffs for two seasons now, and only the aging Ben Wallace and Tayshaun Prince remain from the Pistons' championship team.
General manager and former Piston great Joe Dumars has been gathering some good-looking young talent in Detroit in recent years, and hopes to see his team back into the Eastern Conference playoffs once again this season.
This past June, the team was sold to billionaire Tom Gores, whose first move was the firing of head coach John Kuester.
Kuester was replaced by Lawrence Frank, a former assistant coach under Doc Rivers in Boston. A defensive-minded coach, Frank should be a great fit for Detroit's already offensive-oriented roster of players.
On December 11th, Detroit parted ways with guard Richard Hamilton, one of the last remaining players from the Pistons' days of title contention. Hamilton was rumored to have been in a heated feud with coach Kuester last season, in which the team finished 32-50. Hamilton is now the starting shooting guard for the Chicago Bulls.
During the 2011 NBA Draft, the Pistons picked up Kentucky point guard Brandon Knight with the eighth overall selection. Duke's Kyle Singler and Florida's Vernon Macklin were picked up in the second round.
Knight is a tremendous young talent, who was often overlooked due to the outstanding selection of point guards in this year's class of rookies.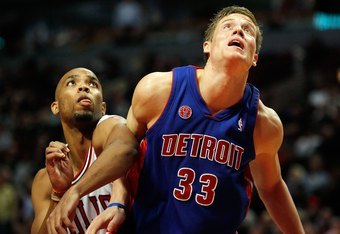 Jonathan Daniel/Getty Images
A two-time Gatorade National Player of the Year, in high school, Knight has the potential to be an excellent all-around point guard, but will likely come off of the bench this season in relief of starter Rodney Stuckey.
After the end of the NBA lockout, Singler opted to play in Spain for the duration of this season, and signed a contract with Real Madrid. Macklin will play a reserve role behind the many other big men in Detroit.
Stuckey is hoping to have a breakout year as the Pistons' floor general in 2011-12. The 25-year-old recently agreed to a three-year, $25 million contract this offseason, and embraces the idea of mentoring the young rookie Knight, while thriving in his starting role.
Will Bynum is another option at the point for the Pistons. Standing at just 6' tall, Bynum is a little ball of energy, and plays a role similar to that of Nate Robinson or J.J. Barea for Detroit.
Three-point specialist Ben Gordon was one of the team's leading scorers last season, but he's seen a steady decline in his numbers since leaving the Bulls for the Pistons. He averaged just 11 points per game in 2010-11, much lower than his 20 PPG during his final season in the Windy City.
If Gordon doesn't turn it around a bit this season, it's entirely possible that Dumars could look to part ways with the 28-year-old this coming offseason.
Prince and Wallace are the team captains for Detroit this season, but it's entirely possible that neither of them will be in the Pistons' starting rotation come opening day.
At center, it is entirely likely that Greg Monroe will be the starter once the season begins. Monroe became the starter a month into the 2010-11 season, and averaged around nine points and 7.5 rebounds per game throughout the course of the year.
Wallace is still a force to be reckoned with defensively though, and is still a viable option to start down low for Lawrence Frank's team.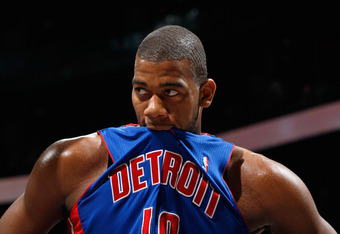 Kevin C. Cox/Getty Images
The small forward position is very deep for the Pistons this season. Talented young prospects Jonas Jerebko and Austin Daye have the skills to give Prince some serious competition for the starting job.
Jerebko is coming off of a season-ending injury to his Achilles' tendon, but showed signs of life in his rookie season the previous year, averaging nine points six rebounds per game in a reserve role.
Veteran power forward Charlie Villanueva will miss the first four games of this season due to a suspension. Jason Maxiell will start in his place.
Maxiell is the better defender, but Villanueva has outstanding offensive skills for a big man. Both should play well together for Detroit in the paint alongside Wallace and Monroe.
During the past two dismal seasons in Motown, it's been tough to decide if the Pistons were trying to be a youthful team with sky-high potential, or a veteran team fighting for a playoff spot. But with the recent dismissals of "Rip" Hamilton and Tracy McGrady, Detroit's role is beginning to become more apparent.
The future of the Detroit Pistons seems to be on the shoulders of the younger players: Stuckey, Knight, Jerebko, Daye and Monroe. Many of these youthful prospects are already better than their veteran counterparts, so it will be intriguing to see how this shortened season will play out for them.
Unfortunately for Detroit's fans, the team needs an actual "go-to guy" offensively, and a better starting big man than Monroe or Villanueva, if they hope to get another taste of playoff success anytime soon.