Rajon Rondo and Boston Celtics Fans Have Plenty to Be Angry About This Season
December 27, 2011
When it comes to Wyc Grousbeck and Steve Pagliuca (managing partners and co-owners of the Boston Celtics), and us (loyal fans of the Celtics), there seems to be an incredible failure to communicate.
They believe the decisions they have made over the last few years are moving the Celtics closer towards prosperity, while the fans feel their decisions are moving us further from it. 
Along with General Manager Danny Ainge, Grousbeck and Pagliuca have made big decisions that have led us to this point. Our question to them is: what is this point? What is this season supposed to be? Are the Celtics making a run at a championship? Are we the Bulls? Are we the Heat? Are we the Thunder?
If anything, we're the Magic; we have one or several big-name players who probably won't be back next year, our best player has been buried in trade rumors, we have an unbalanced roster, our starting five is flawed, our bench is shallow, our hopes for this season are minimal, and we have no idea what the team is going to look like next year.
Fans want championships, and this is what we got.
This is a failure to communicate.
Opening games are important. When the Big Three played their first game together in 2007, they won. Instant chemistry. You can improve a relationship, but you can't create chemistry. We had it from the start.
When the Celtics opened up their banner-raising game by dismantling the Cavaliers again, it was proof that they were still better than LeBron James. And despite not having James Posey or PJ Brown, they still had a shot at repeating.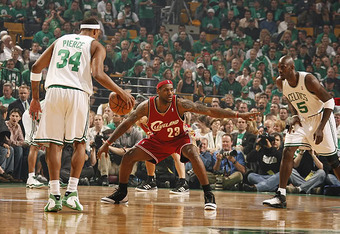 When the Heat lost their opening game last season, it was a crystal clear sign of trouble. It was an instant glimpse into their soul. They didn't have chemistry. Students of the game knew they weren't winning a championship. It was the consequence of bringing together three superstars who essentially play the same position, two of whom play almost an identical style of basketball. In other words: horrible chemistry. And you could see it from the start.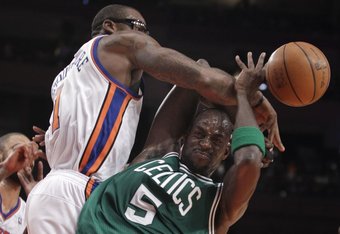 Opening games matter.
Now think about what happened Sunday.
The Celtics and Lakers both lost. Two days into the season, and the mighty Lakers are 0-2.
That's significant. It's a changing of the guard in the NBA; a power shift towards Oklahoma City, Chicago, Miami, New York, and away from Boston and Los Angeles. Yeah, the Celtics and Lakers will probably end up with winning records, but their hopes for longevity in the playoffs are horribly slim.
I want to talk a little about the failure to communicate.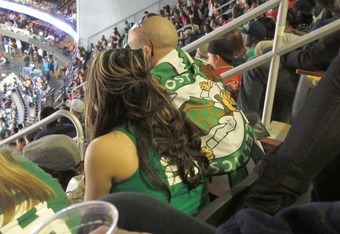 Last week, Wyc Grousbeck and Steve Pagliuca were guests on a fantastic Boston radio show hosted by the titular Mike Felger and Tony Massarotti. If you don't know the show, please check it out. Felger and "Mazz" are phenomenal guys with great insight into Boston sports.
During this segment with Grousbeck and Pagliuca, I must have pulled out three or four handfuls of my hair. If there was ever a failure to communicate, this was it. Here are some examples (with some paraphrasing)...
Grousbeck & Pagliuca: We're one of the bigger markets now. We weren't when we came in. And with Doc and Danny solid and long-term...Garnett chose to come here...we are a destination. We're not sunny, we're not warm, but we're a great franchise...The basketball tradition, the players really respect that.

Felger & Massarotti: Do they?

G&P: When they walk in that facility and they see the banners up there, they really do.

F&M: All due respect, I didn't hear Chris Paul talk about banner No. 18. I see Dwight Howard's list and I see Dallas and New Jersey, and I see other teams, but I don't see Red Auerbach and Bill Russell.

G&P: We still think we're an attractive place for players.

F&M: For the biggest of the big names, really?

G&P: The fun of it is, when you get three or four of them put together...and then you're in the Finals.

F&M: ...You couldn't even get David West. What makes you think you're gonna get that next big guy?
They went in that circle for 20 minutes, mostly with Wyc and Steve insisting that players want to play for the Celtics even though clearly they don't.
And in a way, that makes sense. Most of my sports-loving friends hate the Patriots and the Celtics and the Bruins for no reason whatsoever. They just hate Boston sports. They hate Tom Brady's hair, they think Chara is a dirty player, they hate Rondo's attitude, and they think Bill Belichick is a cheater.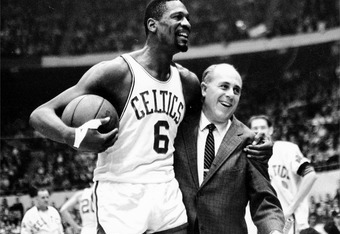 So, yeah, we know Boston is a hated city.
But in spite of that, the Patriots have Tom Brady, Wes Welker, Logan Mankins, Vince Wilfork, Danny Woodhead, Rob Gronkowski, Aaron Hernandez, and Bill Belichick.
The Bruins have Patrice Bergeron, Nathan Horton, Tyler Seguin, David Krejci, Milan Lucic, Brad Marchand, Benoit Pouliot, Daniel Paille, Johnny Boychuk, Tim Thomas, Tuukka Rask, Rich Peverley and Zdeno Chara.
Somehow, guys like Robert Kraft, Jonathan Kraft, Jeremy Jacobs, and Peter Chiarelli are convincing football players and hockey players in their prime to play in Boston and to stay in Boston.
Yes, the Patriots have lost a lot of players from their title squads, but they've been replaced with guys that give us a shot to win every single year. If we could only add a new Tedy Bruschi, we'd have this plane on autopilot.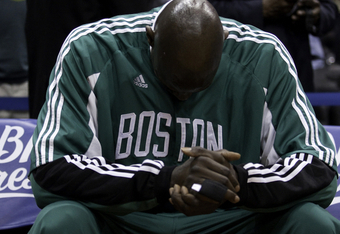 I give Ainge, Grousbeck and Pagliuca a ton of credit for 2007-08. But every year since has been another dip in decline. As Felger and Mazz pointed out, nobody of real value has wanted to come play for the Celtics since the merging of the Big Three. We were force-fed a steady diet of washed-up guys like Stephon Marbury, Rasheed Wallace and Shaquille O'Neal.
And most of our players from the championship team are gone; we only have four left. That's a disgrace. And the fact that those missing players haven't been suitably replaced is even more upsetting. The Celtics get worse, and worse, and worse. And then they cap it off with trying to trade Allen and Rondo, who are the two most consistently productive members of the team.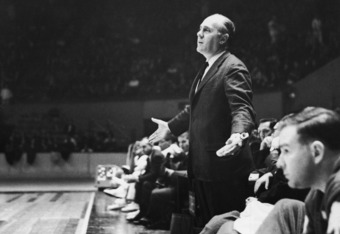 Facing fans with a lost season is infuriating. Forcing fans to pretend to be excited when we know the fire power isn't there is just painful.
The face of the league is changing. When the Big Three came together, it was a revolutionary change because three superstars joined forces with a common goal. They became a kind of super team that eventually influenced the likes of the Heat, the Knicks, the Thunder, the Clippers, and probably the Nets next year.
But there's a difference between the Celtics and these other teams.
Ray Allen, Kevin Garnett and Paul Pierce were all past their primes when they came together. They had a handful of years left and wanted a chance to accomplish over a decade's worth of unfinished business (about 30 years if you add up their years without rings). They were also surrounded by phenomenal role players like James Posey, Eddie House, Big Baby Davis, P.J. Brown, Leon Powe, Tony Allen and Kendrick Perkins. It was a complete team, and that's why we loved them.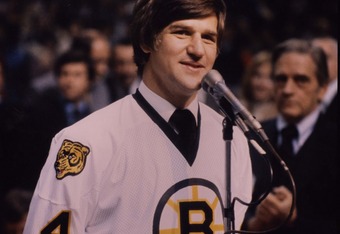 These other super teams are all stars and no heart. None of them come close to what we had in Boston. Miami put together their own Big Three, but James, Bosh and Wade are in the primes of their careers. It reeks of greed, immaturity, and impatience. And in addition to that, there's nobody else of any value on the Heat. It's partially why they're hated so much; the audacity of trying to win a title with three guysit's insulting to the game.
I'd like to quickly share this quote from Felger and Mazz...
F&M: I just think it sucks that the guys that play your sport, Wyc, would rather be in a place where they can wear shorts in February (like, who cares?) or would rather be close to where they film reality shows, or where a rapper is a part-owner, that stuff sucks. It doesn't feel to me like the players who play your sport value 17 championships.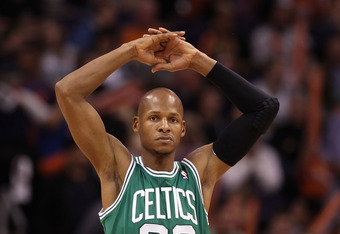 And there you go. Perfectly summed up.
This is the NBA now. And David Stern vetoing the Paul-to-Lakers trade goes hand-in-hand with this.
The decline of the Celtics and Lakers is symptomatic of a downturn in the importance we place on basketball history, which is why the league is so irrelevant to so many people.
It's the total opposite of the NFL, a league in which the Packers and the Patriots and the Giants and the Raiders and the 49ers are still beloved teams. Even the Colts, when they eventually get back on track, will still be a precious team to students of the game.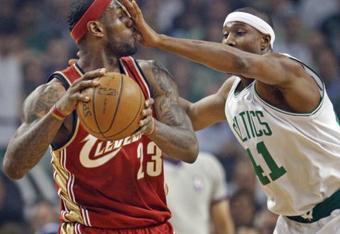 Think about the Original Six from the NHL; the Bruins, the Black Hawks, the Red Wings, the Canadiens, the Rangers, and the Maple Leafs. After all this time, these are still important teams, highly valued by players and fans alike. History is still alive in hockey. Bloodlines, generations, and cherished memories of devoted fans are rooted in these teams, just like with all those great football teams. Fans still live for those six teams.
But the NBA isn't like that, and that's why people hate this league. They despise this league. I had to actively search out people who cared whether or not the NBA survived the lockout.
Celtics fans are still brokenhearted over the attempts to trade Rondo. Attempts, which some believe are still going on. And on top of that, it just hurts to look at this team and see so few faces from 2007 to 2008. This is a different team in a different league, and I'm just not sure we fit any longer.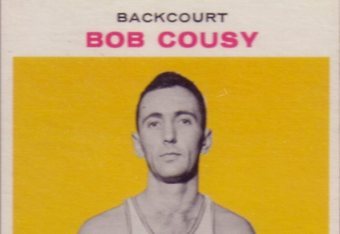 Things are bad for the Celtics, and we know it.
The Bruins have a wonderful opportunity to repeat as champions, and I believe they will. The Patriots have a great opportunity to win a Super Bowl this season, and I really think it's possible. But when it comes to the Celtics and the Red Sox, there are just so many questions. There are so many unending storylines that I just don't want to think about anymore. Nobody does.
When we entrust our teams to smart, capable people, we expect the best decisions to be made. Kudos to the Bruins and the Patriots, keep up the fine work.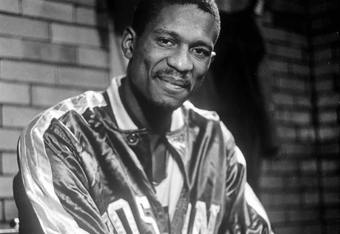 And to those who run and manage our beloved Celtics, I ask you the following questions... 
What the hell are you doing? 
Just what exactly are you doing?
Where exactly were Brandon Bass and Mickael Pietrus in Game 7 against the Lakers? Because these two guys are two years too late, and of minimal value now. 
Why is Jermaine O'Neal an important member of this team? 
What exactly do you expect me to expect from Sasha Pavlovic?
Same question for Avery Bradley.
Do you regret trading Kendrick Perkins?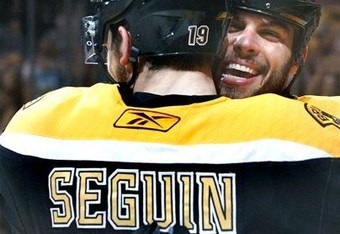 Why were James Posey, Tony Allen, and Leon Powe so expendable? Especially given the fact that they were essential components to our championship. Why weren't they essential to you?
The lockout chopped out six weeks worth of games, and Paul Pierce was still unable to play in the opening game because of an injury? And would you be more comfortable if I just pretend to not think about all the questions that raises?
Why is Kevin Garnett still on this team?
On opening night this past Sunday, Rajon Rondo had 31 points, 13 assists, five rebounds and five steals. Chris Paul had 20 points, nine assists, two rebounds and two steals. So why exactly was this the trade you spent all your time focusing on?
Last question.
What is the goal this season? Is this a title team? It's not, so let's cut the foreplay. What is this? Are we killing time until we free up some money? Somebody be honest with the fans, because we're the ones who wear the green hats and jackets and jerseys every day and love this team more than anything.
A fan shouldn't have this many questions.