Why the Gio Gonzalez Trade Underscores the Challenges Facing the New York Mets
December 27, 2011
Otto Greule Jr/Getty Images
Apparently coal in the Mets' stockings wasn't enough.
The NL East became even more competitive last week when the Washington Nationals acquired rising star Gio Gonzalez to headline a rotation featuring super prospect Stephen Strasburg and Jordan Zimmerman. The move instantly makes Washington a playoff contender—though likely not as a division champion.
From top to bottom (excluding Queens), the NL East now boasts four above-average teams sure to wreak havoc on the rest of the league. The Phillies return a star-studded rotation, the Braves were near-locks for the playoffs in 2011 before collapsing and the Marlins added several significant pieces while simultaneously robbing the Mets of their best player. The Gio Gonzalez move is just the icing on the cake.
For the Mets, it represents a dark reality. This franchise won't just finish last. It'll be irrelevant—save for the comic relief.
In just six years the Mets have fallen from grace from a rising powerhouse to a money-bleeding traveling circus. Sandy Alderson is hard at work rebuilding a minor league system that has been an abyss since Ike Davis was called up in 2010.
This certainly isn't news. Regardless of the Gonzalez trade, the Mets weren't expected to compete in 2012, perhaps not even in 2013. But it was just a few seasons ago that the Nats were a laughingstock—that team you didn't mind visiting on the road when your team was in a funk. Now they're a force to be reckoned with. The role reversal couldn't be more apparent.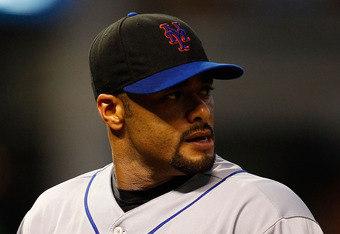 Jared Wickerham/Getty Images
The Mets are radically slashing payroll with no help on the way, while the Nationals, for one, are likely opening the season with Strasburg and Bryce Harper on the major league roster.
The Mets are pinning their middle infield hopes on the soft-hitting Ruben Tejada and defensively-challenged Daniel Murphy. The Marlins will open the season with Jose Reyes and Hanley Ramirez on the left side of the infield.
The Mets are praying that Johan Santana can return at all—let alone to a level commensurate with his pay. The Phillies are tossing Roy Halladay, Cliff Lee and Cole Hamels every fifth day.
The Mets signed bargain-bin deals with the likes of Frank Francisco and Jon Rauch to improve their bullpen. Meanwhile, the Braves sport one of the best one-two punches in the late innings in all of baseball.
Granted, all teams have their strengths and weaknesses. I've simply highlighted the challenges this team faces fielding a competitive product. The Mets' weaknesses prevail so mightily over their strengths that it's hard to find a silver lining.
Of course, the Wilpons probably sold what silver they had left to make December payroll.