California vs. Texas, Holiday Bowl 2011: 5 Bold Predictions
December 27, 2011
Harry How/Getty Images
The Holiday Bowl is almost upon us. With the injury reports more or less complete, the practices done and the game plans set, the California Golden Bears and Texas Longhorns have now relocated to San Diego for their epic showdown.
Epic? The Holiday Bowl? Correct.
This isn't some BCS bowl given to the highest bidder with the biggest fanbase.
This is a test between two rising teams looking to break into the college football elite once more. This is a grudge match for a politicking Rose Bowl slight from 2004. This is a battle between two teams that pound the ball on the ground and make gutsy strikes through the air.
One team has more experience (Cal), and the other has youthful talent (Texas). One team will be looking to cap off a momentous end to their season after winning three of four and coming within three of tying up the nationally-ranked Stanford Cardinal. The other will be desperate (and hungry) to prove they deserve their ranking (24th) despite tanking three of their last four games.
Both teams play like badgers on defense (no, I don't mean Wisconsin, I mean real badgers: stubborn, mean and relentless).
How will this play out? Here are some bold predictions:
1. California will strike for two touchdowns in the first five minutes.
Justification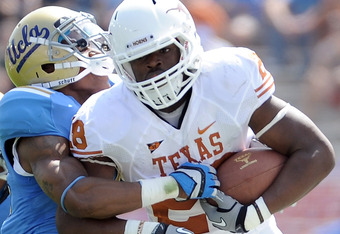 Harry How/Getty Images
Cal has a powerful QB-WR tandem in brothers Zach Maynard and Keenan Allen. Texas' secondary has had trouble with great wide receivers, and Allen ranks 12th in the nation in reception yards despite Cal turning to their running game in the last third of the season.
Maynard has improved to a 70 percent completion rate. Coach Tedford will look to exploit Texas' weaker pass defense and look for some long pass strikes early (Allen's longest reception is 90 yards). 
2. Texas RB Malcolm Brown and Cal RB Isi Sofele will combine for 400-plus yards on the ground.
Justification
Both teams rely on their running game to win, and both Brown and Sofele are 1,000-yard runners (Brown would be over 1,000 in rushing yards if not for injuries). No matter how good the defense, these two are talented enough to find their way across the line of scrimmage and into some open field.
3. Texas's Case McCoy will be sacked three times and finish with two touchdowns, 159 passing yards and two interceptions, including a pick-six in the final quarter.
Justification
Cal's defense is ranked seventh nationally in sacks per game (over two). The Texas QB is young, playing in his first bowl game and threw four interceptions against the terrible Baylor defense.
No matter how good Texas' OL is, bad decisions and one of the strongest defenses Texas will face this season will do in the Longhorns. 
4. Cal's Zach Maynard will be sacked twice and finish with three touchdowns, 210 passing yards and zero interceptions.
Justification
Texas' defense is the best that Cal will face, no doubts. But Cal is strong and won't be beaten too badly. And with Tedford looking to exploit the WR mismatches, expect Maynard to do more passing than he did in the rest of November. Also expect him to continue to improve his completion rate.
5. Cal Bears will win 34-24.
Justification
All of the above, but mainly because Jeff Tedford can and will get creative with his offense, whereas Mack Brown will be limited with his offensive options and have to rely (too much) on his defense.