2011 Kraft Fight Hunger Bowl: Illini Will Recover from 0-6 Finish with Bowl Win
December 31, 2011
Jonathan Daniel/Getty Images
Big Ten Bowl Preview Extravaganza—Part 5 of 10
Illinois earned the dubious honor of becoming the first team in college football history to make a bowl game despite suffering through a six game losing streak. Ever since Ohio State shut down the 6-0 Illini in mid-October, the Fighting Illini could never right the ship for the remainder of the season, leading to the firing of Ron Zook.
Illinois finds a perfect match though in San Francisco, as UCLA was granted special permission by the NCAA to play in this bowl game after falling to 6-7 with the loss in the conference championship. To be fair, UCLA should have never been in the championship, but that is what happens when good programs get bowl bans.
Who knows, maybe next year Illinois can benefit from the same situation with Ohio State banned.  But there is a bowl game (albeit a war of attrition with two interim coaches) to be played, so let's take a look at the keys for Illinois to win the Kraft Fight Hunger Bowl today.
(The analysis for this game will be brief due to this article being published right before kickoff.)
No. 1: QB Nathan Scheelhaase and the Backup RB's Should Dominate Time of Possession
When Illinois has found success this season, it has usually started up front with the running game.  Although top RB Jason Ford will miss this game, the Illini will still need to start the offense with the run.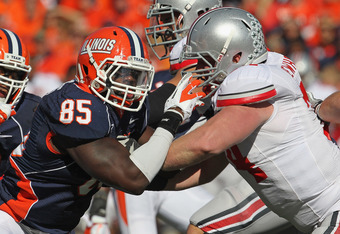 Jonathan Daniel/Getty Images
UCLA is particularly weak against the run, giving up more than 200 yards per game on the ground.  In light of most Pac-12 teams not pounding the ball with the running game, this statistic is even worse than it looks. 
Illinois should be able to dominate time of possession and wear out the UCLA defense, but only if the backup running backs show up to play well. Look for freshman RB Donovonn Young to be the primary option with QB Nathan Scheelhaase also running the ball from time to time.
Once the running game is established, Illinois will be able to reach the second key to the game...
No. 2: A.J. Jenkins Must Burn UCLA Cornerbacks All Game
That second key being the passing attack. UCLA was better defensively against the pass than against the run, but that usually did not matter when teams ran all over the field on the Bruins.
However, UCLA did not face many speed talents as good as Illini WR A.J. Jenkins. Jenkins has the ability to leave some of the better cornerbacks in the country in the dust, and UCLA does not have some of the best cornerbacks in the country.
As a result, once the running game is dominant, Scheelhaase should be able to sneak a pass or two behind the defense to break open this game.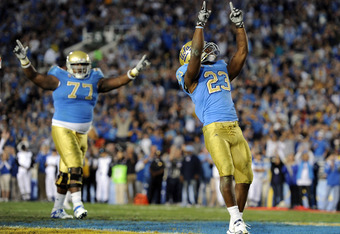 Harry How/Getty Images
No. 3: DE Whitney Mercilus Needs to add 3 Sacks to Resume
Mercilus does not just have one of the best names for a defender in college football history, he has the solid play and athleticism to back up the name.  Mercilus will almost certainly be playing football on Sundays in the near future, so Illini fans would like to see him go out with one of his best performances in this bowl game.
UCLA QB Kevin Prince was prone to being rattled by good defensive lines during the regular season, and Illinois should be able to contain Prince and the UCLA running backs. If Mercilus can get a sack or two and bring a lot of pressure early in the game, UCLA may just fold on offense and allow Illinois enough time to score the points required to put the game away.
No. 4: Vic Koenning Must Coach Like This is his Only Chance at the Spotlight
Interim coach Vic Koenning has decided to not stay on next season as the Illinois defensive coordinator under the new coaching regime, so this will be his one opportunity for now at the head coaching position.
In view of this, Koenning should take some risks and take advantage of the favorable bowl match up provided to his team.  Every team plays a bit more liberally with trick plays and the like during bowl season, but Koenning should pull out all the stops and really show off his creativity against UCLA.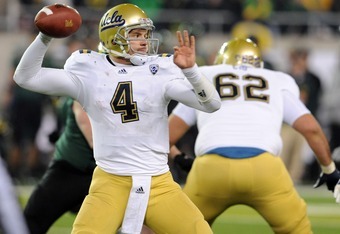 Steve Dykes/Getty Images
Koenning may not be headed for a head coaching position immediately, but this bowl game could go a long way towards that eventual goal.  In addition, these plays will probably work against UCLA and help Illinois move closer to victory.
No. 5: Illinois Must Stuff The Strong UCLA Running Attack
Although UCLA gives up a lot of rushing yards, the Bruins also rack them up with an average of 191 per game on their own offense. Illinois struggled to stop running backs and running quarterbacks during the six game losing streak to lose the season, and that will have to change in this game to come home with a win.
Thankfully for the Illini, Kevin Prince and the UCLA running backs are not the same caliber of talent as some of the teams that ripped through the Illini defense. The lessons learned against teams like Michigan, Ohio State, and Wisconsin will come in handy to slow the only real threat UCLA presents.
Game Prediction
UCLA will struggle to get any offense going throughout this game as Illinois will want to play well for Coach Koenning.  UCLA players do not appear to be as focused as Illinois, skipping a practice earlier this week and not rallying around their interim coach. This will show on the field as Illinois will slowly pull away with a relatively ineffective offense.  That offense will be more than enough against UCLA though.
Illinois 23, UCLA 7.
-------
David Fitzgerald II is a Big Ten Football Featured Columnist for Bleacher Report.  Follow him on Twitter for new article updates @BuckeyeFitzy.