Penn State Basketball: Home Games Should Be Moved Back to Rec Hall
January 4, 2012
The year 1996 was an important year for Penn State basketball.
For the first time since 1929, the team would call "home" an arena other than the Recreation Building, more commonly known as Rec Hall. The team moved to the newly opened Bryce Jordan Center (BJC), which sits right next to Beaver Stadium and Lubrano Park.
While the stadium is awesome for concerts, graduations and the always important THON, it has not been a very good home for the Nittany Lions basketball team.
Penn State came into this season with a 48-32 record at home, including a 21-24 showing against conference opponents.
Part of the overall record is due to playing bad teams, but the conference record can be attributed to playing quality opponents like Ohio State, Michigan State and Wisconsin every year.
However, the easiest part to fix about Penn State basketball is the arena itself.
The BJC has a capacity of 15,261 for basketball games. Its largest capacity crowd came in 2000, when 15,420 packed into the BJC to see the Nittany Lions take on Indiana.
Last year, against Ohio State on Senior Night, 15,403 came to see PSU take on the No. 1 team in the country.
As a PSU student who attends multiple games a year, seeing those numbers is shocking to me.
This season, the Nittany Lions are averaging 5,233 people per game, with the highest turnout being 7,202 against Mount St. Mary's.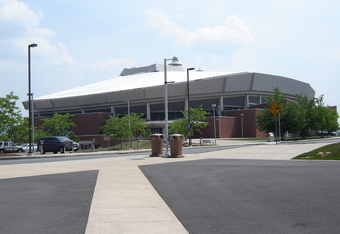 Their biggest non-conference game so far was against Ole Miss. A scant 6,001 fans were in attendance.
Playing in the area's worst college basketball venue, according to Penn Live, does not help the Lions.
If I may, I would like to offer a simple and sensible solution to save some money and give the team a consistent home court advantage: move the basketball team back to its real home, Rec Hall.
Fiscally, this would be a brilliant move for the basketball team and for the school.
Did you know, even though the university owns the arena, they must pay rent for the basketball team to have their games there?
Read that again. To use their own arena, they need to pay rent.
How does that make any sense financially when they have a free building that is right on campus?
Moving their games to Rec Hall would save the school money in a program that doesn't bring much cash in anyway.
In a basketball sense, a move like this is a necessity. If you've ever been to a sporting event at Rec Hall, you'd know it's absolute mayhem. If you haven't, go to a women's volleyball match. Other than football games, they may be the most intense sporting events the school has to offer.
The capacity for volleyball matches is 6,469. The basketball team has averaged 5,233 fans a game in 2011-12. Add in the pep band, and playing in Rec Hall suddenly gives PSU some semblance of a home-court advantage.
Is this a perfect solution?
Absolutely not.
Rec Hall's largest crowd for a basketball game was 8,200 back in 1973. The largest crowd Penn State had last year was 15,403. However, the one or two near-capacity crowds a years shouldn't prevent PSU's athletic department from making a decision that would actually benefit the basketball team.
In my opinion, that decision should be to give the team a consistent home-court advantage by moving basketball games to Rec Hall.