Australian Open 2012 Scores: Eye-Popping Results from Day 6
January 21, 2012

Robert Prezioso/Getty Images
Day 6 at the 2012 Australian Open saw upsets, wild finishes and results that everyone would expect. Here are some of the eye-popping results from the day.
Mikhail Kukushkin upsets No. 14 Gael Monfils
Gael Monfils was upset by Mikhail Kukushkin 6-2, 7-5, 5-7, 1-6, 6-4 in a wild and wacky finish. It was 5-4 in the final set and Monfils was serving. He completed the serve and then a fan tossed a giant tennis ball onto the court which threw off the concentration level of Monfils.
Maybe his pace and tempo was flickered by this crazy scene or maybe Kukushkin was better on that day. I would say a little of both but probably more the latter. Kukushkin played great tennis all day long.
Serena Williams will play Maria Sharapova in the next round
Williams made quick work of Greta Arn (6-1, 6-1). She will be moving on to the next round.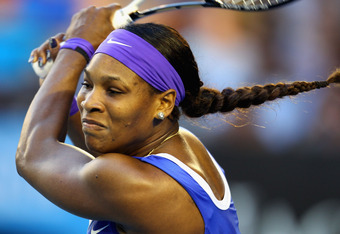 Scott Barbour/Getty Images
That wasn't necessarily eye-popping, but what is eye-popping is her next opponent—Maria Sharapova. These two will provide a fantastic draw in the next round.
Anytime two stars go at it semi-early in a major tournament it is definitely is an eye opener.  
Lleyton Hewitt upsets Milos Raonic
Australia's own Lleyton Hewitt upset No. 23 Milos Raonic (4-6, 6-3, 7-6, 6-3) to advance to the fourth round of the 2012 Australian Open.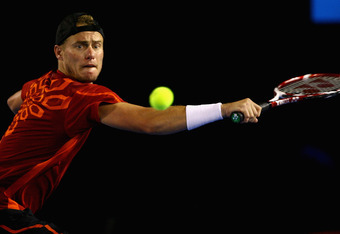 Robert Prezioso/Getty Images
After stumbling in the first set, Hewitt poured it on to win three-straight to pull off the upset.
Tournaments are always better when the home country has a participant left in the field.
The crowd will unquestionably be behind Hewitt when he faces No. 1 seed Novak Djokovic in the next round.