Uconn Basketball: How the NCAA Is Ruining Ryan Boatright
January 26, 2012

While the NCAA serves as a governing body over their college athletes, on occasion they abuse their massive power.  For no rhyme or reason, their elusive and sometimes mysterious supremacy can ruin careers before they start.
Meet Ryan Boatright.
The 6' point guard from Aurora, Illinois originally committed to the USC basketball team while still in the eighth grade.  However, after coach Tim Floyd left the program, he was free to choose another program. 
After falling in love with the UConn campus on his recruiting visit, Boatright officially chose the school as his college choice and he was taking his talents to the Northeast.
For the first three weeks of the 2011-2012 UConn men's basketball season, Boatright was a non-factor.  Butterflies and the fast pace of the next level weren't the culprit for the freshman's lack of impact.  After learning that his mother had accepted money for a plane ticket to accompany her son on a recruiting trip, the NCAA deemed this dastardly act an "impermissible benefit" and suspended him for the first six UConn games.
So, because his mother, Tanesha, accepted money for a plane ticket from Ryan's old AAU coach, and old friend Reggie Rose, the powers that be decided this was unacceptable and a fifth of Boatright's freshman season should be erased.
As if the tentacles of the NCAA don't reach far enough, they now have clearance to rule over matters that predate the college experience itself.  In addition to their absurd reign of power, the NCAA also ordered Tanesha to "stay away" from Reggie Rose.  Yes that's right, they now believe they can tell grown adults who to be friends with.
After the suspension was served, Boatright made sure to display the talents that made him "Mr. Basketball" in Illinois his senior year, when he added an instant spark to an otherwise stale UConn offense.  In his 10 career college games, he has averaged a solid 10.2 PPG, 3.1 RPG and 3.5 APG for the Huskies. 
But before Uconn's matchup with Notre Dame 11 days ago, the NCAA informed the university that Boatright was "ineligible" until they completed an "investigation."  What were they investigating and where was this info coming from?
According to Ryan's cousin, Jaeh Thomas, the source of dirt is coming from one supplier, the ex-boyfriend of Tanesha Boatright.  As stated by Joe Nocera's New York Times opinion piece, the ex-boyfriend saw Boatright and his basketball abilities as his "big ticket."
But when the relationship went south, the ex declared revenge on his roundball dreams.  Who knew the baseless words of a convicted felon could be so influential in the eyes of an organization like the NCAA?
Bank deposits in Tanesha's accounts are the issue revolving around Boatright's current suspension.  She has told investigators the money is from friends who are willing to help out the single mother of four.  NCAA president Mark Emmert and the boys in Indianapolis aren't buying it.  So as they continue to pore over the evidence for the task at hand, Ryan Boatright sits in limbo.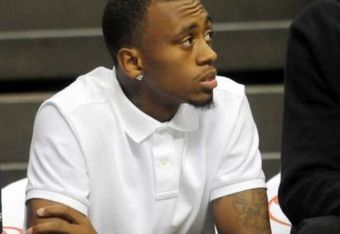 Hours before Uconn was to face Notre Dame in South Bend, Indiana, head coach Jim Calhoun had the arduous task of informing the 19-year-old Boatright that he was ineligible for the game.
Being issued a crushing blow like that would ruin any 19-year-old, but playing only two hours from his hometown and with 400 family and friends in the crowd, the news was especially cruel. 
So sitting on the sidelines, Boatright watches.  Wanting to show off everything he has worked for since he was a child, but instead resigned to a mere spectator.  While the capricious words of a third party rob him of everything he ever aspired to be.