NBA MVP Derrick Rose: 'I'm Not Scared of Any Point Guard in the League'
January 27, 2012

Ezra Shaw/Getty Images
A gallery of reporters flanked to Chicago Bulls star Derrick Rose's locker recently in the visitors' dressing room at FedExForum as if he had just played the game of his life.
Unfortunately for the reigning NBA Most Valuable Player, his latest visit to Memphis was somewhat reminiscent of that of his rookie season, given he was hampered by a foot injury.
Labeled a game-time decision against the Memphis Grizzlies, Rose, according to Bulls coach Tom Thibodeau, elected to sit out the game, although a large contingent of fans amongst the announced sell-out crowd — many of whom embraced Rose when he helped propel the Memphis Tigers to the 2008 NCAA title game — purchased tickets to witness the 23-year-old Rose in action for the first time since he surpassed Wes Unseld in becoming the youngest player ever to win the league's most prestigious individual award.
As he slowly got dressed, Rose reached in his locker for his walking boot designed for his turf toe injury that sidelined him four games. He then sat down, strapped it around his ailing left foot he believes he initially injured during the Bulls' 2010 playoffs series against Cleveland then, before taking questions, looked up at the assembled media and said, "It seems like I never get a chance to play (in Memphis)."
Suddenly, one reporter jokingly asked Rose, "Considering it seems you never play when you come to Memphis, is it safe to say you are scared of (Grizzlies point guard) Mike Conley?"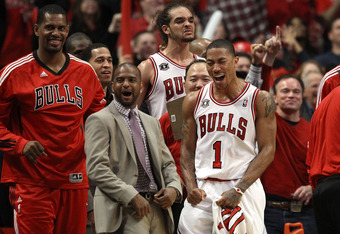 Jonathan Daniel/Getty Images
The always soft-spoken Rose quickly replied, "I'm not scared of any point guard in the league."
And rightfully so. It seems all Rose, a two-time All-Star, has done since he entered the league was demonstrate he's as good as advertised following his one-and-done year at Memphis. Selected as the No. 1 overall pick by the Bulls four years ago, Rose followed up an extraordinary Rookie of the Year season by turning in arguably the best season by an NBA point guard since Steve Nash of the Phoenix Suns won back-to-back MVP awards in 2005 and 2006.
"He's put himself in a position where he is one of the top five players in the league," said ESPN NBA News Editor Larry Starks. "You could see it when he was at Memphis, that he would be one of those players who would have an immediate impact in the league. The great thing about players like Derrick Rose, Russell Westbrook, Kevin Love, and a few others, is that they put in the time in the offseason to work on their game."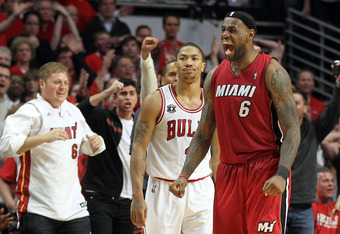 Mike Ehrmann/Getty Images
Though his field-goal percentage dipped slightly last year, Rose enjoyed increases in virtually every statistical category, most notably points (25 per game), minutes played (37 per game), three-point field-goal percentage (from .267 to .332), rebounds (4.1), assists (7.7) and steals (1.5). His career-best 42-point outbursts in wins against San Antonio and Indiana, by and large, prompted media pundits to debate whether he was a lock for MVP.
"Great, great, great," said Rose when asked to sum up his third season. "That year was totally different than the rest because I was relaxed more. Plus, we were comfortable as a team, and it showed on the court."
Luckily for the Bulls, much of the hoopla surrounding Rose's banner year wasn't a distraction, considering they finished one game ahead of the Spurs for the NBA's best regular season record (62-20) and secured the top seed in the playoffs before losing in five games to the Miami Heat in their best-of-seven Eastern Conference finals series.
Still, Rose contends winning MVP without an NBA championship essentially overshadowed some of the excitement in being dubbed the league's most celebrated player.
Jonathan Daniel/Getty Images
"Yeah, it did," Rose said. "Whenever you win the MVP, you want to win the championship and we didn't. So in a way, there is a sense of disappointment."
Whether the Bulls can build on last year's success in a season that has been reduced by 16 games is anybody's guess. Of course, much of that depends largely on how Rose recovers from a foot injury he admittedly regrets having played through a couple games in recent weeks.
"He's day to day," Thibodeau said of Rose. "We'll keep monitoring the situation. He just said it was sore. It's a pain tolerance thing, so we'll see how it goes."
Fortunately for Rose and Co., the season is still young, meaning Thibodeau is allowing him the necessary time to recoup. However, whenever he is gets back to full strength, several of his teammates agree that the Bulls' chances of reaching the NBA Finals will be as good as other elite Eastern Conference teams.
In other words, as Rose goes, so does the Bulls.
"He's somebody comes ready to play hard, take over a game and will do anything to win," Bulls forward Joakim Noah said of Rose. "He's not just the most talented guy on the floor, but his mental approach to the game makes him a leader. I mean, he's the MVP of the NBA, so obviously, he's a lot different."
Among the key factors, Noah said, that separates Rose — who was projected as the top overall pick the moment he announced he would forego his final three seasons at Memphis — from other players who entered the NBA with him in 2008 is that he handled the maturation process with ease.
"He's like a little brother," Noah, now in his fifth NBA season, said of Rose. "I've seen him grow from a shy kid to the leader of this team. He's a hard worker, and he's someone who doesn't get distracted being from Chicago, playing in front of his hometown fans and winning the MVP."
While Rose's memorable third year wasn't culminated with a championship, as consolation, he received a personal visit from former Bulls great and Hall of Famer Michael Jordan. Jordan, a five-time MVP winner who guided the Bulls to six world titles, was highly complementary of the Chicago native and former Simeon Career Academy star.
"He came to the locker room and gave me a handshake and said, 'Good job,'" Rose said of Jordan, the only other Bulls player to hoist the MVP trophy.
The only question now, of course, is whether Rose, who recently signed a five-year, $94.8 million extension, can follow Jordan's path by adding championship rings to his stellar resume.
"The season is long, and we've got a lot of work to do," Rose said as he grabbed his backpack and limped out of the dressing room.
Fortunately for the Bulls who, like last year, appear solid at a number of key positions to a manufacture another deep postseason run, capturing a ring certainly is a possibility, in large part because Rose has shown time and again he isn't afraid of any point guard in the league.
He got the MVP trophy to prove it.
This story also is featured in the February issue of Memphis Sport Magazine. Sportswriter Andre Johnson, who also freelances for the Memphis Commercial Appeal newspaper, can be reached at 901-690-6587 or by email at: memphisgraduate@yahoo.com.