January Transfers: Why Arsenal's Lack of Activity Isn't the End
February 1, 2012

Mike Hewitt/Getty Images
Contrary to the title of this article, I would support an Arsenal move—if only in principle—for any big-name player, be it a loan or a purchase so long as it were within reason. 
It would hopefully be something along the lines of Marco Reus' deal in the Bundesliga—but that, however, is an extremely optimistic point of view as we look at who is available and who is good enough to replace our incumbent starters. 
I would love to see Dempsey, Hazard or Podolski sign, but those are all unrealistic.
Names have been bandied about such as Eden Hazard, Mario Goetze, Lukas Podolski, Taye Taiwo, Clint Dempsey, Marvin Martin, Aly Cissokho and Seydou Doumbia to name a few, but where do all of these players even sit in terms of availability? 
Are they worth purchasing at an inflated price in the January window? 
Will they make an immediate impact—positive or negative—on the Gunners?
I think the defenders in particular could make a great impact for the good of the club, but not signing them doesn't mean Arsenal has given up.   
Sagna is back, Vermaelen is healthy, Mertesacker is playing better as he gets accustomed to the system and Koscielny is playing like a man possessed. 
I would love to see Cissokho in—but with those four, it's a solid back line...they just need to play better.
The last great transfer for the Gunners in January was the purchase of Andrei Arshavin. He made an impact that year and has since faltered and rarely lived up to his price tag. 
While he has provided us with some scintillating displays (four goals at Anfield, last year's winner against Barca), his general presence on the pitch has more often sealed the fate of the Gunners as draws or losses instead of wins. 
Are we ready for another Arshavin?
That's not to say that the players named above will turn out the same way, but look at Andy Carroll as he languishes at Liverpool.
You argue that these players all have great pedigrees and more experience in a top flight than Carroll did, but it's not like Arshavin was a nobody. He's captain of Russia's national team and came to the Emirates with an impressive record.
You can bet that how he has turned out is playing heavily on the mind of Wenger.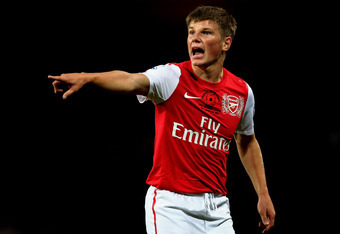 Julian Finney/Getty Images
The one thing that is guaranteed is this: disgruntled Arsenal supporters are going to claim that Wenger is a miser, has lost the plot and the chants of "In Wenger We Rust" will resurface.  
They will be opposed by a less vocal majority of people who hope that the Gunners do well, and look to the remainder of the season to see that, like last season, the Gunners actually hold their fate in their own hands.
I leave you with a look at the final fixtures for Arsenal and the final fixtures for Chelsea:
Arsenal
Chelsea
| | |
| --- | --- |
| Home | Away |
| Man U | Everton |
| Bolton | WBA |
| Stoke | Man City |
| Tottenham | Aston Villa |
| Wigan | Fulham |
| Newcastle | Arsenal |
| QPR | Liverpool |
| Blackburn |   |
When I see those remaining fixtures, who the Gunners didn't buy in January fazes me a lot less than the prospect of not enjoying a St Totteringham's Day.  
Someone commented on another article and argued that Everton's fans are so avid because they have embraced mediocrity. I challenge that comment with the fact that I will love the Gunners come Hell or high water and I think that they probably did the right thing by not buying big in the January window.  
Only time will tell if Arsene was right, but think on this—the vast majority of people claimed Arsenal would never be fighting for a Top Four spot come the second half of the season after that horrible start, and now those people are angry because Arsenal is duking it out to make it into the Top Four.
Sounds to me like those people have a lot more to be thankful for than to be pissed about right now.
Gooner for Life!