Giants-Patriots, Super Bowl 2012: Great Football? Hardly.
February 12, 2012

Jeff Gross/Getty Images
Okay, the dust has pretty much settled.
The casual fan and the guy or gal who only watches the Super Bowl got to walk around for a few days and say, "Great game, huh?"
But was it?
Granted, it was great theater, but if the same game had been played by Cincinnati and Tennessee in November, there would have been tons of criticism cast at it.
Heck, if just two weeks ago, Joe Flacco or Alex Smith had played the same game Tom Brady played last Sunday, the talking heads would have skewered them for the bonehead decisions and poorly thrown passes.
Think the defensive coordinator would have gotten a pass from the commentators for having 12 men on the field when the Patriots lost a takeaway that would have prevented the Giants from going up 9-0? 
Great football, it wasn't.
And that's not a knock on either the Giants or the Patriots. They're simply not great teams.
The simple fact is there are no great teams at present in the NFL.
There were at least five teams sitting home on Super Bowl Sunday thinking, "Heck, we're better than them."
And they may have been right.Play these playoffs a second time and do you honestly think we'd be watching New York and New England again?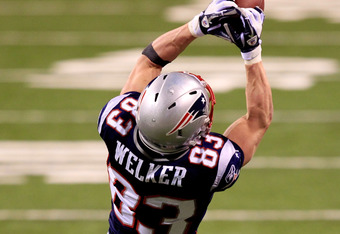 Chris Trotman/Getty Images
Don't get me wrong. This isn't a knock on the Giants or Patriots. I come from a family that bleeds blue.  All you need to know about my father is that the only thing besides him in his casket was his New York Football Giants hat!
My oldest brother and my sister are passionate Giants fans. Two of my best friends love the Giants (of course, they also love the Yankees, but that's a story for another time).
I've always liked them.
And yes, they got it done, and that's all that matters.
But come on, don't tell me they're a great team.
In fact, never mind playing the whole playoffs over—let's just look at the conference championships.
One team won because the other team's kicker, who hadn't missed a field goal of 32 yards or shorter since November 22, 2009, missed a 32-yard field goal.
And that's not to mention that on the two plays prior to the tying field-goal attempt, Lee Evans came within a split second of maintaining control of a catch in the end zone that would have given the Ravens the lead and a likely victory.
Then on third down, Flacco ran along the line of scrimmage disdaining an easy first down and at least two more, maybe three, attempts at winning in regulation, and instead elected to throw a low-percentage pass that wouldn't have resulted in a score anyway.And the other team won because the team they were playing, a team that committed only 11 turnovers in 17 games, muffed two—two!—punts in the final 16 minutes of the game.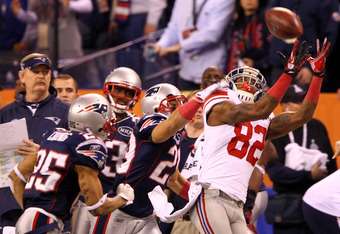 Al Bello/Getty Images
So, no doubt, Baltimore and San Francisco had good reason to believe they should have been in Indianapolis on February 5. 
Now, let's throw in Green Bay, New Orleans and Pittsburgh and there you have five teams with valid cases for being better than the two we watched.
But, as they say, that's why you play the games.
Alright, there's no arguing that the Giants and Patriots earned the right to be there.
And they gave us a heck of a show.
Exciting. Tense. Down to the final play, the outcome still in doubt.
But, if you were "grading out" the play, would you be giving out many "10s?"
If Tom Brady weren't, well, Tom Brady, how much grief would he have caught for the bonehead safety?
And let's just focus on two passes. First, the interception on the deep attempt to Gronkowski. The play had all the makings to land itself on Super Bowl highlight films forever. First, Brady, not a scrambler, manages to duck under and elude a heavy Giant pass-rush. He sets his feet, scans the field and then heaves it deep. Tell the truth, didn't you expect to see a wide open Patriot either streaking to the end zone or waiting all alone at the five?Instead, what we saw was a well-covered receiver (Gronkowski) having no chance of fighting back through Chase Blackburn, possibly the largest man (6'3" and 247 lbs) to ever be the deepest defender on an NFL play, for a badly underthrown (and intercepted) pass.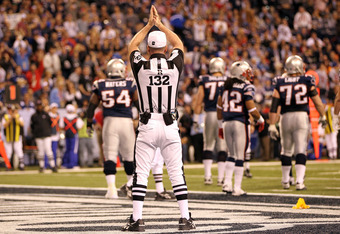 Jamie Squire/Getty Images
But most of America's opinion was influenced by talking head, Cris Collinsworth, who declared that Gronkowski didn't "help out" Brady!
America heard the same ridiculous sort of comment when Brady missed Wes Welker with just over four minutes left in the game on a play that at minimum would have retained possession for the Patriots, likely would have resulted in at least a field goal and may have led to a game-clinching touchdown.
Was the pass catchable? Yes. But 999 out of 1000 times, as Collinsworth claimed, or Welker graciously stated after the game? Not a chance. 
Brady left the pass short and behind Welker. This wasn't an intentional "back shoulder" pass. Welker had room to the middle of the field as the Giants safety was late in reacting.
It was simply a bad pass on a play that might have clinched a Super Bowl victory for New England.
When I stated my opinion that Brady had played poorly to my favorite bartender the day after the game, he said, "But he completed 16 passes in a row!"  And he's right, he did. 
But Tom Brady came up short on the day the very best are supposed to excel.
Eli Manning didn't excel, either. What he did was win.
The Giants offense found the end zone early, thanks to the negation of a New England interception for having 12 men on the field (a penalty the Giants were also guilty of on the next-to-last play of the game, giving the Patriots five yards that helped Brady throw a perfect Hail Mary into the end zone on the last play).
And, to their credit, they found it late.
If this had been that aforementioned November game between Cincinnati and Tennessee, it would have already been forgotten.
But, it was on the biggest stage for the grandest prize in all of sports, and thus goes down as a "memorable" Super Bowl.
What I'll always remember is it was the strangest way I've ever seen a team get to 21.