MLB Power Rankings: Predicting Every Division Heading into Spring Training
February 9, 2012

Pitchers and catchers report to spring training in just a few days. The NFL season has now come to a close.  It's official, the 2012 Major League Baseball season is right around the corner.
All of the classic signs of Major League Baseball's awakening from offseason slumber are abundantly visible. 
MLB power rankings have been posted, and inspected (while sometimes rejected). Fantasy Baseball aficionados have pored over their possibilities and are eagerly awaiting their draft day (mine's tomorrow).
Heck, Edwin Jackson finally escaped free-agent purgatory. MLB, thankfully, awaits sooner rather than later. 
It's time to gaze into the hazy realm of big-league prophecy.  Which eight (or 10) lucky teams will make it to the postseason promised land when the upcoming season comes to a close? 
Read further, friends, and find out. Enjoy.
Each team's most recent power ranking is in parentheses—they don't always correlate to playoff likelihood.
Shortly after the completion of the division rankings, my crystal ball rolled off of my table and exploded—nearly causing me to drop the 32-ounce Rangers Kool-Aid cup I was sipping.
I certainly didn't see that one coming. Thus, this article is a prediction of who will make the playoffs, not who will win in the postseason. My red Rangers Kool-Aid mustache is delicious. Mmmm.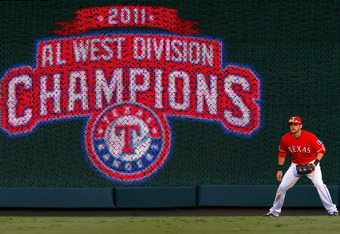 Tom Pennington/Getty Images
PREDICTED 2012 AMERICAN LEAGUE STANDINGS 
AL WEST 
1. Texas Rangers (3)
Whoa boy, the AL West is going to be close in 2012.  It was far closer last year than the 10-game lead in the final standings made it seem.  
The Rangers' newest additions—Yu Darvish and Joe Nathan—each come with their own set of questions.  For Darvish, the question is if he can have the same kind of success in the major leagues as he had in Japan. 
For Nathan, it's a question of health, since he missed all of 2010 due to Tommy John surgery.
Regardless, the Texas Rangers have the second-best rotation in the American League West.  Yes, if Darvish does his thing, and Neftali Feliz works out as a starter (and Nathan's elbow doesn't explode), the Rangers potentially have the finest rotation in their division.
Even if Darvish doesn't replace C.J. Wilson's win total, and Feliz isn't quite as good as, say, Alexi Ogando was last year, the Rangers' nuclear offense should be enough for them to stave off the Angels.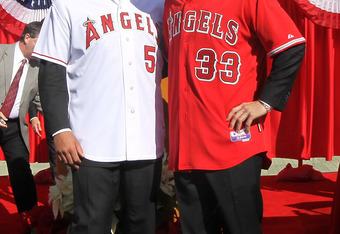 Stephen Dunn/Getty Images
I think the Texas Rangers will win the AL West by three games in 2012.
2. Los Angeles Angels of Anaheim (2)
The Los Angeles Angels of Anaheim improved their team greatly with the signings of Albert Pujols and C.J. Wilson.  To my mind, the Angels have the finest rotation in the AL West and certainly one of the best in the American League, if not all of Major League Baseball.
Their problem is that they have an aging offense that is largely past its prime, with a crowded outfield of high-paid talent that makes it impossible for the Angels to use Peter Bourjus and Mike Trout as much as they should.
Vernon Wells (32) and Torii Hunter (35) are two premium players past their primes, but still hit well enough to keep Albert Pujols from having to do it all.  Can Mike Trumbo have a repeat performance of his 2011 rookie season?
As previously mentioned, if my prediction of the Texas Rangers winning the AL West by three games is anywhere close to being correct, it's going to be tough on the AL East to produce both wild card teams. 
I think the Angels will make it to the playoffs as either wild card one (very likely) or wild card two (hey, you're still in the postseason).
3. Oakland Athletics (29)
A's longtime GM Billy Beane was portrayed on the silver screen by Brad Pitt in last year's Moneyball. In a nutshell, the movie is about how he finds success when his stars hit free agency and his owners are not able to afford them.
When Beane moved his front two starters a few months ago (Trevor Cahill and Gio Gonzalez) for a bevvy of minor league prospects (while Cahill and Gonzalez were still under team control), it's almost as if he's plotting ahead for Moneyball 2: Beane Goes Bat $--t Crazy. 
Perhaps Michael Richards will portray him in the upcoming sequel.
4.Seattle Mariners (25)
I'm not 100 percent on this, but I think the Mariners' 2012 seasonal slogan is: "Seattle Mariners:  We've still got a King (Felix) and hopefully Jesus (Montero) can save us." 
AL CENTRAL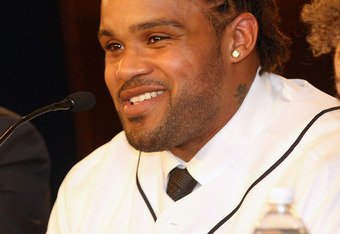 Jorge Lemus/Getty Images
1. Detroit Tigers (4)
Yes, the Minnesota Twins aren't likely to lose 99 games again.  The White Sox have a ton of veteran leadership, and pretty solid pitching staff.  The Kansas City Royals are many people's "sexy" pick for AL Central contention in 2012. 
The Cleveland Indians have been banged-up and broken down for much of the past two seasons, but if healthy, they could very good.
Regardless, the Detroit Tigers are going to run away with the weakest division in the American League.  They should win the AL Central by 10 games with plenty of time to rest their starters and get their rotation set for a possible repeat trip to the ALCS (or maybe the World Series?) 
2. Cleveland Indians (15)
Hey, they signed free-agent first baseman Casey Kotchman.  This does address a need-based issue and it gives Carlos Santana more time at designated hitter (and less time at catcher, both pluses).
If the Twins' success hinges on productivity from Morneau and Mauer, then the Tribe certainly look to Shin-Soo Choo and Grady Sizemore to ignite their offense.  A healthy Choo and Sizemore are crucial for the Tribe to fight off the White Sox and Royals.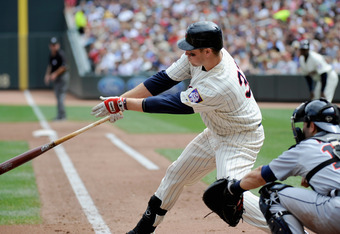 Hannah Foslien/Getty Images
3. Kansas City Royals (19)
The Royals have a strong bullpen that is aided by offseason addition Jonathan Broxton.  They have a very solid, young offense. Eric Hosmer is a future stud, and Alex Gordon as well as Billy Butler are going to produce. 
Their starting pitching…well, therein lays the problem.  I like Bruce Chen, but if he's your ace, there's a good chance your pitching staff has developed a bad case of the "sucks."
Still, Jeff Francis should rebound from a poor 2011, and Felipe Paulino flashed some promise last season with a pretty solid SO/9 ratio of 8.6, the best of his rotation mates.
4. Chicago White Sox (17)
Adam Dunn needs to produce for this White Sox team to have a chance in the AL Central. John Danks is a quality left-hander who has now been handed the keys to Chicago's shaky ace-mobile.  It will be interesting to see if he can flourish in that role.
5. Minnesota Twins (23)
It's all about the "M&M" boys in Twins-land. 
If Joe Mauer is healthy enough to do his thing, and Justin Mourneau has finally recovered from his post-concussion issues, the Twins could improve over last year's win total by a nice margin, possibly hitting the .500 mark.
Carl Pavano and Francisco Liriano need to have better seasons than they did in 2011, and Scott Baker's success is also crucial to the Twins having a decent year. 
AL EAST 
1. New York Yankees (7)
Yep, I think the New York Yankees are going to win the AL East in 2012.  That's certainly not an absurd statement, as most members of the media have had the Bronx Bombers pegged as early-season favorites once again.
With the additions of Hiroki Kuroda and Michael Pineda, the Yanks took care of their biggest weakness this offseason in shoring up their starting rotation.
Derek Jeter and Mariano Rivera will continue to defy the laws of age, and if A-Rod can stay healthy, the Yankees could cruise.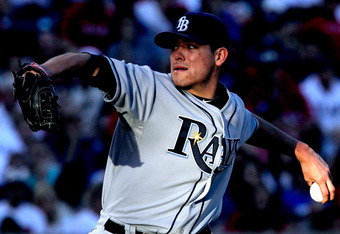 Tom Pennington/Getty Images
2. Boston Red Sox (10)
The Boston Red Sox's colossal collapse from a year ago was largely due to injury.  Well, injury, plus allowing the horrendous John Lackey to pitch. Turns out he was injured, too. 
If the BoSox stay healthy in 2012—and they are off to a bad start on that front, as Carl Crawford has undergone wrist surgery—they shouldn't have any problems hanging with the Yankees and securing a playoff berth; be it as a wild card (one tough task with the Angels and Rangers battling it out in the AL West) or possibly as AL East Division winner.
3. Tampa Bay Rays (9)
The Tampa Bay Rays are going to be in the mix in the tough-as-nails AL East for years to come. They have a very young (and equally impressive) starting rotation.
That staff is spearheaded by James Shields, the elder statesman of the group, at age 29. Last season, Shields led the Rays in just about every pitching category, including strikeouts (228).
Next up is David Price (25), a strikeout machine who produced 218 punchouts in 2011.
Then it's 2011 ROY recipient Jeremy Hellickson (24), the baby-faced right-hander who posted a minuscule 2.95 ERA a year ago.  And to top things off, there's super-prospect turned postseason sensation Matt Moore (22), a left-handed flamethrower who showed flashes of why he's considered a future ace.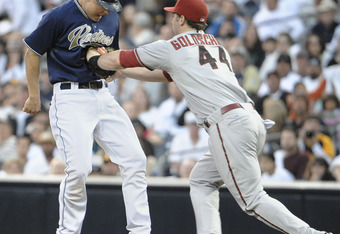 Denis Poroy/Getty Images
The Rays have the best rotation in the AL East.  The only problem with them is if they can hit enough to hang in the standings with offensive juggernauts in the Yankees and Red Sox.
If Bud Selig's new playoff idea comes to fruition in 2012, the Rays could have enough wins to secure a playoff berth as the second wild-card winner. 
4. Toronto Blue Jays (14)
The Toronto Blue Jays are a prime example of why it sucks to be in the AL East.  The Jays are a good team. 
They have a premier slugger in Jose Bautista, and a solid rotation featuring two quality starters in Brandon Morrow and Ricky Romero.
And with the pickup of Francisco Cordero via free agency and Sergio Romero via trade, they have two top-notch closing candidates.
Unfortunately, they don't quite have the pitching to stay in games with the likes of the Red Sox and Yankees. And their offense isn't quite solid enough to take on the Rays' rotation. 
5. Baltimore Orioles (24)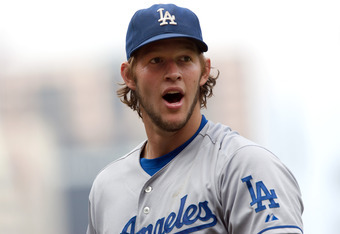 Kent Horner/Getty Images
Years ago in Sports Illustrated there was and editorial blurb entitled "This week's sign that the apocalypse is upon us." Well, here goes:
The Baltimore Orioles are supposedly engaged in talks with Manny Ramirez.
PREDICTED 2012 NATIONAL LEAGUE STANDINGS 
NL WEST 
1. Arizona Diamondbacks (5)
The Diamondbacks rotation is an outstanding one, no doubt. It is not as good as what the Giants bring to the table.
However, Arizona can actually hit. In many ways, the D-backs' offense is more American League than National League.  
Baseball being what it is, there are no "definites." In the imperfect world of postseason predictions, I can see the D-backs winning the NL West by five games or more. And Paul Goldschmidt is going to be a monster.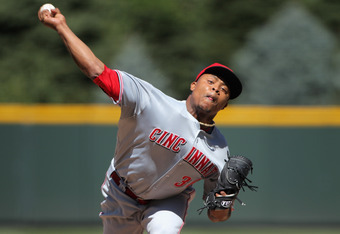 Doug Pensinger/Getty Images
2. San Francisco Giants (12)
We all know about the Giants' excellent starting rotation. I'm particularly high on Madison Bumgarner. They have a fine bullpen, too.
Even with the much-needed return of Buster Posey, their offense is worrisome. Sure, Brandon Belt might just fulfill his potential in 2012—will that be enough?
The NL East is so stacked that both wild cards could come from that division (possible, not probable). The Giants' best bet to assure a postseason spot is to win their division.
3. Los Angeles Dodgers (22)
With Clayton Kershaw and Matt Kemp, the Dodgers have what it takes to win my fictitious "WARld Series." But, sadly, baseball isn't a competition between each team's best hitter and pitcher. 
A new owner will help, but for now, Donnie Baseball's Dodgers aren't likely candidates for postseason contention.
4. Colorado Rockies (21)
The Rockies have some excellent bats in Carlos Gonzalez and Troy Tulowitzki. Michael Cuddyer was brought in to replace Seth Smith in left, Casey Blake to spell Ian Stewart's absence at third base. These may or may not be upgrades.
The Rockies have a young staff, one that lends itself towards future success if all goes well.  I don't think they'll be contention-ready until 2013 or beyond. 
5. San Diego Padres (26)
When it comes to evaluating a trade of blockbuster proportions, such as the "Mat Latos Deal" from early in the offseason, it takes several years to really assess which team profited the most.  
Obviously, that's not going to stop me—or anyone else—from speculating that trade's impact.  
In terms of immediate 2012 contention, the Reds won, and handsomely.  The Padres, in an unrelated trade, lost a top 25 prospect in Anthony Rizzo, yet they scored such a ton of prospects in the Latos trade that their farm system is ranked as the best in the bigs by Keith Law.
It really does seem like a trade that was mutually beneficial at this point.  We'll just have to wait and see if Latos continues to flourish in Cincinnati, and if the prospects the Padres acquired for him make an impact. 
The Padres won't contend in 2012, but look for Edinson Volquez to have a nice season, as he benefits from one of the best pitcher's parks in the league.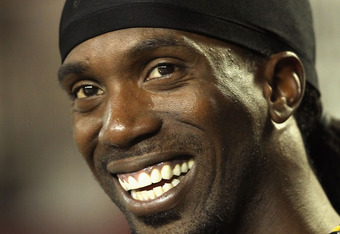 Christian Petersen/Getty Images
NL CENTRAL
1. St. Louis Cardinals (8)
The Cardinals are going to be just fine without Albert Pujols.
I wouldn't be surprised if they improve their win total from last year. The signing of Carlos Beltran improves their outfield if for no other reason than it moves Lance Berkman to first base.
Adam Wainwright's return from Tommy John surgery is the equivalent to picking up an elite pitcher. Their rotation now has two number ones in Wainwright and Chris Carpenter. 
If David Freese was coming into his own during the Cardinals' postseason race towards the title—and not just an October-induced fluke—this team could run away with the NL Central.
2. Cincinnati Reds (16)
Mat Latos will be an excellent front-of-the-rotation presence for this underrated pitching staff. Contrary to many, I don't think he's going to have any problems pitching outside of Petco Park.  
It will be very exciting to see if the addition of Sean Marshall is what it takes for Aroldis Chapman to crack a spot in the Reds' rotation.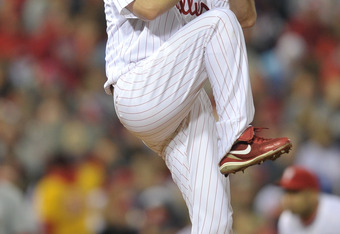 Drew Hallowell/Getty Images
In terms of offense, the Reds are very close to the Cardinals.  This should be an exciting race, one that could ostensibly last well into the closing weeks of September. 
3. Milwaukee Brewers (13)
No player has ever successfully appealed a suspension for using a banned substance. Therefore, we have to assume that Ryan Braun will be out for 50 games. That would hurt the Brew Crew even if they still had Prince Fielder.  It is almost crippling now that they don't. 
Aramis Ramirez is a nice addition at third base.  He won't win a Gold Glove, but he is a steady offensive contributor.  
As I've said all offseason, this Brewers rotation is outstanding.  There are many teams that would covet Yovani Gallardo as an ace, but Zack Greinke is even better.  Shaun Marcum is a tough No. 3 to beat.  The Brewers pitching should keep them in the mix, but for how long?
4. Pittsburgh Pirates (20)
The Pirates are much improved from seasons past.  They have arguably the deepest farm system in terms of high-ceiling starting pitchers. Andrew McCutchen is a star.  When he began to fade in the second half of last season, so did the Pirates.
5. Chicago Cubs (27)
It is wise to trust in Theo Epstein. It is foolish to expect a Cubs contender from him in under two years. But it will happen.   
Also, don't judge his success in the years to come based on the Boston Red Sox template. The Red Sox were far superior at that time—as was their farm system.
6. Houston Astros (30)
In 2013, the Houston Astros are going to set sail for the American League West. This upcoming season, they'll be plotting a course for the NL Central's cellar one final time.
During the offseason, they signed Jack Cust, and inked Zach Duke to a minor league deal.  Despite rampant trade speculation, Wandy Rodriguez will still be around—at least until the All-Star break—to front the Astros' staff.   
NL EAST 
1. Philadelphia Phillies (1)
I'm certainly no financial expert, so I won't even get into Papelbon's ridiculous contract.  The Phillies are a team built to win now, and although Madson was a fine closer, Papelbon is an upgrade.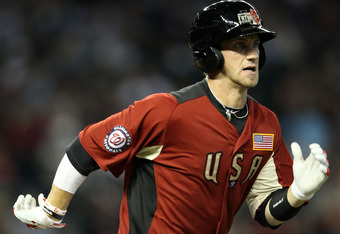 Christian Petersen/Getty Images
Yes, the Ryan Howard "situation" is problematic (he should be back by June).  No, Jim Thome will not be the full-time first baseman in Howard's absence.
The Phillies, with an improved and ridiculous rotation, remain the favorites in the East.  Simply put, they won 102 games last year and haven't gotten any worse.   
2. Atlanta Braves (6)
I've always been a Derek Lowe fan.  He's an extreme ground-ball pitcher who has shown excellent durability.  
As far as the Braves are concerned, though, moving him this off-season was in the best interest of the team.  It creates some financial "wiggle room" and more importantly, opens up a spot in the rotation for their bevy of prospects to compete for.  
3. Miami Marlins (11)
Did the Marlins improve dramatically in the off-season? Absolutely.  Unfortunately for the new residents of Miami, however, the NL East is a monster.  
If Reyes can stay on the field and off the disabled list, and Hanley Ramirez returns to form offensively (and manages a capable third base), the Marlins should be in the mix.  
Their rotation is a quite solid—in theory.  In other words, can Josh Johnson stay healthy? If he can, watch out.  Buehrle will do his thing in Miami, eat up some innings while being successful by pitching outside of his peripherals.
I do not think Heath Bell is the answer at closer.  He's 34 years old, coming from a very pitcher-friendly park, and just saw his SO/9 rate fall off the table from 2010 (11.1) to 2011 (7.3). That could be a sign of trouble.
The Miami Marlins, according to MLB.com, have met with Yoenis Cespedes.  He has even visited their new ballpark—hopefully he hasn't seen their new uniforms, because that could be a deal killer.
If the Marlins end up signing the Cuban outfielder, then they would move closer towards NL East contention.   
4. Washington Nationals (18)
The Nationals are a very difficult team to project. They improved greatly in the offseason, and recently added Edwin Jackson to their offseason cache.
The Nationals present a difficult puzzle to solve. They could be ripe for contention now...or it could take another year or so.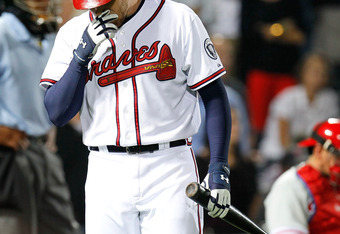 Kevin C. Cox/Getty Images
In this riveting mystery, it's hard to tell if Jackson and Gio Gonzalez are part of the solution or simply red herrings to deflect interest from Bryce Harper and Stephen Strasburg. Or is it the other way around?
Regardless, Jayson Werth needs to have a better season. 
5.  New York Mets (28)
In the offseason, the Mets brought their outfield fencing in.  This should enable David Wright to hit more bombs.  Problem is, it will aid every other team's power guys as well.
Ike Davis and Johan Santana's return will be most welcomed, but in a division where every other team improved, it's doubtful their return will make much of a difference.