Martin Caceres' Brilliant Homecoming Puts Juventus over A.C. Milan in TIM Cup
February 8, 2012

Valerio Pennicino/Getty Images
In the world of European football, it's usually dangerous to become attached to players. There are plenty of exceptions though, meaning there are plenty of players who stay with clubs for long periods of time. But, by and large, most players spend their careers playing at several different teams, rarely being immune to a transfer.
It's hard, as a fan, to see a player one really likes shipped away with very little notice. One day you hear a rumor, and then before you know it your beloved is in another city, putting on some other team's jersey.
It's even worse when the player is one who is on loan at your team. The player first wins you over, and you hope the team signs him permanently. As the end of the season (and the player's loan) nears, you hope and hope (with an ever-growing sense of futility) that the team will sign him outright. Sometimes, it happens. Usually, it does not.
That was the case with Martin Caceres. He was one of the few players I enjoyed watching two years ago, and when Juventus did not sign him, I was disappointed. I still kept up hope that he would one day return. Several transfer windows came and went without any such move.
Then, this year, during the great Conte Renaissance, it happened. The rumor mill began to spit out the possibility of Caceres returning to Juve. Beppe Marotta haggled with Sevilla (Caceres' most recent club) for weeks and even flirted with the possibility of signing Fredy Guarin, the Colombian midfielder who signed for Inter recently from Porto.
Thankfully, the deal went through. Caceres had returned to Turin, and I was thrilled.
Caceres finally got his return to the Bianconeri squad today against A.C. Milan. Antonio Conte returned to his 3-5-2, which is almost becoming more commonplace than the 4-3-3. Caceres took Lichtsteiner's role at right wing back. Meanwhile, Andrea Barzagli, Giorgio Chiellini and Leonardo Bonucci all started as center backs.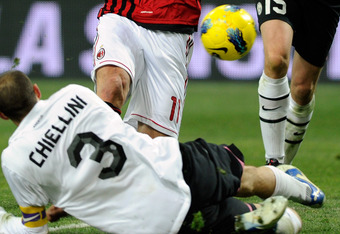 Claudio Villa/Getty Images
All three performed very well. Bonucci did not bring too much attention to himself, but lately most of that attention has been negative, so this was not a bad thing. There were a few slip-ups by Barzagli and Bonucci, but Chiellini came through each time.
For example, at one point late in the match, Barzagli gave the ball up to Milan's star infant Zlatan Ibrahimovic. This was right by Juve's goal, and Ibra had just enough time to crack off a fierce effort.
Unfortunately for Ibra, Chiellini (filling the "Superman" role in Gigi Buffon's absence) dove in and blocked the shot. It was another moment that epitomized Chiellini's grinta. In fact, one could argue that Chiellini has set a maximum in terms of grinta. He's the grittiest man in the world.
That moment was also the epitome of the battle between Ibrahimovic and Chiellini. Ibrahimovic had some chances, but usually Chiellini shut him down. Chiellini has had Ibrahimovic's number for some time, and he reinforced that today.
Ibrahimovic did score a goal, but it was called off because he had handled the ball before striking it. Later, there was a goal kick awarded to Juve, though it seemed that Marco Storari may have touched the ball. The call infuriated the Swede, and he confronted Storari and the referee after the game. It was typical behavior out of Milan's star.
Juve's midfield was also quite successful. Caceres and Marcello Estigarribia were on the right and left flanks, respectively. Debutant Simone Padoin started in central midfield along with Andrea Pirlo and Emanuele Giaccherini. Padoin had a good debut and showed why Conte signed him: his hard work and his ability. Later, Padoin was subbed off for Luca Marrone.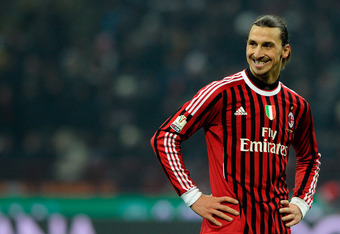 Claudio Villa/Getty Images
Pirlo had a fantastic match, much as he did in the last game against Siena. Pirlo's play is usually at a very high standard, and there's not much that hasn't already been said about his importance to the team. Giaccherini was also his usual dangerous self and helped set up the second goal.
The starting strikers had two contrasting performances. Marco Borriello struggled to be productive and didn't really contribute that much to Juve's attack. To his credit, he was fouled many times (without the fouls being called) and he also worked very hard during the match.
At one point, after Clarence Seedorf intercepted a pass, Borriello chased him all the way down to midfield and forced him to give up possession. Borriello certainly has not had a hard time showing his desire to succeed, but he has had a hard time producing for Juve.
On the other hand, Alessandro Del Piero had a great game. He petered out a bit at the second half, but he was one of the biggest factors in Juve's attacking movements during the second half. His touch was especially strong tonight, and he managed to outfox Milan players on several opportunities.
Now on to the goals. The first one came off of a deflected Borriello effort, which started from a Simone Padoin pass. The deflected shot landed near the goal and Caceres ran over to knock it in. It was a nice moment to see Caceres score on his re-debut.
Things would get even nicer later, but before that, things got worse. A.C. Milan equalized off of a Stephan El Shaarawy goal, and this led to a period where Juve's defense was a bit unhinged. This stretch was only temporary though, and Juve soon got back into form.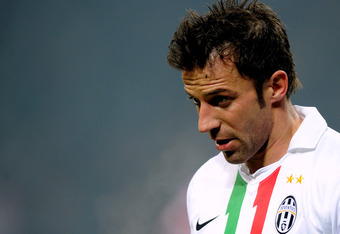 Claudio Villa/Getty Images
The game remained at a tie for about twenty minutes, and then something magical happened. Giaccherini was in Milan's half with tons of space, and he crossed the ball into the box. Massimo Ambrosini (who had an awful game) weakly headed the ball out of the box, and Caceres once again found the ball. He steadied the ball and brilliantly fired it into the top corner of the net. It was a very classy goal. More than that, it was the conclusion of a great return for Caceres.
Earlier, I tweeted that the second goal was the one of those moments that reminds me why I love Juve and football. It really was a special goal. In fact, I actually gave Caceres a standing ovation in my house. My dogs were pretty pissed about that one.
After today's win, Juventus has defeated A.C. Milan twice this season. They have another league match against Milan in two weeks, and of course the second leg of the Coppa semifinal. The league game will be at the San Siro, but the return match for the semi-final is at Juventus Stadium.
Before that, Juventus have three matches in seven days. The games are against Bologna, Parma (making up for the snowed out game) and Catania. These are the small teams that Juve have struggled to defeat. A win against Milan in a few weeks would be big for Juve, but it's just as important to secure wins against these three teams.
It's a good thing that Conte has players like Martin Caceres. Praise Conte and Forza Juve.