Virginia Basketball: Sammy Zeglinski Needs a Guy Who Knows a Guy...
February 17, 2012
Streeter Lecka/Getty Images
Where I grew up, it was never hard to get something done that wasn't quite mainstream.
Need something fixed without a permit or a license?  No problem. 
The reason?
Because everybody had a guy who knew a guy.
Over the years, to avoid the possibility of incrimination, an extra level of insulation was added.  Suddenly, everyone had a guy who had a guy who knew a guy.
It was safer that way, even if there really wasn't another guy.   
I bring this up today because Sammy Zeglinski, and by extension, the Virginia basketball team, needs a guy.
I've watched basketball of all levels for a long time.
Sammy Zeglinski's current shooting slump is the most prolonged I have ever seen.
In the beginning I told everyone, "Don't worry about it. His coach is still the leading percentage three-point shooter in NCAA history. If anyone can straighten out his shot, it's Tony Bennett."
But for some odd reason, coaches are reluctant to tinker with a player's shot when they reach this level.
Recently Bennett, when asked about Zeglinski's shooting slump, commented that he thought his shot looked "fine". But could he really have believed that?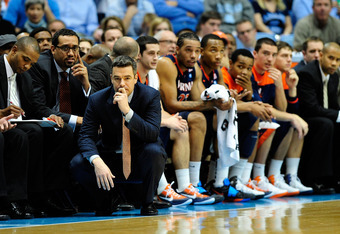 Grant Halverson/Getty Images
Sit in any of the local gin mills or coffee shops or gyms and everyone's got the answer.
"He's out of rhythm", "he's not squaring up", "his legs are flailing", "the ball's not coming off his index finger last."
Even my sister, who reads these only because her brother writes them, had this to say after, in a recent article, I questioned how this basketball team would handle all the adversity being thrown at it,  Zeglinski's slump being a part of that adversity:  
"It left me, who doesn't really care about the basketball team you're writing about, wondering how the team will fare, and "rise to the occasion."
It also left me wondering what happened to "wonder-boy" that caused this uncharacteristic slump...obviously something happened of some import. If the body is as well as it was before the slump, it doesn't forget how to shoot...reflexes don't suddenly fail us without cause... so if the body isn't sick, then the mind/spirit is troubled...Did his girlfriend get pregnant? his Mother get ill? his brother get arrested? he's in danger of not graduating?...WHAT?...inquiring minds want to know..."  
And indeed they do. 
This basketball team is teetering on the brink of disaster. Virginia has managed to win a number of games this year with only one other major contributor besides their All-ACC player Mike Scott. More often than not, that player has been Joe Harris.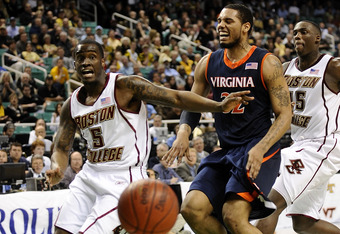 Jeff Zelevansky/Getty Images
But Harris fractured a bone in his non-shooting hand at North Carolina last Saturday. On Tuesday at Clemson, Harris played with what looked like a small boxing glove on his left hand. It badly affected his shooting and ball-handling and almost eliminated his ability to rebound.
Jontel Evans has done an admirable job stepping up and providing a second scorer in the last two games.  And not that UVA isn't in desperate need of every point, but Evans' points come from his penetrating to the basket.
The Cavs have to have an outside threat. Six weeks ago, they had two. Zeglinski was connecting at over a 40 percent rate. Harris was not far behind.
It forced defenses to play UVA "honest." They couldn't collapse on Scott because Zeglinski or Harris would make them pay dearly.
I won't make you suffer more by posting "before-and-after" shooting stats. Suffice it to say the difference in Virginia's three-point shooting then and now is beyond belief.
Five regular-season games remain.
Three wins will definitely get the 'Hoos to the Dance. Two may do it, depending on how Miami finishes their season.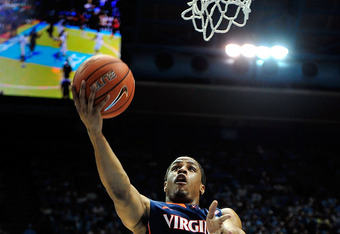 Grant Halverson/Getty Images
As you've read here, or seen for yourself, this Virginia basketball team is a gutsy bunch. 
But coming off two consecutive losses, both by double digits after not having lost a game all season by more than three, their remaining confidence must be fragile.
One of three things needs to happen to carry these guys through. The first has odds roughly similar to hitting the lottery: Paul Jesperson, reportedly an outstanding three-point shooter, needs to come in, make his first or second trifecta attempt and go on a storybook run over the remainder of the season.
To date, Jesperson has looked jittery, and his shot has been erratic.
The second possibility is Malcolm Brogdon. The freshman has been a significant part of UVA's success. He's really the only true triple-threat offensive player. But his long-range shot has gotten flat, and he's looking to put the ball on the floor more of late.      
The third, and most obvious, is a "Sammy Sighting." Zeglinski played 38 minutes versus Clemson and attempted only five shots.
"Shooters need to keep shooting" is an old basketball adage.  The rationale is the only way to get out of a slump is to make shots, and the only way to do that is to take them.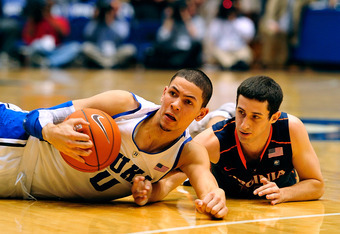 Grant Halverson/Getty Images
My wife, on par with my sister when it comes to sports awareness, offered this suggestion when I told her the subject of this diatribe:  "Maybe he should wear his girlfriend's underwear like the guy in "Bull Durham."
What "Nuke" LaLoosh actually wore under his uniform was Susan Sarandon's garter belt. It's an option previous generations of basketball players wouldn't have had (the shorts were too short).
But the frame of mind Sammy's probably in these days, he might consider it.
Me? 
I think he needs a guy.