Pirlo Shines as Juventus Come from Behind to Beat Catania 3-1
February 18, 2012

Valerio Pennicino/Getty Images
After the Parma match, I complained that I was running out of things to write about. At the time, I was referring to Juve's struggle against provincial sides. However, there is another (albeit good) theme that has become redundant as well.
This more positive theme is Andrea Pirlo's resurgence. Discarded as too old and too expensive by Milan (who re-signed older and more expensive players despite the paltry offer they left Pirlo), he was signed on a free (a free!) transfer by Juventus. He's now become the team's offensive mastermind, and a large reason for Juve's success this year
Both of those themes were continued today, but one prevailed over the other.
Today they faced a typical 'small' side, Catania. Catania were coming off a 4-0 defeat over Genoa, and boasted several ex-Juve players. Most notable was Marco Motta, who was Juve's worst player last season, and was just loaned out to Catania. Catania also have Sergio Almiron and Nicola Legrottaglie in their squad, so there are some players who had good times with Juventus.
The game started off horribly for Juventus, as almost immediately into the game Sergio Almiron fired off an effort at goal. Buffon worked hard to block it, but just a few seconds later, Catania forward Pablo Barrientos came through with a low shot to the far post that beat Buffon.
Catania had put themselves up against 1-0 against the black and white giants of Turin. The first goal also served as a total shock to the Juve squad. For the first time in a long time, they were down to a provincial side. Sure, this is a team that's gone down to other teams at points, like in the Napoli game. But this time was different, this was Catania.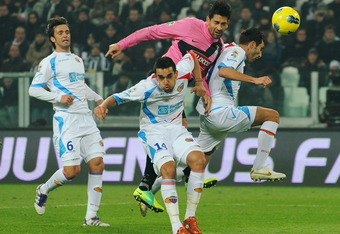 Valerio Pennicino/Getty Images
In the immediate aftermath of the goal, Juve struggled to gain traction. Catania were really clogging the midfield, and Conte's 3-5-2 (appearing once again) did little to alleviate that. Indeed, Catania also suffocated Pirlo for the beginning moments of the match. Of course, that would not last.
It must be said that despite the first goal, Juve's defensive players performed well. Some were better than others, but on the whole they put on a good performance. Andrea Barzagli was not the rock he usually is, but he still had a decent match in general. Barzagli's dip was more than covered by Leonardo Bonucci, who stepped up big time. Bonucci had a great game last time out against Parma, and he built on that performance today.
Leo was not as involved in the passing game as he usually is, but he still had seven accurate long balls, and a 96% passing accuracy rating (the highest in the squad). Today, Leo's most impressive achievements were defensive. He had four tackles, five interceptions, and three clearances. Those statistics are similar to those of Giorgio Chiellini, except Giorgio had three more interceptions and three fewer clearances.
Seeing as how Bonucci was being widely criticized by fans and pundits over a minor dip in form back in January, I hope those who went after him will give him credit for his continued high-level performances.
The midfield was, again like at Parma, a mixed bag. The central midfield was pretty good, though Claudio Marchisio again failed to really influence the game. However, out on the wings, Paolo De Cegli and Simone Padoin really struggled. De Ceglie was better than Padoin, but neither was particularly good.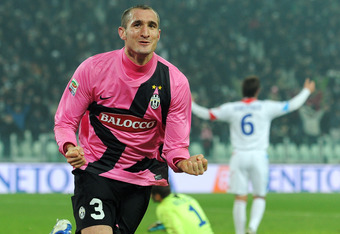 Valerio Pennicino/Getty Images
Padoin had a really tough time out there today, giving up possession a few times and attempting some poor passes. Padoin even had a chance to score today, but his shot was awkwardly hit and fizzled out lamely. Though he did do well to get into space for a Borriello pass early on in the first half. Padoin played the ball back over laterally to Borriello, whose attempted bicycle kick was blocked for a corner. Later on, Simone Pepe returned from injury to take Padoin's place, but the formation also shifted so he was not playing the exact same role.
De Ceglie was fairly competent while defending, but he too struggled with possession. That said, as time went on, his performance bettered. He certainly got the best of Marco Motta, but that is not saying much. Like Padoin, De Ceglie was later taken off for a winger. In this case, the winger was Mirko Vucinic, whom I was hoping would not be playing. Vucinic had one effort on goal that was saved, and did not do much else of note today.
Speaking of Motta, the man who was only a few weeks ago sent to Catania from Turin, was booked twice today. The first was, obviously, a yellow card and the second booking was, obviously, a red card. Both moments made me chuckle, and I felt all the pent up rage and stress from watching him play for Juve last season leave my body as the referee raised his red card.
While De Ceglie and Padoin had iffy games, their compatriots in the middle of the field all played well. As I said earlier, Marchisio failed to really assert himself into the game, but he still helped contribute to Juve's overall success. Still, I do wish that we could see a return of the deadly finisher Claudio Marchisio, who disappeared sometime in December.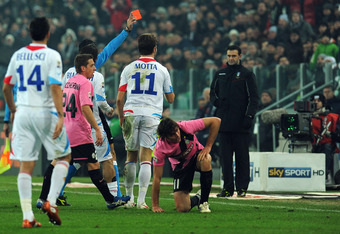 Valerio Pennicino/Getty Images
Now, despite the lack of heroics, Marchisio did have a good match. I'm just spoiled and expect him to score because I bought his jersey. He contributed several successful crosses and long balls, and had two efforts on goal, one of which was on target.
Emanuele Giaccherini, Arturo Vidal's replacement, had a rough go of it at first, but his performance got ever better. He sometimes struggled while on the ball, being dispossessed a few times, but his passing was quite good. Additionally, while he did sometimes find it hard to move with the ball, he did have one particularly dangerous effort in the second half. Giaccherini dribbled his way into the box, and fired off a fierce effort, but it was blocked.
The man of the hour was definitely Andrea Pirlo. While he was totally shuttered by Catania at first, they eventually had to start paying attention to Juve's other players, and Pirlo was able to wreak havoc. And wreak havoc he did, with seven key passes, three shots on target (plus the equalizing goal off of a free kick), 101 passes and 12 long balls.
Oh, right, the free kick. It was a pretty straight forward one for Catania to block, if they properly set their wall up, then Pirlo has no good angle to choose from and has to bend the ball (not necessarily like Beckham, unless he wanted to).
Instead, Catania keeper Tomas Kosicky (possibly Tomas Rosicky's evil twin) set up his wall jusssttt a wee bit too much to the left. Pirlo curved his shot a bit to the right, and it went right past the keeper for the equalizing goal.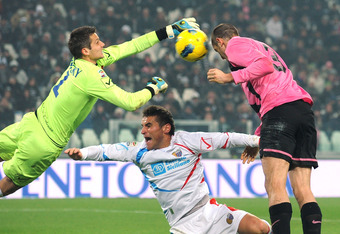 Valerio Pennicino/Getty Images
The go ahead goal came off of a free kick as well. Pirlo sent the ball into the six-yard box, and Kosicky just ate it, totally falling down. Chiellini was in place for the ball and headed it goalwards. 2-1 Juventus.
The third goal was scored by one of the forwards, whom I've neglected to mention.
Since Conte was using a 3-5-2, there were two men up top. Today, those men were Fabio Quagliarella, and Marco Borreillo. Quags has never really seen solid starting time this year, as he just started to break into the first team before the winter break (scoring his first goal in December), and then was injured in the first game back from the break. Since then, he's mostly been a substitute, but perhaps now, Conte will start rotating his forwards more.
Borriello had a pretty good game today. He has still not yet scored a goal for Juve, but he has helped contribute regardless. He had a few chances to score today, one bicycle kick that was blocked, one nasty header, and a few important passes. Still, he didn't have that extra something that he needed, and he will continue to search for his first Juventus goal.
Quags did score eventually, putting Juventus up 3-1. The goal came off of a Catania pass which was intercepted by Pirlo. Pirlo and Quags went on a mini fast break, and Pirlo passed to Quags who sent the ball home for the goal. Perhaps this will spur Quags to go on a bit of a hot streak, as he is sometimes apt to, only more playing time will tell.
Mirko Vucinic, Stephan Lichtsteiner, and Simone Pepe all came on as substitutes. Vucinic didn't do much, except for the previously mentioned miss. Lichtsteiner helped provide a nice boost to Juve's efforts on both defense and offense, but he was brought on pretty late so it didn't really make a difference. Pepe was alright, but he missed a few opportunities and didn't do anything very special.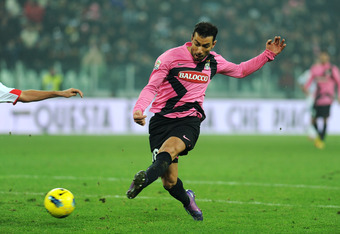 Valerio Pennicino/Getty Images
Perhaps Pepe's most noticeable moment (though he shared the spotlight) came after Quagliarella's goal. The boys all went to the corner to celebrate, and as Marco Storari jumped on the little circle of hugs, he (accidentally, with his torso I guess) shoved Pepe's nose into Quags' head. Pepe began to bleed, and so did Quags. The game actually had to be stopped for a bit.
One clip that sticks with me (from the post-celebration wreckage) is of Quags leaning over, holding his head, while another player (Vucinic perhaps) stands by and consoles him. Storari walked over (probably to see what was wrong), and grabbed Quags head, perhaps because he was unaware of what had happened. Then, it looked almost as if Storari began to squeeze Quags' head, and Quags pretty forcefully pulled Storari's hands off, before Vucinic shoved him away. It wasn't a big fight or anything, but it was the sort of awkward moment you don't really see in a sports game.
I sort of wish the Juventus Youtube channel puts up a video of Storari and Quag. "Yeah, sorry for sending Mirko after you. Don't worry, he can't finish."
Okay, I don't think Quags would say that. Either way, his (and Pepe's) wounds better heal quickly, as Juventus face Milan (again) at the San Siro next Saturday. It is a match that will have big Scudetto implications.
As of now, Juventus are a point a head of Milan (who play tomorrow) in first place. Praise Conte and Forza Juve.