Cleveland Browns: Why Robert Griffin III Is the Only Option at QB
February 27, 2012

Sarah Glenn/Getty Images
I should start by saying that I believe the Cleveland Browns need a new quarterback. I like Colt McCoy as a backup great, but as a starter I don't think he has the physical tools to take an NFL team to a Super Bowl.
And I also believe that the only conceivable option (outside of Andrew Luck or Peyton Manning) is Baylor QB Robert Griffin III.
I completely dismiss guys like Kyle Orton and Jason Campbell as nothing more than stop-gap QB's.
I also dismiss Matt Flynn for a variety of reasons.
First of all, what has he done to deserve a starting job in the NFL? How does a guy who was only good enough to be taken in the seventh round of the draft worthy of a $50 million contract after only two starts? Or be worthy of a second-round pick in a trade (if Green Bay franchises him)?
Second, what is it exactly that he does that's better than Colt McCoy? He's played two games. That's hardly a large sample size to judge his ability. And don't give me preseason because McCoy looked awesome in the preseason last year.
And third, if Flynn really is that good, wouldn't new Miami Dolphins head coach and former Green Bay Packers offensive coordinator (for Flynn's entire career) Joe Philbin move heaven and earth to get him? No coach currently in the market for a quarterback has had as much (or any, really) access to Flynn as Philbin.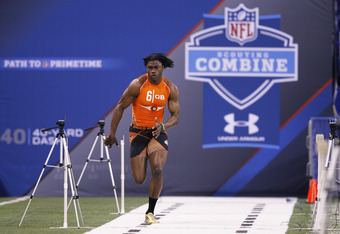 Joe Robbins/Getty Images
If it is true that every team in the league and all their scouts and coaches missed on this guy's talent coming out of college so much that even the Packers drafted another QB in Brian Brohm ahead of him in the second round, Philbin will know.
The Dolphins' pursuit of Flynn will tell us everything we need to know about him. And if the guy who knows him best isn't willing to pay to get him, then why should the Browns?
That being the case, I just don't see any reason to go out and get Flynn. And if that's the kind of player you really want, I think you already have him in Colt McCoy. There's almost no difference.
That leaves only Robert Griffin III. I've been on this bandwagon since he led that final drive against Oklahoma and nothing since then has given me any reason to get off.
I find it interesting that you hear nothing negative about him. We found out he's not too short or too small. He's way faster than anything you could ever desire for a QB. Most of the nit-picking things about his game relate directly to the system he ran at Baylor (which he has no control over, obviously). A system that we're hearing more and more often now isn't quite as simple as what it was made out to be. It's vastly more complex than the high school offense that Cam Newton ran at Auburn and he sure seems to be transitioning well to the NFL game.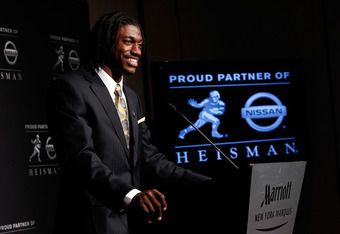 Jeff Zelevansky/Getty Images
Griffin is smart, charismatic and a leader. He's done nothing but impress in interviews and TV appearances. This isn't a Ryan Leaf situation. Griffin not only has the physical tools necessary to be a great NFL QB but he also has the character, which can never be undersold.
I've written this before in more depth, but it's always best to take a QB in the first round because that's where the guys are most talented. Over the past 15 drafts the success rate of getting a "good" QB in the first round is 61 percent. That looks great when contrasted with only a 12.4 percent success rate of getting even a "decent" QB after the first round.
The plan for getting a good QB is simple. If you are in position to take a guy in the first round, you have to do it. It's much easier to work with the talented guys in the first round than to try and develop one who has less talent later in the draft.
That's why I think the Browns must do whatever they can to get Griffin. He's just too talented to pass up. I can't get over the fact that no draft analyst is at all willing to stick their neck out and say he'll be a bust, or even just to level any harsh criticism.
The reason is simple: It's because he has a very real chance to be a great QB in the NFL. And if you're the Browns and you haven't had a competent QB in 20 years, how can you justify passing on Griffin?
Now, we can argue all day about what we should give up to get him. Just stand pat at No. 4? Give up the No. 22 to move up?
I'd be more than willing to give up that extra first-rounder to move up and take Griffin if that's what it takes. That's why you make that Julio Jones trade. You acquire assets and then parlay those into a great player. And I'm so sold on Griffin that I'd be willing to give up even more than those two first-rounders.
Quarterback is the most important position in all sports. And the Browns will never go anywhere unless they have one (as we've seen). However, this year Cleveland is in a great opportunity to make a move and get a guy who can be the quarterback for 10-15 years. How do you not make the move?
If you're a Browns fan, you shouldn't stand for anything less than Robert Griffin III.
You can follow Benjamin Flack on Twitter @ClevelandFlack.