Odds for Every Team in ACC Tournament to Make March Madness
March 6, 2012

Streeter Lecka/Getty Images
Once the crown jewel of college basketball, the Atlantic Coast Conference has seen its power ratings and prestige take a hit in recent years.  Yes, the conference has won five of the 11 national championships in the 2000s (two each by Duke and North Carolina, and one by Maryland), but their overall number of tournament invitations (as a percentage of conference members) has been in steady decline.
Before we examine each team's chances of securing an NCAA tournament invitation this year, it would be helpful to examine how the conference's expansion from eight to 12 teams (in 2004) has affected the number of bids received.
For comparison's sake, we'll use the seven seasons prior to expansion as a gauge against the seven seasons since.
Doing so, the only conclusion to be drawn is that the expansion has diluted the ACC's product and its perception across the nation.
In the seven years prior to expanding, the ACC received an average of 4.43 bids a year from the NCAA.  Since expansion that number has risen to 5.28 bids.
That means that while the conference is 50 percent larger, its invitation rate has only increased by 19 percent.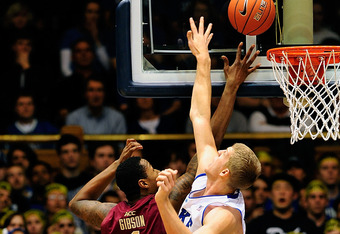 Grant Halverson/Getty Images
The best indicator of how the ACC has fallen can be seen in the seedings received in the "before and after" seven years of expansion.  Prior to expansion, ACC teams had only one double-digit seed.  Since expansion invitees have been seeded in double-digits seven times!
Part of the problem arises from the need to have an "unbalanced" conference schedule.  In 2009, Virginia Tech finished 10-6 in conference.  The NCAA denied the Hokies an invitation, citing in part a weak out-of-conference schedule.  But pre-expansion it would have been unimaginable for an ACC team with a .625 conference winning percentage to be on the outside looking in.
So, with that background, let's take a look at which ACC teams are in and which will be listening anxiously for their names to be called this Sunday.
The Givens
North Carolina, Duke and Florida State have no worries.  Using racetrack tote board odds, all are 1-9 to go dancin'.
What is at stake for each is tournament seeding.
Many are conceding the Tar Heels a No.1 seed, but make no mistake: they still must make the ACC final and, depending on their opponent, win that game.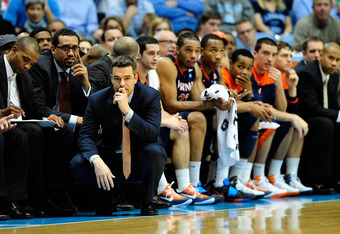 Grant Halverson/Getty Images
If they were to meet Duke in the tournament championship and lose to them for a second time, the Blue Devils would have a strong case for their own No. 1 seeding.
As for Florida State, while most observers are mentioning it as the only obstacle to a third Duke-UNC matchup, the Seminoles are staring at a likely third matchup of their own with Miami. Yes, the 'Noles are the only conqueror of both Duke and Carolina, but let us not forget that they also fell to a lowly regarded Boston College team and split with likely opponent Miami. 
Depending on its ACC tournament results, Florida State could be anywhere from a fourth to an eighth seed in the NCAAs.
The Almost Givens
That would be Virginia, and Virginia alone. 
The Cavaliers have always been squarely in the tournament since the "who's in and who's out?" discussions have begun.  Thus, there is only one scenario that would leave them on the edge of their seats come Sunday evening.   
If they were to be a quick-out to the NC State-BC winner, if Miami and/or NC State were to make a deep run in the tourney and an outsider were to win the automatic bid, then there's the possibility the Cavs would be NIT-bound.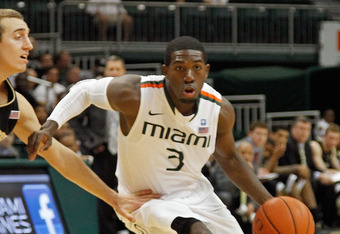 Mike Ehrmann/Getty Images
The chance of all that occurring?  Extremely unlikely.  Let's make them 1-5 to be joining the Madness.
The "It'll Take A Miracle" Crowd
Be aware that since expansion and the addition of a fourth tournament game for the eight lower seeds, no one has succeeded in winning four straight days.  
We'll include everyone playing on Thursday in this group, with one exception.
So while these teams are allowed to  dream for a few more days, we'll call Boston College, Georgia Tech, Virginia Tech, Wake Forest and Maryland impossibilities to win the ACC tournament and make the NCAAs.
There's no infinity sign on my keyboard, so put as many zeroes as you'd like behind this "1".  I'll call it 10,000-1.
The "Maybe, Just Maybe" Team
That would be Clemson.  The Tigers own victories over both Virginia and Florida State, and played a tight game at Duke.  They were walloped by North Carolina. 
But if there's one thing I've learned from years of playing in NCAA calcuttas, it's just because you think there's a particular team that the team you're assessing can't beat, don't automatically dismiss them.  The reason is that they may never have to face that other team.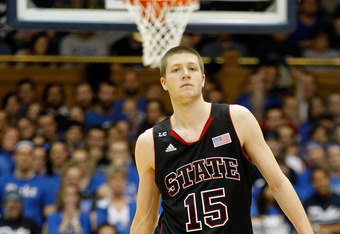 Streeter Lecka/Getty Images
That applies here because Carolina is in the opposite bracket from Clemson and will need to win two games to face them.  If the Tigers were to beat Duke and either FSU or Miami, they could certainly beat everyone else on the Tar Heels' side of the bracket. 
Again, an unlikely scenario, but certainly not impossible.  We'll call Clemson 400-1.
The Two True Bubble Teams
Finally, we get to Miami and North Carolina State, the two teams most consider to be the only question marks from the ACC.
Let's start with Miami. 
In my three previous pieces on the ACC, I have always declared Miami the most-likely "Cinderella" going forward.  The reasons remain the same as before. 
The Hurricanes put five legitimate players on the floor.  All three guards can handle, and Grant and Scott can both take, and make, the big shot.  Larkin is an outstanding defender and ball-handler.  And both bigs, Kadji and Johnson, present matchup problems for most teams.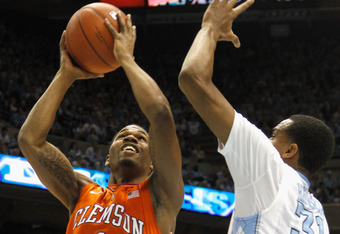 Streeter Lecka/Getty Images
Jim Larranaga, no stranger to the NCAAs, has had five months to transform this team to his style of play. 
The 'Canes are overwhelming favorites versus Georgia Tech on Thursday and will be the slightest of underdogs against Florida State, a team they just handled easily without Johnson on Friday.  Those two wins should have Miami dancin'.  A deeper run in the ACC tourney would assure it.
Let's make their odds of making the NCAA tourney 2-1.
That leaves NC State. 
In most statistical matchups, the Wolfpack and Hurricanes are very similar.  Miami has a slight edge in the RPI and NC State in strength of schedule.
The biggest difference I see is Miami owns two victories over Top 25 teams while NC State has none.
The 'Pack are a very talented team with Mark Gottfried, an outstanding coach.  But NC State has had multiple opportunities to pad its resume and failed.
That said, the Wolfpack also have a very similar opportunity to Miami's.  Their Thursday game is versus last-place BC.  A win there gets them a wounded Virginia team that they lost to by one point when the Cavs were much healthier.
Those two wins might get the Wolfpack in, depending on the type of victory they enjoy over Virginia and how Miami is faring.
All in all, I think NC State is still a year away.   I make them 8-1 to make the NCAAs.
So there you have it.  It's an ACC tournament with a lot at stake for at least five teams.
Let the games begin!