Arsenal Loan Watch: Ryo Miyaichi Named Bolton's February Player of the Month
March 6, 2012

Clive Mason/Getty Images
If you're actively searching for help with how to impress a new employer, look no further than Ryo Miyaichi.
Just one month removed from making his loan switch to Bolton Wanderers, which runs until the end of this season, Miyaichi has already received a "Player of the Month" honor, voted on by the club's fans.
It's just the latest chapter in what is fast becoming an enthralling narrative for the 19-year-old winger, who officially joined Arsenal in December 2010.
Miyaichi appeared four times for Bolton in February—three of those came in league play (two starts, one substitute appearance), one in the FA Cup.
It was in that Cup match that the winger scored a sensational goal against Millwall, which would prove the decisive strike in a 1-0 fifth-round win.
There was an element of Thierry Henry's graceful control and composure in that particular strike, but Bolton fans have apparently taken to calling Miyaichi "Ryodinho" (not the first time he's earned that nickname), a wonderful compliment to the Japanese winger's dexterous skill with the ball at his feet.
The teenager has capitalized upon this stirring run of form, earning a call-up to the Japanese national team for their World Cup qualifier against Uzbekistan last week, a match in which Miyaichi was an unused substitute in a 1-0 loss.
The youngster took that defeat rather painfully, and was upset he did not get the chance to make an impact on the proceedings.
"I wanted to play today," Miyaichi said following the match. "We (Japan) didn't take a lot of shots, so I think the match was a little disappointing."
There is no chagrin for Miyaichi in England, however, where he's said he's "happy" with the opportunity to play in the Premier League and live alone.
His latest appearance for Bolton was a 2-0 defeat to Manchester City at Etihad Stadium, but that setback is not in any way indicative of Miyaichi's irrepressible development.
Miyaichi played the whole game against City, the second consecutive league match in which he's gone the distance for Bolton.
After firing two shots (neither of which was on goal) against Chelsea on Feb. 25, Miyaichi again contributed two shots against City, only this time, both strikes were on target.
The youngster has been tipped to star in the Premier League, and Arsene Wenger has been immensely pleased with the winger's rapid progress, which is all the more impressive considering Miyaichi had not played professional football before his loan stint with Feyenoord last season.
Before joining the Eredivisie side, Miyaichi had only played for his high school team in Japan. But Wenger saw enough from a short trial spell with Arsenal in the 2010 summer to sign Miyaichi to a long-term deal.
As ESPN Soccernet's John Duerden rightly pointed out, not too many Japanese players have found success in the Premier League (Gunners fans will remember Junichi Inamoto's forgettable stint with the club), but Miyaichi's technical quality and searing pace have already made an impression at Bolton.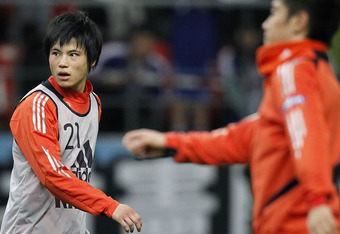 Kiyoshi Ota/Getty Images
If he keeps this up, there's no reason why he can't be an exception to that rule.
Wenger is certainly confident of the youngster's potential to make an impact in the Premiership. "Ryo has natural technical ability," Wenger said. "He has good balance and phenomenal pace, and his passing and crossing is consistently of a high quality."
No stranger to playing talented youngsters on loan from the league's top sides, Bolton manager Owen Coyle—who has coached Jack Wilshere and Daniel Sturridge in the past two seasons—likes what he's seen from Miyaichi so far.
"He is a young player that continues to get better and we are trying to bring him on in the right way," Coyle said. "We are giving him the platform for him to realise how far he wants to go in the game.
"He comes on with freshness, enthusiasm, pace, quality. He has a real desire to push himself on and I love working with that type of young player. Because of how well Ryo has played for us, he has emerged to be in the national squad."
Coyle is spot on in his assessment. If Miyaichi keeps up his current production, regular inclusion with the Japanese national team won't be the only significant promotion on his docket. A spot in the Arsenal first team is quickly passing from the realm of probability to certainty.