Peyton Manning Might Be a Pain in the Kansas City Chiefs' Neck
March 10, 2012

Streeter Lecka/Getty Images
OK, sorry for the pun. Of course, I could have used another word often associated with pain on the human anatomy, but good luck getting it passed by this website's censors.
Well, Chief fans, don't worry. This is an emotional time for us, but believe me, there is more in the world of football than just one man, even if that man will one day be a Hall of Famer.
After reading several articles, all giving reasons why Peyton Manning would be a good fit for Kansas City, maybe we should being asking ourselves if the Kansas City Chiefs are a good fit for Peyton Manning. You may not like the answer or the fact I'm even bringing it up as a fan, but there are positives and negatives that go with anything in life.
 I can bring up many points, but you have heard it all before. Maybe the offensive line isn't good enough to protect him. Also, Manning might not want to play outdoors in cold weather, and let's not forget the enormous amount of money it would take to sign him.
We all know that and then quickly discard it because our heads are in "dreamland", Manning, holding up the Super Bowl trophy, and fans running wild in the streets of Kansas City. Let's leave that fantasy there for a minute, and look at a issues that are not based on fantasy, but reality.
First of all, their has to be a question of whether Manning and GM Scott Pioli can coexist. Pioli may be football's most ego-crazed general manager. Sure, Pioli had no problems co-existing with Brady, but New England has never been in a position of competing with eleven other teams for his services. 
Then, the issue of autonomy. Who would truly be running this team, Manning or Pioli? Remember that under Pioli, it's said that nobody is bigger than the team. There had been already a huge amount of  media attention around Manning and I don't expect it will stop once he signs. When a GM believes that no one person is above the team, it would be almost impossible to push that "team concept" when all the talk is "Peyton Manning".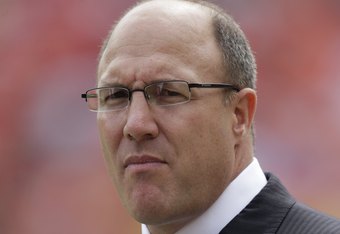 Jamie Squire/Getty Images
Do you really believe that would be the case if Manning joined the Chiefs? Yes, it would and Pioli insists on complete control. To think that Manning will just be another little soldier in Pioli's army is naive. You can't do what Pioli is trying to do with a mega-star and a media frenzy. For all we know, Manning might have a few concerns of his own, based on recent Chief history.
The point is, we might not see Manning as a threat to Pioli, but that might not be what Piloi thinks. In the wake of Todd Haley's comments about Pioli being a control freak, bugging the facility and listening to his phone calls, it doesn't exactly paint a pretty picture for Peyton.
Maybe Haley was paranoid and all his statements were typical statements that come out of the mouths of disgruntled ex-employees, but what if he's right?
Secondly, chew on this one. What do we know about Peyton Manning? He is a perfectionist. He has a tremendous understanding of the game. Robert Irsay has always given him the right type players who match his level of hard work and commitment to the game. 
To be in a Manning offense, all players must know the game as well as he does. Everyone better know the playbook, have great study habits, and most of all, not screw up and therein lies the problem. The Chiefs have wide receivers who do nothing but screw up. 
People have pointed out all the talent he has around him, but what about that talent? It takes more than talent to win a Super Bowl. Manning knows this. He's not stupid. He can make up for an insipid offensive line, but not the men that catch his passes. For a guy who runs plays from the line of scrimmage, his wide receivers better know where to line up and better know the playbook.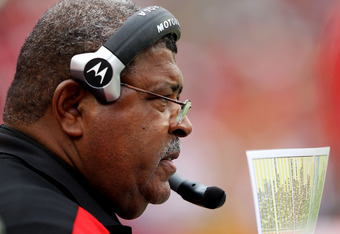 Jamie Squire/Getty Images
 ALL OF IT......
Dwayne Bowe has always been a wide receiver who has needed high maintenance. He has been in and out of the doghouse way too many times in his career. Why? Because he drops a lot of passes? No, not really, all wide receivers drop passes. It's because he is an airhead.
How many times has Bowe lined up in the wrong formation?
How many times have coaches had to yell at him during games?
How many times has he given poor effort in taking instruction? This is not the kind of receiver that is a student of the game, and he does not have the characteristics that Manning insists upon on the field 
And then there's Jonathan Baldwin. I have followed Baldwin for four years at the University of Pittsburgh. I have seen him make nice catches. I also have seen him let his team down by loafing, complaining, and finally quitting on the team. He is an immature man-child who needs constant direction and pressure from his coaches. 
He does not study the playbook, and at times is totally clueless. Like Bowe, he is not self-disciplined or self-motivated. Once again, he is a player who is not a student of the game.
Now, compare those two with what we know about Larry Fitzgerald. He is everything these wide receivers are not. I'm sorry, but I have to call it as I see it. Don't think Manning won't consider this a factor. Manning is going to think about his potential receivers even before he signs that contract.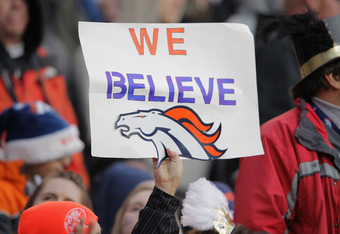 Doug Pensinger/Getty Images
Could he bring out the best in these two? Old habits die hard. They most likely will bring out the worst in Manning. Baldwin and Bowe may tune out Manning much like the players tuned out Todd Haley last year. Can't you imagine the level of frustration he will have with these two?
 There will be plenty of yelling on the field, but it won't be coming from the sideline. If you thought Todd Haley screamed a lot, you haven't seen anything like Manning. He will be tearing his hair out every time either of these receivers screw up, and he'll have plenty of headaches to go with those probable neck aches.
Then, there is the topic that nobody wants to discuss, and that is if Manning is still Manning. I know the doctors said his cervical fracture has healed. They also said that the nerves have not. When asked about his condition, Manning states he is making "Progress"
Progress?                                                                                                                       
Several workouts and medical reports are in order here. The Chiefs won't be caught with their hand in the cookie jar. Unless Manning can prove he's healthy, forget about a deal.
You can't make a $60 Million Dollar decision based on "progress"
Even if you refute everything I've said, and I am dead wrong, they still have one big hurdle in their path that worries me even more. Right now, there are four teams that are in the running, according to the Miami Herald. Three of those four are Denver, Arizona and Miami, and Manning has visits scheduled with all three in that order.
If the Chiefs do manage to get their interview, it would most likely take place after Tuesday when free agency begins. 
That hurts the team even more they can't afford to wait. If they don't sign him, they will also give other clubs first shot at signing the other top free agents available this year. They would be caught in a situation where they might not only lose out on Manning, but also lose out on the best free agents as well. Just look at the names on your "wish list" They will have a lot of money to spend with no free agents of any value to spend their money on, thus hurting the team even more.
Look, don't take this the wrong way. Of course, I'd like to have Peyton. I'm just saying there are two sides to every story, other things that we must think in terms of reality, not dreams
If the Chiefs don't sign him, it's nothing terrible. For the team that does, it doesn't make them an instant contender. Like other Chiefs fans, I'm willing to take that gamble. Don't act like it's the end of the world if we don't get him. It's not the end of the world.
No, its only the end of a fantasy.
Let's stop feeling sorry for ourselves, let's be aggressive in filling holes in free agency, get a top nose tackle and an offensive guard and then have a great draft. If Pioli doesn't come through in those areas, believe me, if there is a line of angry Chief fans, I promise, I'll be the first guy in line