NC State vs. Virginia: Wolfpack Sends Cavaliers Packing, 67-64
March 10, 2012

Streeter Lecka/Getty Images
In their first meeting with Virginia this year, the North Carolina State Wolfpack simply bludgeoned the Cavaliers on the backboards, out-rebounding them 40-20.
Three of the four Wolfpack frontcourt players, Richard Howell, Scott Wood and DeShawn Painter, had 26 of the 40 rebounds. On Friday afternoon in the quarterfinals of the ACC tournament, Virginia managed to hold that trio to just eight boards. Unfortunately for the Cavs, they couldn't stop C.J. Leslie, the fourth man in the Pack's rotation, from rebounding—or scoring. 
Leslie made 9-of-11 shots, scored a team-high 19 points, and grabbed a game-high 14 rebounds to lead NC State to a Saturday afternoon date with the top-seeded North Carolina Tar Heels in one ACC tournament semifinal. Florida State will meet Duke in the second semifinal.
The win snapped a Wolfpack four-game losing streak against Virginia. It also extended the Cavaliers' ACC tournament quarterfinal round losing streak to 12 consecutive games.
Every other ACC team has made a visit to the semifinal round since UVA's last trip in 1995.
Virginia was led by their All-ACC First Team member, Mike Scott, who tallied 23 points and gathered 10 rebounds for his 34th career double-double.
The first half saw a 14-point run by the Pack turn a 9-3 deficit into a 17-9 lead, with 11:25 remaining in the half.
The Cavaliers whittled away at the deficit, finally reclaiming the lead, 33-32, on a pair of Joe Harris (18 points) free throws with 32 seconds to go.
Streeter Lecka/Getty Images
But Scott Wood was fouled as he hit a three-pointer with one second to go and then converted the free throw, giving the Wolfpack a 36-33 advantage going to the locker room.
A traditional three-point play by Jontel Evans to open the scoring in the second half tied the game at 36.
State's Lorenzo Brown (15 points, eight assists, four rebounds) then made one of two free throws at the 18:59 mark to put the Pack back up for good.
NC State shot 27-of-50 from the field, but the most-telling stat wasn't one that shows up in box scores.
Coach Mark Gottfried's charges scored on their first possession coming out of time-outs or clock stoppages on 12-of-17 opportunities.
For the third straight game, Virginia relied on their starting five. The quintet played all but 13 of a possible 200 minutes, and for the second game in a row scored all of the Cavs' points.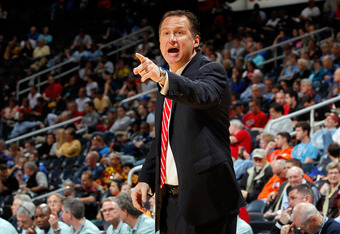 Kevin C. Cox/Getty Images
The key sequence occurred with NC State leading 55-49 with just under seven minutes to play. 
After Howell missed an offensive tip of an errant Brown jumper, the ball was slapped into the corner where UVA's Akil Mitchell (10 points, 12 rebounds) appeared to have retrieved it, only to have it ripped away by Leslie, who found Wood for his only other basket besides the first-half buzzer-beater.
Also a three-pointer, it gave State a nine-point lead with 6:05 remaining.
It would prove to be just enough.
With seven points from Harris and six from Scott, Virginia clawed back to within two with 21 seconds to go. 
After Wood made one of two free throws for a 65-62 Wolfpack lead, the Cavaliers had a chance to tie it with 11 seconds to go, but a Harris three-point attempt bounced off the front rim and was corralled by Brown, who was immediately fouled.
His two free throws with seven seconds left sealed the deal and sent the Wolfpack on to its third meeting of the year with No. 1-seed North Carolina.
Meanwhile, the Cavs return to Charlottesville where they will wait until Sunday evening to learn where they will play next.