Memphis Swingman Will Barton: 'The No. 8 Seed Is a Slap in the Face'
March 12, 2012

Ronald Martinez/Getty Images
Memphis basketball coach Josh Pastner greeted a few fans, boosters, reporters and well-wishers, among others, during Sunday afternoon's watch party at the Tournament Player's Club at Southwind, where the Tigers gathered to watch the NCAA Tournament Selection Show.
One by one, his players filled in the front row of chairs in the clubhouse's main room to get a sneak peak of their first-round opponent and site in this week's NCAA tournament.
Then came the much-aniticipated announcement the 200-or-so witnesses were eagerly waiting for, the one that, given Pastner's reactions when speaking with reporters, could very well serve as bulletin board material for the Tigers.
The Tigers (26-8), despite a late-season surge in which they won the Conference USA regular season title, breezed through the conference tournament and claimed their second straight C-USA championship, and won 20 of their last 23 games, was given a No. 8 seed and will face ninth-seeded St. Louis (25-7) on Friday in Columbus, Ohio.
The winner of the Tigers-Billikens game will face the winner of No. 16-seed Long Island University-Brooklyn and top-seeded Michigan State in Sunday's second round.
For the Tigers, who earned their second consecutive automatic berth to the NCAA tournament since Pastner replaced his former boss, current Kentucky coach John Calipari, at Memphis in 2008, Sunday's news of acquiring a lower-than-expected seed left what initially was a festive bunch of Tigers with mixed feelings and sense of disbelief by the time they addressed the media.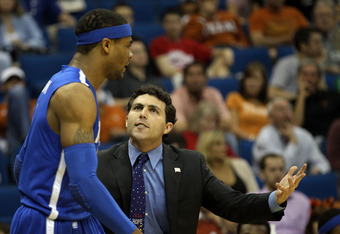 Ronald Martinez/Getty Images
Sophomore swingman Will Barton, the C-USA Player of the Year and the team's leading scorer, went as far as to describe the seeding a "slap in the face."
"We felt like we played our butts off the last couple of games," Barton said. "But you can't go back and ask for a No. 5 seed or a No. 4 seed. "I was shocked. When they was about to say No. 8 seed, I thought they were about to say somebody else."
While many of the Tigers expressed their displeasure over the low seeding, it appears the selection committee took into account not Memphis' body of work leading to Selection Sunday, but rather its early-season slate of games, particularly against teams ranked in the top 25.  
For instance, the Tigers, who were ranked as high as No. 9 in the country in most preseason polls, went 1-6 against top 25 opponents, including losing twice to Georgetown, whose strength of schedule is 14, according to cbssports.com.
Conversely, Memphis, whose strength of schedule improved from as low as 49 near the halfway point of the season to 20 over the past week, made a strong case for securing a higher seed with key wins over Xavier, Belmont, and Southern Miss, all of whom made the field of 68.
Still, Pastner, exhibiting his usual slight smirk while taking questions from reporters, found it somewhat difficult to embrace the "No. 8" that flashed next to Memphis on the 40-inch flat-screen television mounted to the wall a few feet from where his players sat.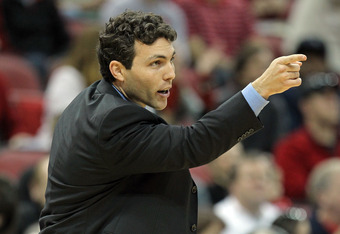 Andy Lyons/Getty Images
"We are going in as the underdog," Pastner said. "We have that underdog mentality, and in order for us to earn our respect, we're going to have to win. I definitely felt like we should have gotten a five seed. We're definitely going in with a chip on our shoulder."
Barton was quick to echo Pastner's fearless disclosure. Considering he feels the Tigers' recent success has been overlooked, he believes displaying a sense swagger heading into the Big Dance is inevitable.
"What I got planned, I don't care if the game is played in Athens (Greece)," Barton said. "People are sleeping on us, but that's a part of the business. Sometimes you're popular, and sometimes you're not."
Win a couple of games this weekend, including a potential second-round, 2008 Sweet 16 rematch against Michigan State, and chances are the Tigers could earn the respect they discovered was nonexistent Sunday when No. 8 appeared next to Memphis.
But first thing's first, a date with a St. Louis team led by veteran coach Rick Majerus.
"We've got to win the first game first," Pastner said.
Chip on their shoulders and all.
Sportswriter Andre Johnson is a frequent contributor for the Memphis Commercial Appeal newspaper and Memphis Sport Magazine. To reach him, call 901-690-6587. You can also connect with him via Facebook under "Andre T. Johnson," or follow him at Twitter at www.twitter.com/@AJ_Journalist.