March Madness 2012: Teams Who Can't Be Considered Cinderellas Anymore
March 19, 2012

Rob Carr/Getty Images
Well, that was one of the best opening rounds in NCAA history. Norfolk State was the first 15 seed to beat a two seed in 11 years, since Hampton beat Iowa State in 2001. It took just four hours for another one to happen, when Lehigh took down the Duke Blue Devils.
But, although a first round upset feels great for the underdogs. It's what they do afterword that gets them in the record books. Here's a look at a few Cinderella teams that could be making the trip to New Orleans in a few weeks:
11-Seed, NC State, Midwest Region
The Wolfpack are coming in hot, after an incredible run through the ACC tournament that was finally stopped in a heart breaker against in-state rival UNC after a few controversial calls. However, that loss should only make this team more motivated.
This is a balanced squad that can beat anyone. Boasting an incredible five double-digit scorers, the Wolfpack can overcome an off-day from one of their stars, and they truly come together as a pack (sorry, had to) in order to beat teams.
C.J. Leslie is a dynamic play maker at 6'8″.  He averaged over 14 points and seven rebounds this year. Lorenzo Brown is an excellent distributor, and Scott Wood, Richard Howell and CJ Williams also all score in double-figures.  Their combination of balance, talent and momentum could carry this team to a deep tournament run, with upset wins already over San Diego St. and Georgetown.
10-Seed, Xavier, South Region
The Musketeers also had a rough season, marred by the terrible events that occurred during their game against Cincinnati early in the season.  At one point a mainstay in the Top 25, Xavier fell far and fell hard after the brawl.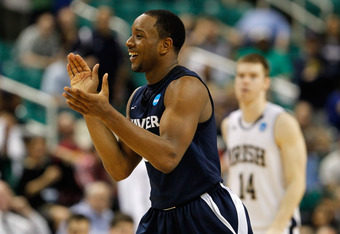 Streeter Lecka/Getty Images
But they're making a comeback.  Despite their lose to St. Bonaventure in the Atlantic-10 Tournament Final, they still have the talent to make a deep run.
Led by one of the most talented back courts in the nation, Xavier could be dancing for a while. Tu Holloway and Mark Lyons each average over 15 points per game while also contributing solid assist numbers.
They are complimented by a solid wing player, Dezmine Wells and one of the biggest (literally) players in the tournament in Kenny Frease.
They have already played a talented Notre Dame team and an inspired Lehigh crew, who was coming off the biggest game of the players lives two nights earlier.
While this has certainly been a tumultuous season for the Musketeers, led by their experienced leaders, they could still make a run.