Oakland Raiders: Grading Reggie McKenzie's Offseason so Far
March 20, 2012

Justin Sullivan/Getty Images
For 50 years, Al Davis was the Oakland Raiders—the Raiders' mentality was his mentality. He created the aura of the "Silver and Black," he coined the mottoes "Just Win, Baby," and "Commitment to Excellence," he oversaw all personnel decisions. The Raiders were Al Davis.
And because Davis didn't believe in blowing it all up, the Raiders basically never had a full-on rebuild—offseasons weren't for rebuilding; they were for reloading.
Even when the introduction of the salary cap and free agency made this more difficult, Davis still refused to rebuild. And for awhile, he made it work. Seen as a master manipulator of the cap, Davis seemed to always go into the offseason in salary cap trouble, but ended up keeping the players he wanted anyway.
Unfortunately, in today's NFL, it's becoming very hard to constantly reload. The Raiders learned that the hard way. They languished in 4-12 and 5-11 seasons for most of the last decade, as Davis' reload attempts began to fall short. But amidst all the losing, while Davis continued to sign or trade for veterans (like Richard Seymour), the team quietly amassed young talent through the draft. It was a half-rebuild, half-reload process.
But now, with the passing of Davis, the Raiders have a general manager for the first time in their history. And he's sending some very mixed signals about whether his current plan is a rebuild, a reload or if there's even a plan at all.
Now in fairness, the Raiders were in real salary cap trouble when Reggie McKenzie took over; about $22 million over the 2012 cap, according to Paul Gutierrez of CSN Bay Area. But for a team that is relatively young and was one win away from the playoffs in 2011, the focus should be on adding to the roster, not gutting it.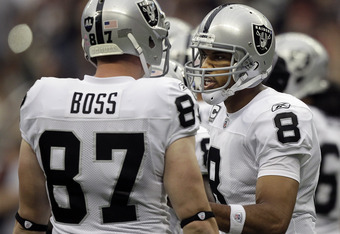 Bob Levey/Getty Images
The bloodletting has been swift and merciless. Within the span of a few weeks, McKenzie cut Kamerion Wimbley, Stanford Routt, Chris Johnson, Kevin Boss, Hiram Eugene, Cooper Carlisle and John Henderson (Carlisle has since been re-signed).
At the same time, he also let multiple free agents walk: Jason Campbell, Chaz Schilens and Rock Cartwright. Additionally, free-agent back-up running back Michael Bush is unlikely to return, which could be a hefty blow (and I'm not talking about his size). When your starting running back is injury-plagued Darren McFadden, a solid backup is important to have.
That list of players might not read like a Pro Bowl roster, but there are some quality guys there (Wimbley, Routt, Bush). And when your team is without draft picks in five out of seven rounds, how are you going to replace the depth lost?
Part of McKenzie's strategy seems to be signing discarded veterans, such as cornerbacks Shawntae Spencer and Ron Bartell. Clearly, they are seen as only stopgap replacements, as both are 30 years old and received only one-year deals. There has been speculation the Raiders will also go after former Saints corner Tracy Porter, 25, who is most famous for his championship-sealing pick six in Super Bowl XLIV. But Porter has been injury-prone during his career, and still might return to the Saints.
If Porter can't be signed, adding Spencer and Bartell isn't going to create much excitement in Raider Nation. Are they really going to help improve a defense that was atrocious at the end of last year? With the signing of Peyton Manning in Denver, the Raiders are going to need all the help they can get if they want to stop the Broncos' new-look offense.
At first glance, when I heard about the Raiders' many cuts, I thought McKenzie was going to blow up the team and start over. But he's decided to keep high-priced veterans like Seymour, who had a sub-par season last year, and Palmer, who was scheduled to make $12.5 million this season. Both agreed to restructure their contracts, but outright releasing them would have saved the team a lot of money. If McKenzie didn't have the intention of competing next year, he would have gotten rid of one or both of them.
Although McKenzie was highly recommended by football people and spent years learning in Green Bay, so far, his moves haven't inspired a lot of confidence. Firing Hue Jackson after an 8-8 season where the offense continued to improve was a mistake, but we all understand a general manager wanting to bring in "his own guy."
But to replace Jackson with Bronco defensive coordinator Dennis Allen is a risky proposition: Allen is not only the youngest head coach in the league, he's only had one year of experience as a coordinator. Why replace a young coach (Jackson), who at least has proven he can coach an offense very well, with a guy who has minimal experience (Allen)?
McKenzie also allowed Allen to hire Greg "The offense takes a" Knapp as his offensive coordinator, which is a terrible move. Sure, coaches should get to decide who their assistants are, but the general manager should have veto power, and McKenzie should definitely have vetoed Knapp.
Up until this point, Knapp's most notable achievement on an NFL sideline is getting chewed out by Terrell Owens on national television. After some initial success with the 49ers a decade ago, Knapp has been a mediocre-to-bad offensive coordinator for three different teams (Falcons, Raiders and Seahawks). In six seasons with those teams, his offenses have ranked 20th, 12th, 12th, 25th, 29th and 21st in the NFL.
The offseason isn't over for McKenzie, and Raider Nation will have to hope he still drafts well despite the limited number of picks he'll have. We've got six months until the season starts, and plenty of moves can still be made. But as of now, the quality of McKenzie's work only merits a C+ from me.
For more foolish analysis, along with the occasional witty comment, Follow @FernandoRGallo