Martin Truex Jr. vs. Joey Logano: Which Sprint Cup Surprise Is for Real in 2012?
March 22, 2012

John Harrelson/Getty Images
Every NASCAR season has its surprises and its disappointments. The 2012 NASCAR Sprint Cup Series season is no different.
The disappointments have been well-documented. From Jeff Gordon's bad luck, to Kasey Kahne's crashes, to AJ Allmendinger's poor finishes in his first year with Penske Racing, there has been no shortage of topics in that department.
But for every disappointment, there has been a big surprise. Two drivers in the top 10 in points after four races are names we're not accustomed to seeing there.
Names like Martin Truex Jr. and Joey Logano, who four races into the 2012 season sit fourth and ninth in the standings, respectively.
But of these two surprises, both of whom were considered "sleepers" before the season began, it is unlikely that both will continue to hold their ground for the remainder of the season.
Sure, it would be great to see fresh new names like Truex and Logano competing for the title in the final 10 races, but with perennial contenders like Gordon, Carl Edwards and Jimmie Johnson still outside the top 10 in points, something has to give.
So of these surprise drivers, which one is likely to hold is own for the remainder of the 2012 season?
Let's start with driver No. 20
Logano is an interesting candidate for a Chase slot. The Joe Gibbs Racing driver is under a lot of pressure to perform in 2012 or risk losing his ride at season's end, when his contract with JGR expires.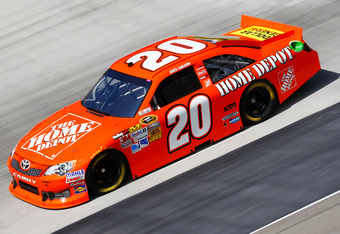 Geoff Burke/Getty Images
Logano ran a pair of inspired races to start the 2012 season. He came from 18th on a late restart in the Daytona 500 to finish ninth and followed that up with a solid 10th-place finish at Phoenix.
But Logano has been mediocre in his last two races, as has the entire JGR organization. Logano carried the banner for Gibbs at Las Vegas two weeks ago with a 16th-place finish and did so again at Bristol a week ago with another 16th-place run.
Finishes in that area may not be enough to get Logano into the Chase, but there are some tracks at which he can sneak a win and get into the Chase with a Wild Card berth, particularly at Pocono, Talladega and Daytona.
Then there's Truex.
The Michael Waltrip Racing driver has been solid if not spectacular to start the 2012 season. Despite only one top-5 and two top-10s through four races, Truex has been consistent and has shown muscle at each of the first four events this season.
Truex led laps and showed he had a car capable of winning the Daytona 500 before getting shuffled back in the field late in the race. He had another strong car at Phoenix, where he led laps and finished seventh. And a week ago at Bristol, Truex ran in the top 10 all day en route to a third-place finish.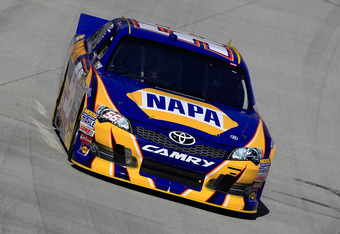 Chris Trotman/Getty Images
But more impressive than Truex's strong runs so far are his statistics.
Truex ranks fifth in driver rating, a statistic that combines wins, finishes, average running position while on the lead lap, average speed under green, fastest laps, most laps led and lead-lap finishes.
Truex's fifth-place ranking sits him behind only points leader Greg Biffle, Daytona 500 winner Matt Kenseth, Kevin Harvick and defending champion Tony Stewart.
Truex has also shown that he's good at passing strong cars. His 306 quality passes, or passes made on cars running in the top 15, ranks sixth behind only Brad Keselowski, Stewart, Dale Earnhardt Jr., Mark Martin and Logano.
With an average running position of 9.911, Truex is also one of only four drivers with a top-10 in that category, demonstrating that he has not only finished well, but also run well.
All of these things bode well for Truex to make a case for his second career Chase berth. But perhaps what makes the greatest case for Truex's legitimacy this season is history.
Truex sits fourth in the standings, a significant spot because since the Chase began in 2004: Only four drivers who sat fourth or better in the standings after four races did not go on to make the Chase.
And one of those was Mark Martin in 2007, who did not run the full season that year.
Both of our surprise drivers in the top 10 in points have a shot at making the Chase. Heck, everybody in the top 35 in points has at least a minuscule shot at making it at this point.
But which of our surprises has the best chance at holding his ground in the top 10 and making the Chase?
You be the judge.