Florida Gators One Step Closer to Final Four
March 23, 2012

Jamie Squire/Getty Images
Keep doubting the Gators, America.  Keep penciling their opponent into the next round's game.
That's what they want you to do. 
Based on CBS's pre-game show—and even during the first 10 minutes of the game—Florida was talked about like a red-headed mid-major. 
Despite the fact that the Gators are winning with defense, ball control and timely shots, the misconception that "all they do is shoot threes" and "if they aren't hitting said threes, they have no chance to win" is still running rampant, mainly due to a lack of homework on this team's makeup.
Let's start with defense.  In the week leading up to the game, Marquette forward Jae Crowder, reigning Big East Player of the Year, credited Florida's offense but added, "They lack a few things defensively."  What those things are, no one seems to know.
In last night's game, Marquette was limited to 30.8 percent from the field.  Crowder and Johnson-Odom, Marquette's main weapons, both shot just 5-15 from the field.  The Gators blocked nine shots (with five different players contributing to that number) and out-rebounded the Golden Eagles 39-34. 
Afterward, Crowder refused to give credit to the Gator defense, simply saying that his shots weren't falling.  What can I say, Jae Crowder:  Haters gonna hate.  
It appears that Crowder bought into the silly notion that many writers were putting out for over a week:  that the Golden Eagles "have more talent," and that their athleticism would eventually run right past Florida.  Much to the contrary, the Gators were the high-flying, dunking, shot-blocking team that stifled Marquette's high-powered and up-tempo offense.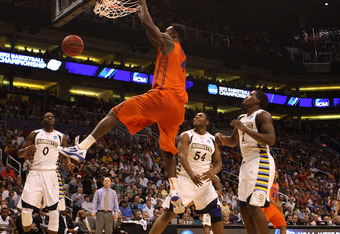 Christian Petersen/Getty Images
Casey Prather threw down another highlight dunk and sent another emphatic block out of bounds.  Patric Young was beastly down low.  Erik Murphy fought his way to a double-digit rebound night.  And then there was Bradley Beal, the freshman who stole the show by doing everything—threes, dunks, blocks and boards.  The kid even defended the post on a few occasions. 
Meanwhile, the Gators had to fight through their own ugly shooting performance.  On a night when three starters—Erving Walker, Kenny Boynton, and Murphy—combined to go 8-32, including a disastrous 3-17 from three-point range, the Gators found a way to manufacture points.  They relied on their bench, they worked the press and perhaps most importantly, they maximized their offensive possessions, pounding the offensive glass and turning it over just 11 times.
At the end of the night, the Gators ended a pedestrian 7-27 (25.9 percent) from three.  And while a handful of those threes were at clutch moments, this game was won in the paint, much like their game a week ago against Virginia, in which Florida ended 4-23 from three in a blowout 71-45 win over the Cavaliers.  Just for fun, want to take a guess at how many ACC teams scored over 70 against Virginia?  Zero.  Yes, zero.  (Maryland scored 72 but needed overtime to do it.) 
Do the math, and here's what you get:  Florida shot poorly (a combined 11-50, or 22 percent, from three-point range) in two tournament games against quality teams and still found a way to win by 26 and 10, respectively.  Not too shabby for a team that only wins with three-pointers. 
But go right ahead, America.  Talk about Louisville's new and improved press, their athleticism and length inside, their depth, their blah blah blah. 
Pencil the Cards right into the Final Four.
That's exactly what Florida wants you to do.