Juventus Crushes Napoli in Shocker
April 2, 2012

Marco Luzzani/Getty Images
After A.C. Milan were limited to a draw against the force that is Catania, Juventus were given a golden opportunity to re-open the Scudetto race. Unfortunately, they met Napoli, a talented team with perhaps the most explosive forwards in Serie A.
Before the match, many fans, myself included, thought that Napoli would be the greatest competition Juve faced this season. While Milan or Inter may have put up strong challenges against Juve, Napoli were the only team to really come close to beating Antonio Conte's side. When they played last November, Napoli was ahead 3-1, and it took a heroic effort from Juventus to come back and tie the match at 3-3.
Juventus started the match in the 3-5-2, which was Conte's response to Napoli's 3-4-2-1. The final special switch made by Conte was in player selection, as he picked Juve's worst striker Marco Borriello to start. Boriello, who was paired up top with Mirko Vucinic, was expected to use his size and physicality to wreak havoc on Napoli's back three. Instead, he spent most of his time falling down.
The first half didn't do much to assuage my fears as Juventus failed to score. However, I turned out to be worrying in vain, as Napoli would fail to register a single shot on target throughout the entire 90 minutes.
Napoli's lack of on-target shots was due to the superior play of Juve's backline (the trio of Andrea Barzagli, Giorgio Chiellini, and Leonardo Bonucci) and their midfield. Both of these sectors made up for the dreadfulness of Juve's forwards. Vucinic did okay, but Borriello was absolutely horrible.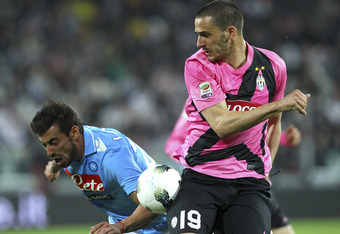 Marco Luzzani/Getty Images
Vucinic showed some flashes of creativity during the first half, but the black hole that is Borriello swallowed up any scoring chances Juve may have had.
There were plenty of good moments for Juve in the first half. Giorgio Chiellini made some excellent tackles and beat Marek Hamsik in an aerial duel. Arturo Vidal was a tackling machine at midfield. Paolo De Ceglie, one week after making Javier Zanetti look like a fool, did the same to Lavezzi.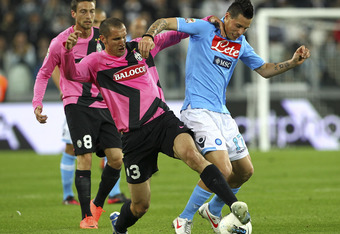 Marco Luzzani/Getty Images
The second half got off to a rocky start, as a Pirlo pass was intercepted deep in Juve's territory, but Chiellini bailed them out and swung the momentum back in Juve's favor.
Moments later, Juventus broke through. Pirlo crossed the ball into the box off of a free kick, Vucinic's ensuing shot deflected off Bonucci to get passed Morgan De Sanctis for the first goal of the match.
Napoli responded with three consecutive crosses that went for not, but the added pressure led to slew of substitutions from both sides.
Goran Pandev replaced Gokhan Inler for Napoli. Juventus brought in Martin Caceres for Stephan Lichtsteiner, Fabio Quagliarella for Borriello.
Right after the personnel changes, Claudio Marchisio set up Arturo Vidal for Juve's second goal. Vidal received the ball, dribbled around Napoli's defenders in a style that can only be described as Ronaldo-esque, and fired the ball past De Sanctis.
Conte's third and final substitution, Del Piero for Vucinic, made an immediate impact. With his first touch of the match, Del Piero released Quagliarella as Quags made a run into the box and after a deft shot, Juventus was up 3-0, where the score would remain for the rest of the match.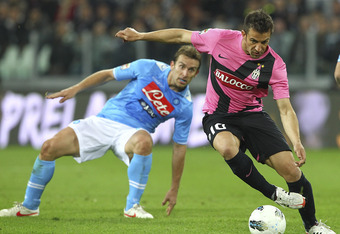 Marco Luzzani/Getty Images
With Milan drawing, the Scudetto race is again, very close. Milan has a two-point lead, so they basically cannot lose another match. If Milan were to draw next week (highly unlikely, as they play relegation candidate Fiorentina) and Juve were to win, both teams will be tied, and Juventus owns the tie breaker.
Juve's next match is away at Palermo, which could prove tricky. But after that, their strongest challenge will probably come from Roma, who they defeated 3-1 in their last meeting.