Veteran Gilbert Arenas Is Relishing His New Role with the Memphis Grizzlies
April 5, 2012

Sam Greenwood/Getty Images
For the better part of his NBA career, Gilbert Arenas earned a reputation as one of the most prolific scorers in the league.
Now in his 10th season, the 30-year-old Arenas isn't concerned much about filling up the stat sheet with points as he is about having a viable presence in other key areas.
At least that is what Arenas, the recently-acquired free agent for the Memphis Grizzlies, emphasized while addressing reporters after the Grizzlies' 98-94 victory over the Golden State Warriors Tuesday night at FedExForum.
Playing in his home debut and fifth game for the Grizzlies since signing with the team on March 20, Arenas provided Memphis with a much-needed boost in a variety of ways.
The 6'4" shooting guard was one of six Grizzlies players to score in double figures, registering 10 points while making each of his four field goals in 15:06 of action off the bench to help Memphis erase a 12-point fourth quarter deficit and capture its third consecutive win.
The Grizzlies (30-22) entered Tuesday's game looking to build on their gut-checking win at Western Conference leader Oklahoma City on Sunday. However, after a stagnant display on both ends of the floor through the first three quarters, Memphis coach Lionel Hollins went with a smaller lineup with Arenas assuming point guard duties.
That, as a result, allowed the Grizzlies to shoot a blistering 70 percent from the field in the fourth, a performance in which Arenas admittedly seemed comfortable on a roster for the first time in nearly a year.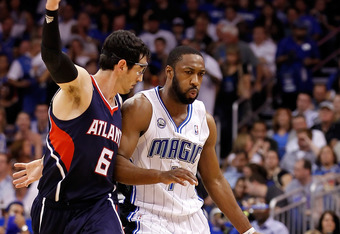 J. Meric/Getty Images
"That's a 360-degree turnaround since last year," Arenas said. "I didn't know what to expect (while in Orlando). It was hard for me because I didn't know what to do. Basically, I was trying not to make mistakes. The only time I felt comfortable was when a person got hurt and (Magic coach Stan Van Gundy) had no choice but to play me."
Chris Wallace, Grizzlies general manager and vice president of basketball operations, were among those who applauded Arenas for exhibiting a great amount of poise in the game's critical stages, especially defensively.  Two of Arenas' four rebounds came on the defensive end, and he managed two steals for Memphis, which limited the Warriors to just 38 percent shooting and 15 fourth-quarter points.
"I said when we signed him that all he's mostly going to do is swing a game that's tight and he did that for us tonight," Wallace said. "He chipped in offensively, he played defense, he came up with an array of steals and dove for lose balls. He played a good contributing role in this win tonight."
Wallace said Arenas, who boasts a career scoring average of 21 points, convinced the Grizzlies that he had no problem taking a low-profile role on a team that features two All-Stars (Zach Randolph and Marc Gasol) and a franchise player, Rudy Gay.
He said Arenas also stressed that all he needs is "another chance" to prove he's a changed man after his tumultuous campaign two years ago as a member of the Washington Wizards. In January 2010, NBA commissioner David Stern suspended the three-time All-Star indefinitely for conduct stemming from a December 24, 2009 incident in which Arenas stored an unloaded handgun in his locker at Verizon Center, which was a violation of league rules and D. C. ordinances.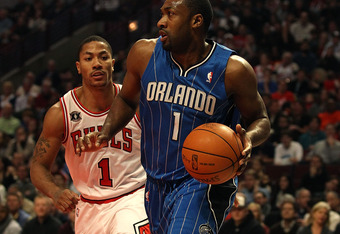 Jonathan Daniel/Getty Images
Arenas missed the remainder of the 2009-10 season, a ban that cost him $147,000 per game.
Citing that each of the four major professional sports has its share of troubled athletes, Wallace said he believes Arenas is a better person, given his lengthy suspension. He added that he hopes Arenas' performance against the Warriors is a sign of things to come as the playoffs looms.
"He definitely told me he wants to play for us," Wallace said. "And he knows he needs to do well here to prosper and resurrect his career."
Sports writer Andre Johnson, a frequent contributor for the Memphis Commercial Appeal and Memphis Sport Magazine, was on hand to cover the Golden State Warriors versus the Memphis Grizzlies Tuesday night from FedExForum. Follow him on Twitter at www.twitter.com/AJ_Journalist.