5 Reasons That Russell Westbrook Is the Real MVP of the Oklahoma City Thunder
April 6, 2012

Ronald Martinez/Getty Images
Oklahoma City Thunder guard Russell Westbrook is unarguably one of the best guards in the NBA this season. Westbrook is quite a strong case to prove that not only is he one of the best in the West, but he is also legitimately the true MVP of the Oklahoma City Thunder.
Let's take a look at the five reasons Russell Westbrook is the real MVP of the Oklahoma City Thunder. 
OVERALL GREAT PLAYER
The product of UCLA is an overall, well-rounded, great player. Westbrook averages 22.2 points and 5.4 assists per game. His shooting average includes a percentage of just over 47 percent from the floor and 33 percent long range. Of course, we can't forget the average of 4.4 rebounds and 1.8 steals per game, either. 
These averages are far from substandard. These are the statistics of an MVP and a legend in the making. Westbrook is an all-around player and has the ability to fill gaps when his teammates drop the proverbial ball. 
TEAM LEADER 
Westbrook has the ability to control the pace of the game and the intensity of play. This is an essential element needed in a great team leader, especially one who is headed to a championship level. Yet another addition stating that Westbrook is indeed the true MVP of this young team. 
Harry How/Getty Images
It is an irrefutable fact that he is an infallible competitor who is focused entirely on winning. Westbrook has the proven ability to be a leader and create an environment in which the team is able to work together without feeling inadequate. 
THE MISSING PUZZLE PIECE 
Westbrook's critics will contend that he takes scoring opportunities from the likes of Kevin Durant or even James Harden. However, it is quite the contrary. One could safely say that Westbrook is more so the missing puzzle piece to a perfect puzzle making up the Thunder. He complements the other players in many different aspects.
Westbrook is able to effectively access the scope of the floor and make decisions accordingly. This allows him to be an impressive force both offensively and defensively. Russell Westbrook has a natural ability to fill in the gaps for where his teammates may be lacking at the moment. He is also able to pick up the areas in which they are shining.
This is a natural instinct that cannot be taught and is invaluable to any great guard. 
THE FEAR FACTOR (OR LACK THERE OF)
Yet another reason Russell Westbrook should be considered the real MVP of the Oklahoma City Thunder is his uncanny ability to approach any situation without fear. He seemingly leads his team into battle without the least bit of hesitation and plays with an endless amount of heart that would make even UCLA legend John Wooden beam.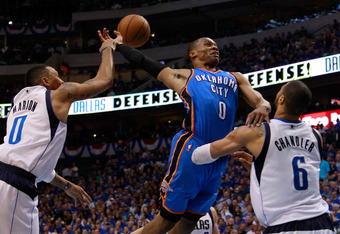 Tom Pennington/Getty Images
While there have been match-ups that may have outplayed Westbrook this season, there has not been a single player who he has approached with any apprehension. This type of fearlessness is contagious and is guaranteed to spread to even the most timid players on the team. In turn, this creates a confident team that will eventually become unstoppable at every level. 
COACHABILITY 
Much to the disbelief of many of his critics, Westbrook is extremely coachable. Being coachable in the day and age of professional prima donnas is something quite rare. Coach Brooks has taken up for Westbrook in the past, stating that, "Russell is a very passionate player."
Of course, Westbrook's passion should not be mistaken for a bratty guard who is unable to be coached or simply does his own thing. His track record has proven the contrary.
This, of course, is the final addition to the case as to why Russell Westbrook should be considered the real MVP of the Oklahoma City Thunder.