Tiger Woods: Masters 2012 Review and What Lies Ahead
April 8, 2012

Andrew Redington/Getty Images
I'm sure I'm not as disappointed as Tiger Woods at the day's and week's trials and tribulations, but four days ago I expected this assignment to be a lot more exciting and fun to complete.
There are countless ways to break down and analyze what we saw from Tiger this week.  If I had to do it in one statement, or one statistic, it would be this: In 72 holes of play, Tiger had 10 birdies.  There have been years where he had 10 birdies on just the 16 par-fives.
Two weeks ago, Tiger won the Arnold Palmer Invitational presented by MasterCard.  The world was once again spinning in greased grooves.
At casinos, sports books and on-line sites worldwide, Tiger was the morning-line favorite to win the Masters.
But instead of this week leading to a re-coronation of the former king, we saw a golf game suddenly in disarray and, even more alarmingly, we saw a glimpse behind the curtain of a Tiger Woods we thought had been vanquished.
When I was a kid, my dad took me to a U.S. Open at Baltusrol.  We followed a group that included Billy Casper. 
Casper had a reputation for having a terrible temper.  On this day, it was on full display.  Now remember, this was before TV covered virtually every shot at the majors—and it wasn't as if Casper was playing poorly. 
It was the Friday, or second round, and Casper, who was the defending champion, trailed the midway leader, Arnold Palmer, by two shots, and the eventual winner, Jack Nicklaus, by just one stroke at the end of the day.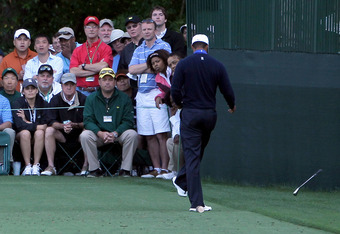 Jamie Squire/Getty Images
What I will always recall, however, is how profanely Casper expressed his displeasure with all but near-perfect shots.  The point of all this?
At his absolute angriest, I never saw him kick or throw a club.
If you've clicked on and are reading this, you're familiar with Tiger's tantrum at the 16th tee on Friday.  Having left his tee shot out to the right and smack in a green-side bunker, Tiger dropped his iron behind him, and as he walked back from the tee box, kicked it off the tee area just to the right of the gallery.
Along with his second-round 75, Tiger's actions on the 16th tee drew a great deal of attention and criticism.
After Saturday's round, Tiger was asked about Friday's incident. 
"Am I conscious of it? No. Certainly I'm frustrated at times. I apologize if I offend anybody by that.  I certainly heard that people didn't like me kicking the club," Woods said (via The Chicago Sun-Times). "But I didn't like it, either. I hit it right in the bunker. Didn't feel good on my toe, either."
In other words, the typical professional athlete response sports fans are all-too-weary of hearing.  The "I'm sorry you were offended" line as opposed to the "I'm sorry I did that" apology.
So how's this all relevant to what we saw from Woods at the 2012 Masters?
It demonstrates that his confidence is badly shaken.  Looking back at his performance, his chipping and putting were satisfactory.  He made a number of good putts this week.  The problem was they were for pars instead of birdies.
As the best pitchers always have a "go-to" pitch, Tiger needs to rebuild from a "go-to" shot.  Right now, it's not in his bag
So, as the season goes forward, all eyes will be focused on Mr. Woods.  Some want nothing more than to see him overcome what is now an almost soap-operatic roller coaster of a life.  Others are hoping the train not only remains derailed, but finishes in a heap at the bottom of the ravine.
It's why most of us watch sports.  It's a chance to put ourselves in the shoes of our heroes and overcome all adversity, to have the last laugh.  Or, it's a chance to see the mighty stumble and fall and derive a different kind of pleasure from knowing they're no different from us.  Mere mortals.
How will Tiger's journey unfold?  No one knows. 
It's the other reason we watch.