Oklahoma City Thunder vs. Los Angeles Clippers: Key Matchups to Watch
April 11, 2012

Stephen Dunn/Getty Images
When the Oklahoma City Thunder hosted the L.A. Clippers at the Chesapeake Arena on March 21, the Thunder would win over L.A. 114-91. This would be the Clippers 11th loss in 18 starts. The Clippers had been amidst their eighth road game in 11 nights in a back-to-back stretch. 
After an eight out of 10 game winning streak and resurgence back into to the Western Conference playoff stakes, the Clippers will walk into Chesapeake Arena a completely different team. While the Thunder sit atop tje Western Conference heap, the Clippers may give them a run for their money.
Here are a few key match-ups to watch:
Chris Pail vs. Russell Westbrook
This will be a standoff between two great point guards. First and foremost, it will be a battle of who can control the tempo of the game, thus dictating the pace to the other team.
Chris Paul is a guard who looks to pass first and score second. Russell Westbrook is a guard who looks to score first and pass second. Finally, it will be a question of which of the two guards can score effectively and get their teammates involved effectively. 
Blake Griffin vs. Serge Ibaka
This matchup will be a battle of the big men. With Blake Griffin being a superb dunker and Serge Ibaka being one of the best shot blockers in the league, these two could arguably be considered two of the best athletes on the floor for the night.
Griffin will be bringing an interesting dynamic to the table in that he is technically playing to a hometown crowd, hailing from Oklahoma and playing at OU. The question of the night will be whether Griffin will make Ibaka part of a dunk highlight reel or if Ibaka will manage to keep him away from the rim, essentially shutting down a good part of his game.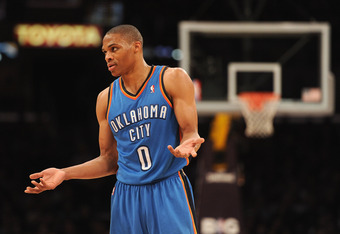 Harry How/Getty Images
Kevin Durant vs. Caron Butler
This matchup will prove to be intriguing, if nothing else.
Kevin Durant is currently the second leading scorer in the NBA. Caron Butler has the ability to keep up with KD and be very physical with him and he has been scoring well in recent games. The key to this matchup for Butler will be to force Durant to work hard on both ends of the court, especially defensively. 
Nick Young vs. James Harden
This is yet another matchup that will prove to be very interesting.
On one side you have Nick Young, who has flown somewhat under the radar. He can score and has recently blossomed under the wing of Chris Paul. On the other side, you have the Sixth Man of the Year, James Harden. He is also an offensive threat and is able to take the pressure off of Westbrook and Durant when he does so. It will be fascinating to see what the two players will bring to the game.