NFL Draft Predictions 2012: Teams with Most Work to Do
April 24, 2012
Joey Foley/Getty Images
The 2012 NFL draft begins on Thursday, April 26 and will last for three days. During this time, all NFL teams will be trying to improve their own specific needs in order to play well enough in the upcoming season to contend for the postseason.
Some teams of course have more noticeable draft needs than others, either because they did not play particularly well in 2011, or because they may have lost key members of their team through free agency, trades or retirement.
With this being said, here are four teams that will have a lot of work to do in the 2012 NFL draft:
Sure, the Indianapolis Colts may have the No. 1 overall draft pick, which they will use on Andrew Luck, but they have many other positions with noticeable issues as well.
Once the Colts select Luck, they will need to find at least one more wide receiver to complement the veteran Reggie Wayne. The Colts just lost Pierre Garcon to the Washington Redskins through free agency.
They also released longtime tight end Dallas Clark, running back Joseph Addai and middle linebacker Gary Brackett. It's quite obvious that the Colts are doing a complete and thorough rebuild, so they will definitely need to find a new tight end and middle linebacker through the draft.
One position that may be overlooked right now is actually one of their strengths, which is defensive end. Dwight Freeney and Robert Mathis are both under contract for one more season each. After that, it's not definite that one, if not both will definitely return.
As a result, the Colts might as well start to build for the future by drafting another defensive lineman that can rotate with Freeney and Mathis in 2012 and then start in 2013 in case one of the two veterans leave the team.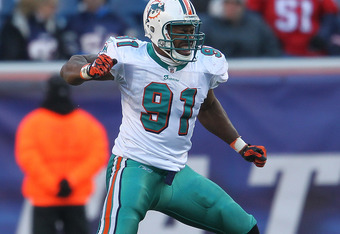 Jim Rogash/Getty Images
No other team is going through as much of a rebuild as the Colts, so they will have by far the most work to do in the NFL draft among all 32 teams.
Now that the Miami Heat are one of the best teams in the NBA and the Miami Marlins are up and coming with their new revamped roster and brand new stadium, the Miami Dolphins for once are the one team that needs to catch up to Miami's other sports teams. It's a weird situation because the Dolphins have long been Miami's most successful and popular sports team over the years.
The Dolphins are almost guaranteed to select quarterback Ryan Tannehill with the eighth overall pick. They have had quarterback issues for the past few seasons, and now Chad Henne is a member of the Jacksonville Jaguars. As a result, the Dolphins need to find a quarterback that will be successful and will re-establish credibility for the franchise.
The Dolphins will also need to find at least one new wide receiver to replace Brandon Marshall, whom they traded to the Bears. Furthermore, the Dolphins will also need to improve their defense, and their pass rush in particular. Look for the Dolphins to draft at least one or two defensive linemen in the draft.
Unlike the Colts and Dolphins, for example, the Minnesota Vikings do not have as many glaring holes in numbers, but those issues they have are all pretty large. They need another offensive tackle, and Matt Kalil could fit the bill for that.
They also really need another wide receiver to compliment Percy Harvin, especially if Harvin's health issues do not improve significantly in the future. Look for the Vikings to get an offensive lineman in the first round and a wide receiver in either the second or third rounds.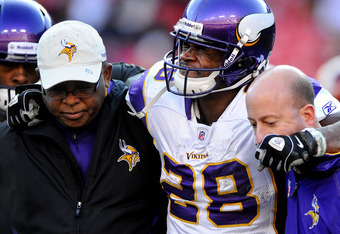 Patrick Smith/Getty Images
But the biggest issue of them all for the Vikings is one that may be currently overlooked. Superstar running back Adrian Peterson may be on pace to return early on in the 2012 season, but it could take much longer for his injury to fully heal, so the Vikings should also look to find a solid running back with a lot of speed and agility to be a safety net for Peterson in case he gets hurt or needs rest.
Toby Gerhart is a decent power running back, but for certain offensive formations, it would be nice for the Vikings to have a game-breaking running back that can hold down the running game for an extended period of time.
Now that the New Orleans Saints know that they will not have head coach Sean Payton for the entire 2012 season, plus various other suspensions across the organization, they will have to go through a rough season and before the actual season itself begins. What's worse is that quarterback Drew Brees still has yet to come to an agreement with the Saints about a potential contract extension.
With Brees' future being unknown at this point, it would be wise for the Saints to draft another quarterback in maybe the fourth or fifth rounds just in case Brees does not return. Also, backup quarterback Chase Daniel will become a free agent after the 2012 season.
Speaking of suspensions, the Saints should also go after a young middle linebacker that could replace Jonathan Vilma, who is very likely to get some sort of suspension by the NFL for his role in the Saints' bounty.
Veterans Roman Harper and Will Smith could both potentially be suspended for some time as well. Thus, the Saints will have a lot of work to do in gaining more depth for their defense in the event that all the suspensions occur.