Brandon Weeden: Why Cleveland Browns Draft Pick Spells End of Colt McCoy Era
April 27, 2012

Doug Pensinger/Getty Images

UPDATE: April 27, 11:05 a.m.: 
According to Packer Report, the Browns and Packers are discussing a deal that would sent Colt McCoy to Green Bay. The Packers need a backup after losing Matt Flynn to the Seattle Seahawks in free agency. 

Original Article:
The Cleveland Browns pulled a bit of a shocker Thursday night by snagging Oklahoma State quarterback Brandon Weeden with the 22nd pick in the 2012 NFL draft. That selection likely spelled an end to the Colt McCoy Era in Cleveland.
According to Jodie Valade of the Cleveland Plain-Dealer, Browns general manager Tom Heckert all but confirmed that the team expects Weeden to come in and start in 2012. In addition to that, Heckert said the team would discuss the possibility of trading McCoy on Friday. 
Cleveland really fooled everyone by targeting Weeden after it spent the offseason singing the praises of McCoy. In fact, ESPN's Adam Schefter is reporting the Browns even misled their current starter by telling him they wouldn't take a quarterback in the first round.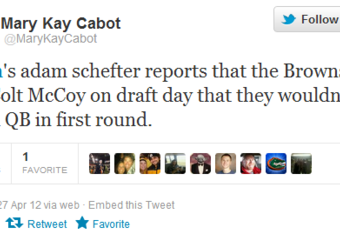 McCoy appears to be on the outside of Cleveland's plans now. In two years as the starter, the Texas product was shaky at best under center. He completed just 58.4 percent of his passes for 4,309 yards, with 20 touchdowns and 20 interceptions. His quarterback rating was a dismal 74.6.
Clearly McCoy didn't get the job done when he had the chance and rather than give him a third season to prove himself, Heckert and the Browns have decided to go in another direction. While Cleveland never really surrounded McCoy with any legitimate offensive talent, he also didn't show any progression in his two seasons as a starter. In fact, he regressed a bit in 2011.
Now the 25-year-old will likely be headed elsewhere if the Browns can induce someone to take him in a trade.
Weeden was unbelievably productive in two years as the starter in Stillwater. During that time he completed 69.7 percent of his passes for 9,004 yards, with 71 touchdowns and 26 interceptions. He is a smart quarterback with an excellent release and shows good arm strength. He is probably ready to compete for an NFL job right away.
The two knocks against Weeden are that he played exclusively in a shotgun-spread attack in college that didn't require him to make difficult reads, and the fact that he will be a 28-year-old rookie during the 2012 season. Time will tell if those are legitimate concerns.
All indications are that the Browns are ready to move on from McCoy and entrust their future to Weeden. After two subpar seasons from the 2010 third-round pick, I can't really blame Cleveland for wanting a change.