Why Brock Lesnar Will Become the Most Hated Man in WWE History
May 7, 2012

Bret Hart, Chris Jericho, Edge, Randy Orton, Rick Rude, Shawn Michaels, Triple H and so many more.
The list of the most hated men—at one point or another—in WWE history reads like that of Stone Cold Steve Austin's stunner victims; long and diversified.
It is now time to add Brock Lesnar to that list, and not simply as just another name thrown into the mix.
The three-time WWE champion is back, and he has already started his ascent (or descent, depending on how you look at it) towards becoming the most detested figure in the history of the business.
Of course, there will be fans who relish the re-emergence of Lesnar in a time when many had become annoyed with the brand—thanks in large part to the fact that they were tired of having John Cena's success shoved down their throat.
That was on display when Lesnar announced his intentions by delivering an emphatic F-5 to the company's biggest superstar on his return to Monday Night RAW.
The crowd at the American Airlines Arena in Miami loved it.
For some, this is exactly what is needed to create a new sense of excitement in the ring. After taking out both Cena and Triple H in recent weeks, Lesnar has established himself as someone who is capable of surprising fans and creating a sense of chaos, a welcome addition to RAW.
But those cheers have quickly given way to boos.
Like it or not, Lesnar was born to be a bad guy in the ring. The big, intimidating bully character is what he is best suited for, and he does it well.
He hits all of the check marks necessary to become one of the most hated men in the history of sports entertainment.
That was his role during his first WWE stint which began in 2000, when a young Lesnar in his twenties took the company by storm under the watchful eye of Paul Heyman.
Built like a brick house at 6'3" and 266 pounds, the man once advertised as the "Next Big Thing" is physically imposing enough to instill fear into those watching the events unfold before their eyes.
His combination of size, speed and athletic prowess is a dangerous quality that gives him an air of invincibility—despite his recent loss to John Cena at Extreme Rules, which had more to do with reviving Cena after his loss against The Rock than anything else.
Not only does he look the part, he is more than willing to dish out healthy portions of pain to his opponents, with seemingly no regard for their well-being—just as a good heel should.
Just ask Cena.
But dominating physical qualities alone—no matter how much they are flaunted— cannot make a villain out of someone.
Where heels separate themselves from the pack is in their attitude towards the role.
The cocky way they strut towards the ring as their entrance music blasts throughout the arena. The way they conduct themselves on the microphone, embracing, craving the jeering of the fans, then spitting the vitriol right back at them.
Their pompous, me-first attitude is what makes fans loathe them, and Lesnar has that in abundance when he sets foot in the ring.
Lesnar will take plenty of heat from WWE faithful for his arrogance, or his vicious attacks on some of the more adored faces in the company.
That will be the script, and he will do a fine job fulfilling his duties as the key villain. He will fuel the fire by spewing venom right back out towards the crowd and by calling out the biggest stars on the roster.
But the animosity he will face over the next year will not come solely from his performances in the ring. He will not be heckled and taunted simply because he abides by the script that is provided for him.
Fans will hate him because of what his past has revealed about his attitude towards the WWE brand.
After Lesnar forced 20,000 people at Madison Square Garden to sit through a dismal performance against Goldberg at WrestleMania 20, he then decided to turn his back on the company.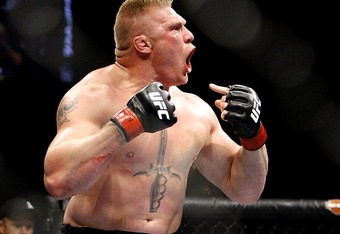 WWE had swelled his bank account and made him a household name. In return, Lesnar left Vince McMahon behind in an attempt to re-invent himself as a professional football player.
The Minnesota native's attempt to make the league as a defensive back fell short with the Vikings, but that wasn't the end of his long, unorthodox road back to the promotion that made him a star.
His career as a heavyweight in the Ultimate Fighting Championship has been well documented, and his retirement following a resounding knockout loss to Alistair Overeem at UFC 141 paved the way for where he is today.
But WWE fans who remember his undignified exit nearly a decade ago will not just push that memory aside and disregard it.
Had he left the company in a respectful manner, this would not be an issue. There is absolutely nothing wrong with trying to fulfill a lifelong dream or move on in an attempt to take the next step in your career.
There is no need, however, to go about it in a disrespectful way. Make no mistake, WWE and Vince McMahon have not always been saints in their treatment of employees, but this was not one of those instances.
Lesnar has detested the exhausting WWE schedule in the past, which is why his current contract will see him make significantly less appearances than the rest of the roster, despite his reported $5 million salary.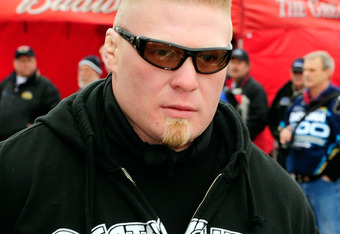 Sam Greenwood/Getty Images
As such, it's being reported that Lesnar will not make an appearance on tonight's edition of RAW, meaning fans will have to wait for the continuation of the feud he is developing with Triple H.
Even with limited travel and action, who's to say that the new face of the franchise—as John Laurinaitis called him—won't decide to throw in the towel once again?
His massive salary should be a good deterrent for that course of action, but that didn't stop him from breaching his original contract eight years ago to search for greener pastures.
Lesnar was the real-life villain in this situation, and that is exactly why he makes a perfect heel in the squared circle.
With WWE die-hards searching for someone they can legitimately despise, this seems to be a match made in heaven.
It's now up to Brock Lesnar to raise the hell he is capable of.