Orioles Set a Home-Run Record; Rangers' Colby Lewis Makes Own History
May 11, 2012

Mitchell Layton/Getty Images
Colby Lewis had a Jekyll-and-Hyde pitching performance in Baltimore on Thursday when the Texas Rangers squared off against the Baltimore Orioles. 
Lewis allowed five home runs on the day and struck out 12 batters in seven innings. This made him the first pitcher since 1918 to strike out 10 or more batters and give up at least five home runs in one game.
The first three of the five home runs that Lewis allowed were given up to the first three batters of the game. After these three home runs, he retired the next 18 batters, 11 via a strikeout, before allowing a home run to Adam Jones in the seventh inning.
He would later give up his fifth and final home run in the seventh inning on a two-run homer by Wilson Betemit.
Lewis spoke after the game telling reporters, "I can't justify that game. It seemed like one of those days where you have really good stuff and then you miss your spot or something and it's just not a hit, it's a homer."
On the other end of the madness was Ryan Flaherty, J.J. Hardy and Nick Markakis who hit the back-to-back-to-back solo shots in the first inning.
With those three blasts, the Orioles set an American League record for most consecutive home runs to begin a game. 
The feat had never been accomplished in the American League before. It was the fourth time overall in MLB that it has occurred, with the three other instances coming in the National League.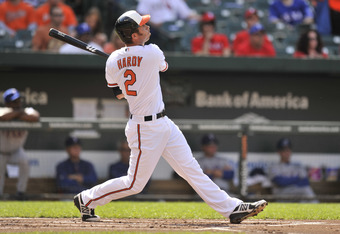 Mitchell Layton/Getty Images
O's manager Buck Showalter told reporters, 
Nothing surprises me when you're dealing with this level of skill. These are the best players in the world, but they're also human beings who are susceptible to things and capable of doing great things. It's always an honor to sit there and watch them. There's not a day that goes by that something doesn't happen.
Certainly anything is possible any day that Major League players step on the baseball diamond, but two extremely rare occurrences happening on the same night?
Well, it is improbable, but not impossible.