Preakness 2012 Payouts: How Much I'll Have Another Has Earned During Dream Run
May 20, 2012

Patrick Smith/Getty Images
With the 2012 Preakness Stakes over and done with, it's time to collect your winnings and figure out just how much I'll Have Another's dream run toward a Triple Crown has earned his owners.
After one of the biggest shocks in Derby history, I'll Have Another came into Pimlico Race Course with one thing on his mind—another win.
In what was a carbon copy of the dramatic closing sequence of the Kentucky Derby, I'll Have Another once again ran down Bodemeister to steal a last-second win and move even closer to the Triple Crown and immortality.
Kentucky Derby Win: $1,459,600
There is no better paying race in the horse-racing world than the Kentucky Derby. As you can see by the fact that the winner alone walks away with almost $1.5 million, this is the crown jewel of the Triple Crown.
With I'll Have Another being a long shot at the Derby, not only was he the biggest payout in terms of winnings, he was the biggest winner at the betting stations as well. Those that bet this horse at the Derby are swimming in money.
Preakness Stakes Win: $600,000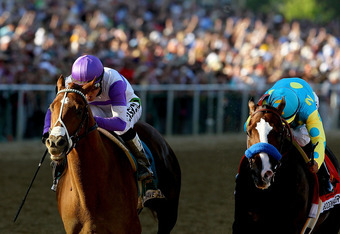 Matthew Stockman/Getty Images
While those that bet I'll Have Another would win the Kentucky Derby are swimming in money, they will have nothing compared to the soothsayers that bet on I'll Have Another to win the Triple Crown before the Kentucky Derby.
With a handsome $600,000 win at the Preakness Stakes, this horse and team walk out of Pimlico with over $2 million in winnings from just the last two races. Not bad for two minutes of work on a Saturday.
Triple Crown Run Total: $2,059,600
While the over $500,000 that I'll Have Another earned before the past two weeks was impressive, the fact that this horse has won over $2 million in two weeks makes me jealous I'm not a horse.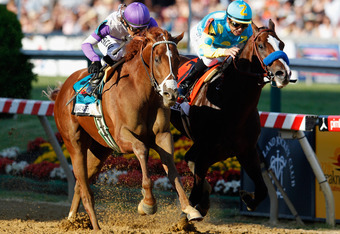 Rob Carr/Getty Images
With the prices for everything in the United States going up every day, there is no doubt that I'll Have Another has a chance to become the richest Triple Crown winner in history. All it will take is one more big win.
Career Total: $2,693,600
I'll Have Another owner Paul Reddam bought the colt for $35,000. I don't know what the professional term for that much of a return on an investment is, but that is an astounding number that would make any Wall Street fat-cat green with envy.
If this horse can go on to win the Belmont Stake and become the first Triple Crown winner since Affirmed in 1978, the staggering career totals will be astronomical.
2012 Preakness Stakes Payouts
| | | | |
| --- | --- | --- | --- |
| Horse | Win | Place | Show |
| 1. I'll Have Another | 8.40 | 3.80 | 2.80 |
| 2. Bodemeister |   | 3.20 | 2.80 |
| 3. Creative Cause |   |   | 3.60 |
Payout info via Pregame.com.
Check back for more on horse racing as it comes, and check out Bleacher Report's horse racing page to get your fill of all things from the ponies.