Matt Kemp Injury: How Worried Should Dodger Fans Be?
May 31, 2012

Stephen Dunn/Getty Images
Uh-oh.
In the first inning of only his second game back from the disabled list, Dodgers MVP candidate Matt Kemp appears to have aggravated his hamstring injury.
The injury occurred when Kemp was running the bases attempting to score from first on an Andre Ethier double.
Kemp will undergo an MRI on Thursday to determine the extent of the injury. However, Kemp and manager Don Mattingly believe that another stint on the DL is looming (per ESPN).
Just how worried should Dodgers fans be, though?
On one hand, the Dodgers performed undeniably well without Kemp, managing a 9-5 record in 14 games without their superstar and scoring 4.64 runs per game over that span. The Dodgers will also get Juan Rivera back in the next week, which would be a huge help to fill the monumental void left by Kemp's absence in the lineup.
However, an extended period of time without Kemp could be catastrophic. The Dodgers' loss Wednesday night was their third in a row and their lead in the NL West currently stands at 5.5 games.
It is not too far fetched to say that Andre Ethier will be able to keep producing runs—his 44 RBI are second in baseball only to Josh Hamilton—but the other Dodgers who picked up the slack in Kemp's first DL stint are far less certain to continue.
Veteran outfielder Bobby Abreu has been fantastic since he joined the club, hitting .339 with seven RBI and 12 runs scored in 22 games. But Abreu is now 38 years old and has slowed down offensively each of the last three seasons.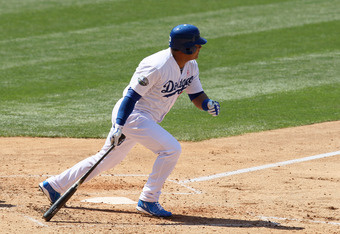 Stephen Dunn/Getty Images
Tony Gwynn Jr. also played well in Kemp's absence, driving in eight of his 14 RBI. Gwynn is yet to make an error all season and is second in baseball in outfield assists. However, Gwynn has never received a whole lot of playing time in his career; his 340 plate appearances and 136 games played in 2011 were tops in his career.
A.J. Ellis has produced at an extremely high level all season for L.A. with five home runs and 23 RBI, third in both categories among Dodgers, and boasts a .430 OBP, which is third in all of baseball. However, like Gwynn, Ellis has never received consistent playing time in the big leagues, already with more plate appearances then he has ever had in a season.
All four of those players will have to be great to help the Dodgers in Kemp's absence. They proved earlier in the year that it can be done, but to actually get it done for another few weeks is a whole other story.
Only time will tell what will happen, but it may be time to worry at Chavez Ravine.