Oakland Raiders: What Are the Realistic Predictions for Carson Palmer in 2012
June 20, 2012

Ezra Shaw/Getty Images
There are a lot of expectations surrounding Oakland Raiders quarterback Carson Palmer in 2012. 
After the Raiders traded their 2012 first-round pick and a conditional second-round pick for the now 32-year-old quarterback last season, he has to validate the move by getting this team to the playoffs.  In order for that to happen, he has to play like the Carson Palmer of old and not as an old Carson Palmer. 
Palmer struggled last season in Oakland, throwing more interceptions (16) than touchdowns (13) but that was without the benefit of being with the team at the start of the season and being thrust into action shortly after he was acquired. 
Things will be very different in 2012.  It is a new organization with new coaches and a new offensive scheme.  Greg Knapp is now the offensive coordinator and he has a decent history of working with quarterbacks.
That is not to say that there won't be some challenges Palmer will have to face.  
Knapp runs a West Coast style offense that calls for balanced attack.  The philosophy starts with running the ball, which will set up the passing game.  It also requires the quarterback to be able to move outside of the pocket, something Palmer has not been asked to do as a prototypical pocket quarterback.
"There's really no similarities to anything I've done before, but I love all the boots and play-actions and all the naked (bootlegs) and keepers," Palmer said. "I'm excited to do that and, really, those are things that are going to help the run game."
That is a nice thing to hear coming from a guy who has had his motivation and desire to play questioned in the past.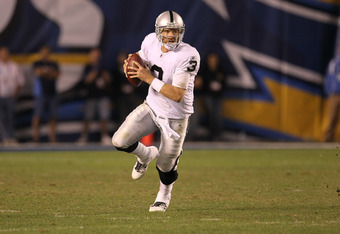 Stephen Dunn/Getty Images
So what kind of numbers can Palmer put up in 2012? 
Palmer has only really lit it up one time in his career in 2005 when he threw for 3,836 yards, 32 touchdowns and only 12 interceptions.  He had a career high 67.8 percent completion rate that season as well.  Overall, he has been a steady NFL quarterback and expect more of the same in 2012.
There are a couple of factors to keep in mind heading into this season and with the expectations for Palmer.  This offense is brand new to him and it remains to be seen if he will be athletic enough to continually move out of the pocket and make throws. 
Palmer is going to be throwing to a lot of young and somewhat inexperienced receivers and tight ends.  It has to be noted that they are learning a new offense as well.  Gone are the days of the deep ball in Oakland.  Expect more short, timing routes.  That will be a major adjustment for both Palmer and his receivers. 
Also, the offense is going to rely heavily on the run, as well it should with Darren McFadden in the backfield. 
A good benchmark for Palmer and the Raiders would be to look at what Matt Schaub has done with the Houston Texans the past couple of seasons.  That is where Knapp was the quarterbacks coach the past few years and he worked directly with Schaub. 
In 2010, Schaub threw for 4,370 yards with 24 touchdowns and 12 interceptions.  But, that is also the season running back Arian Foster broke out with 1,616 rushing yards and 66 receptions for over 600 yards. 
If the Raiders can get that kind of production out of their offense in 2012, they should be in good shape to make a playoff run.  Knapp believes Palmer can get it done and Palmer seems revitalized with this new start. 
Expect a Palmer stat line like this in 2012: 341/555 comp/att, 61.4 completion percentage, 4,100 yards, 26 touchdowns and 18 interceptions.