New England Patriots: Moves and Surprises May Still Be in Store in 2012
June 20, 2012

Elsa/Getty Images
The New England Patriots roster is already equipped with quality depth at most positions. However, the roster is not yet in its final form. The team always seems to make extra moves around training camp—such as the acquisitions of Derrick Burgess, Chad Ochocinco, and Albert Haynesworth in recent years.
To examine some moves and surprises New England still may have in store this year, I am joined by fellow B/R Patriots writer James DiMaio.
Q1: Who is one available free agent who could still make an impact with the Patriots?
 James: Andre Carter could be the difference between the Patriots' defensive line being good and being very good in 2012.
For all the hype that Mark Anderson received toward the end of last season, people forget that it was Carter that was selected to the Pro Bowl. A force up front against the run and by far the Patriots' most consistent pass-rusher last season, Carter can certainly help.
While I think Trevor Scott and Chandler Jones are going to be productive players for this team down the road, let's not forget that they both need to learn the defense and gel with fellow defensive linemen. When fully recovered from his quad injury, Carter could step right in and start where he left off.
Kyle: I absolutely agree with you, James, with your selection of Andre Carter, and in fact, I would say he is the most likely of any free agent to be signed by the Pats at this point.
I would go so far as to say it would be a surprise if he were not to join the team at this point. For all the reasons you mentioned, it just makes too much sense to re-sign Carter, and it seems obvious every time he speaks that he wants to be a member of the Patriots moving forward.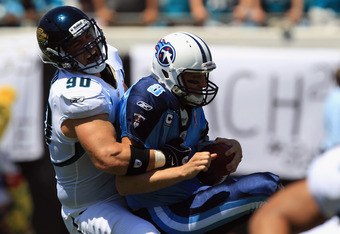 Streeter Lecka/Getty Images
If things did not work out with Carter, I think Matt Roth could be a player the Patriots should take a look at. He is a serviceable defensive end/outside linebacker who they worked last August, as Mike Rodak of ESPN Boston reported, before he eventually signed with the Jacksonville Jaguars.
Let's be clear about one thing: Roth is and never will be the caliber of player as Carter. He is simply a name to keep an eye on.
Q2. Who is one player who could be a surprise cut at the end of camp?
James: It's dangerous to draw conclusions after only a few OTAs and minicamp practices, but Field Yates of ESPNBoston, who has been attending practices, confirms that the much-anticipated competition at the wide receiver spot for the Patriots is as good as advertised.
With Brandon Lloyd basically a lock at this point and Donté Stallworth and Britt Davis flashing a few times at practice (as noted again by Field Yates at ESPNBoston), the competition is fierce and may leave a declining Deion Branch in its wake.  
As much as it pains me to say, 2011 may have been the former Super Bowl MVP's last season in a Patriots jersey.
Kyle: James, I agree with your premise. If Stallworth and/or Davis is to stick around on the roster, it will likely come at the expense of Branch.
Another fan favorite that people would be surprised to see leave would be running back Danny Woodhead.
Throughout OTAs and mini-camp, Shane Vereen has been seeing many of the reps with Tom Brady and the first offense that Woodhead would have gotten in the past as noted by Andy Hart of Patriots Football Weekly.
 If Vereen cements his spot as the team's primary back on third-downs and in the spread offense, Woodhead loses much of his value. With the team likely to keep a third tight end and possibly a fullback, they could elect to release one of their running backs. I do not see Stevan Ridley, Vereen or even newcomer Joseph Addai going anywhere, which could leave Woodhead as the odd man out.
Q3: Who will be a surprise player to make the team?
James: What makes me think Branch being cut is realistic is the recent report from ESPNBoston that youngster Britt Davis has really shown up at camp. While the Patriots' are without a doubt stacked at WR going into 2012, they still lack youth at the position.
Keeping in mind that it is still severely early, if Davis continues to develop, I could see the Patriots making a tough call, electing to go with a younger Britt Davis over an aging Deion Branch.
Kyle: Again, I like your pick here, James. I am sure the Patriots would love to keep a guy like Davis around, if for no other reason than they have no other young receiver to develop unless rookies Jeremy Ebert and Matt Roark emerge.
A player whose chances of making the final roster I really like is defensive lineman Justin Francis. At this point, the undrafted rookie Francis may not be a huge surprise to some, as he saw first-team reps throughout mini-camp, as also reported by Andy Hart of Patriots Football Weekly.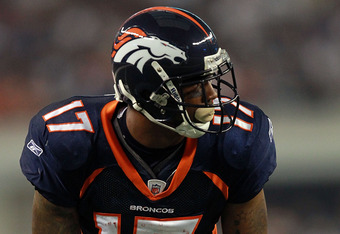 Ronald Martinez/Getty Images
He is a name a lot of fans may not be familiar with yet. They may be soon because—luckily for Francis—he is two things Bill Belichick loves: a Rutgers product and very versatile. During his college career, he played all over the d-line and even stood up as a linebacker at times. 
Francis is a player I have been intrigued by with for a while. Also, as he was the one undrafted rookie I projected to make the team back in May, I would love for him to get through final cuts and make me look smarter than I am.
Q4. Who is one player that will play less than expected?
James: I think Rob Ninkovich is in a tough spot this season, despite coming off his most productive season as a pro with an impressive 6.5 sacks and 74 tackles.
We saw Ninkovich line up primarily at strong side linebacker in 2011, and that seems to be a spot that first-rounder Dont'a Hightower—or maybe even Bobby Carpenter, who has grabbed some eyes in OTAs and minicamp, per ESPNBoston—may eventually take over.
Andy Hart of Patriots Football Weekly reports that Nink has been lining up at both defensive end spots in minicamp practices, but I think Chandler Jones will eventually own a starting spot on the edge of the defensive line at some point in 2012, as well as former Raider Trevor Scott, whose length (6'5'') gives him an edge over Ninkovich (6'2'').
Throw in the likely return of Andre Carter, and I think Ninkovich is destined to be a back-up in 2012.
Kyle: Once again I am with you, James. Ninkovich is a player the coaching staff and fans alike love, but there simply may not be a major role for him to play this season.
Another player some are projecting to play a major role is Joseph Addai. The former Colts running back does a lot of things well that the Patriots look for in their running backs—like pass protection and catching the ball.
At the end of the day, I look for the two second-year backs Ridley and Vereen to be the heart and soul of New England's backfield this season. Their skill sets are different enough—and complete enough—to warrant Addai spending most of his time on the bench.
Thank you for joining me, James. I look forward to collaborating again in the future.
You can find more from James DiMaio on his B/R profile or by following him on Twitter @JamesDiMaio.
Kyle Cormier can also be found on his B/R profile or by following him @KyleJCormier.