Scouting Report: Can Fulham Save Former Real Madrid Wonderkid Sergio Canales?
January 28, 2014

Denis Doyle/Getty Images
Fulham manager Rene Meulensteen's latest plan to avoid relegation is to request a loan for Valencia centre attacking midfielder Sergio Canales, per Alan Nixon at the Mirror, so here is a scouting report on the 22-year-old fallen star.
Canales Was Meant To Be La Liga's Next Superstar
Angel Fernandez/Associated Press
As a prodigious talent at Racing Santander, Canales, then an 18-year-old, established himself as one of La Liga's brightest prospects. 
"Right now my preference is for Racing [Santander]," Canales said on January 14, 2010, per Marca (h/t Rupert Fryer at Goal.com). "They are the ones who have given me the confidence to play."
A month later, Canales agreed to a six-year contract with Real Madrid.
The move to Real was meant to catapult Canales into Galactico status, instead, it pushed him into irrelevance.
His first season at Real coincided with Cristiano Ronaldo elevating himself into extraordinary territory.
Playing a free-roaming role on the left wing, Ronaldo scored 40 La Liga goals and created 11 goals as Real led La Liga in goals (102 in 38 league games).
On the right wing was the pacey Angel Di Maria, who ranked sixth in La Liga for assists (11) that season.
Meanwhile, Canales' preferred No. 10 role was occupied by Mesut Ozil, a star for Germany at the FIFA 2010 World Cup, who accumulated 17 assists in his debut La Liga season.
What a career-ruining decision by Canales to move to Real with Ozil at the club, right? Yes and no.
Yes, because Canales did not heed to the free advice given to him by former Barcelona great and manager Johan Cruyff, per El Periodico (h/t ESPN FC):
I don't know if he will end up signing for [Real] Madrid or not, or for any other big club. The only thing that I hope is that, being so young, he isn't ruined.

With the youngsters at Ajax who excelled in the first team and who were the targets of big clubs outside of Holland, my advice was always the same: Stay at least until you are 21, and if you stay until 23, then even better.

At 18, you have so much to learn, as a person and as a footballer, so if you leave for a big club too soon your development isn't complete and you could end up going backwards.

So much so that you could end up being ruined. There are exceptions, yes, but that's what they are, exceptions.
No, as Canales' thought-process was a calculated risk at the time. 
The only valid criticism of Canales was naivety: He did not think Real president Florentino Perez would sign another centre attacking midfielder as Kaka had yet to live up to his €65.8 million evaluation.
In that scenario, Canales believed he could beat out Kaka and statistically, Canales' chances were great.
He scored and created a combined 10 league goals for 16th placed Santander, compared to Kaka's 14 for Real during the 2009-10 season. 
Canales agreed a move to Real on February 13, 2010, per UEFA.com, effective from July 1.
When Real signed Ozil from Werder Bremen on August 18, 2010, per Sid Lowe at the Guardian, you can imagine the anguish and doubt that started to plague Canales' mind.
Here is a quick summary of Canales' first season at Real: Warmed the benches from start to finish seven times in La Liga. Every single one of his league games were sub-affected. Did not score a single league goal. Endured a grade II external lateral ligament sprain of the left ankle, per RealMadrid.com.
In Real's final league game of the season, a 8-1 win over Almeria, Canales watched the entire game from the bench: Ronaldo scored twice (no surprise) but a hat-trick of assists was a pleasant surprise. Jerzy Dudek received an emotional send-off. Esteban Granero replaced Kaka. Joselu scored within two minutes of coming on as a sub.
The expression: "Being kicked to the curb" described how Canales probably felt.
He could not even get minutes in a meaningless game for Real. 
"It looks like a lost season," Canales said, per AS (h/t Alex Soares at Goal.com). "I think with time, I'll see how positive this year was."
You could interpret the latter quote as Canales using his bitter debut season at Real as a motivator to break into Jose Mourinho's squad.
Nope. In hindsight, it may have been Canales' way of saying: "Next season, I'll be a success somewhere else."
Canales was loaned to Valencia, managed at the time by Unai Emery, who had once called Mourinho a "cry-baby", per FourFourTwo.  
Amid three consecutive La Liga starts and a goal against Granada under Emery, Canales was looking like the Santander version again. 
Then in a 1-1 draw against Athletic Bilbao, he "sustained [an] anterior cruciate ligament" injury, per Sky Sports.
He salvaged his season by making a mid-season return against Rayo Vallecano. 
But in his fifth-game back, Canales' knee gave away against Atletico Madrid, per FIFA.com.
He experienced emotional distress at Real by going from Spain's next big hope to a squad player.
On loan at Valencia—Los Che later made the deal permanent—Canales was racked with physical and emotional pain. 
Scroll back up to Cruyff's opinion on Canales: "If you leave for a big club too soon your development isn't complete and you could end up going backwards. So much so that you could end up being ruined."
That is the story of Canales' career so far. 
Canales To Fulham? 

Canales has sleek ball-control, he is technically proficient and who knows what type of player he would have turned into if he had not suffered two ligament injuries.
Now Fulham can take advantage of his pedigree. 

Source: Marca
Canales has predominantly started in the No. 10 position and has seen game-time as a left-attacking midfielder.
His best moments this season have been speeding down the left flank and sending in precise ground-balls for his teammates. 
In the 1-0 win over Granada, he raced past Granada's Alvaro Garcia and squared the ball to Jonas, who scored a dramatic 93rd minute winner for Valencia.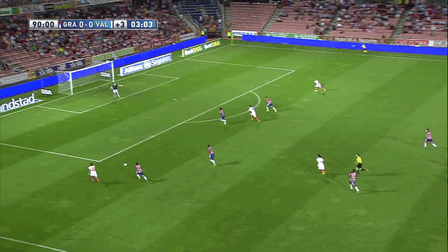 Source: Liga BBVA
In the 2-2 draw against Real Valladolid, Canales was afforded time and he punished Valladolid by finding Sofiane Feghouli, who finished past Valladolid goalkeeper Diego Marino.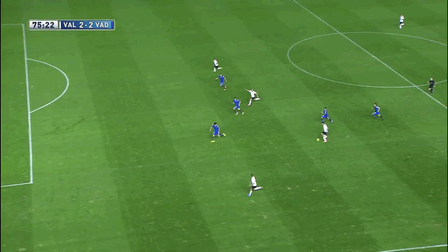 Source: LigaBBVA.com
There are two positives for Fulham: Those two assists indicate that Canales still can get evade opposing defenders even after his two career-debilitating injuries. 
Secondly, Canales can play centrally and out wide for Meulensteen. 
Though, both of Canales' assists were under former Valencia manager Miroslav Djukic, who was sacked, per BBC Sport.
Canales has struggled to assert himself under Djukic's successor, Juan Antonio Pizzi, who was blunt in his assessment of the former Santander prodigy, per Inside Spanish Football:
About Canales, the only thing I'll say is that he's always trained well, that he has certain key qualities for a leading team.

When I don't see it as the right time or think it's not the right time [for Canales to start], it's not a matter of saying: 'I'm not playing and now I'm going.'

In this profession, a footballer has responsibilities and one of them is fighting against adversity.

There's no possibility as of today, that we'll let go of any players. The squad is very small and the need for everyone we have is absolute.
Why would Fulham be interested in Canales?
He could be the transfer alternative to Ravel Morrison, whose club West Ham United, are refusing to sell him to Fulham, unless a £10 million bid is lodged, per Matt Law at the Telegraph.
English Premier League clubs are only allowed four loans in one season, per EPL rules, temporary transfers, page 194, v.7.5: "The maximum number of temporary transfers to any one club registrable in the same season shall be four."
Fulham already have Adel Taarabt (Queens Park Rangers), Clint Dempsey (Seattle Sounders) and Darren Bent (Aston Villa) on loan, so Canales could be the Cottagers' fourth and final loan—their last chance saloon.
Statistics via WhoScored, FFT Stats Zone, Squawka and Transfermarkt.