Arrigo's 2010 Mock NFL Draft
January 27, 2010
Ronald Martinez/Getty Images
It's a new week and that means a new mock. This time I included all 32 NFL teams with the two Super Bowl participants selecting 31st and 32nd, based on their regular season records.
I also included a second round pick as well. I wanted to do that to add more to the mock and to maybe give some type of explanation to the first round pick. 
1.  St. Louis: Ndamukong Suh-DT- Nebraska: Unless the Rams trade down for a chance to draft a QB, which I highly doubt, Suh has to be the pick. He is a beast and will be a force on the Rams' defensive line for years.

Round 2- Rams: Colt McCoy- QB- Texas
2. Detroit: Gerald McCoy-DT-Oklahoma: McCoy fills a need for the Lions and would wreak havoc in opposing teams' backfields for years. The offense has its corner stones in Stafford and Johnson, now the defense has one as well.

Round 2-Lions: Jerry Hughes-OLB-TCU
3.  Tampa Bay:  Eric Berry-S-Tennessee: The perfect fir for the "Tampa 2" and the best playmaker in the draft. He is built in the "Ed Reed" mold and is the ideal safety for the "Tampa 2" defense.

Round 2-Bucaneers: Golden Tate-WR-Notre Dame
4.  Washington: Sam Bradford-QB-Oklahoma: The Redskins get their QB of the future and a player that Mike Shanahan covets. He would be a very good fit for his offense and what he likes to do with his quarterbacks.

Round 2- Redskins: Jason Fox-OT-Miami
5. Kansas City: Russell Okung-OT-Oklahoma State: The Chiefs need to protect Matt Cassel and open holes for Jamaal Charles, and Okung is that guy. He is a big, strong guy that plays with a nasty streak.

Round 2- Chiefs: Brandon Spikes-ILB-Florida
6. Seattle: Derrick Morgan-DE-Georgia Tech: The Seahawks need an offensive tackle, but they had no pass rush last year and they will fill that need. Carroll wants to get to the quarterback and Morgan can do just that.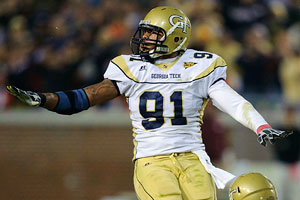 Round 2- Seahawks: Damian Williams-WR-USC
7. Cleveland: Joe Haden-CB-Florida: The Browns need alot, but Hayden would be a great building block for any defense. Mike Holmgren needs to address the quarterback position, but will not with three quarterbacks and big bucks.

Round 2- Browns: Tony Pike-QB-Cincinnatti
8. Oakland: Anthony Davis-OT-Rutgers: The Raiders need an offensive tackle and Davis may be the most gifted in the draft. With Hue Jackson as the new offensive coordinator, look for him to make sure JaMarcus Russell stays upright.

Round 2-Raiders: Mike Lupati-OG-Idaho
9. Buffalo: Bruce Campbell-OT-Maryland: The Bills have a need at quarterback, but the need at offensive tackle is greater and they feel they can land a strong-armed QB they covet in round two.
Round 2-Bills: Jevon Snead-QB-Ole Miss
10. Jacksonville: Rolando McClain-LB-Alabama: Quarterback is a bigger need, but McClain would be the perfect LB for Del Rio's defense. Jimmay Clausen has to be considered here and it's too early for Tim Tebow.

Round 2-Jaguars: Tim Tebow-QB-Florida
11. Denver: Dez Bryant-WR-Oklahoma St.: Will Brandon Marshall be in Denver? Bryant will be the man in McDaniels' offense. If the Broncos keep Brandon Marshall, they will have quite a duo.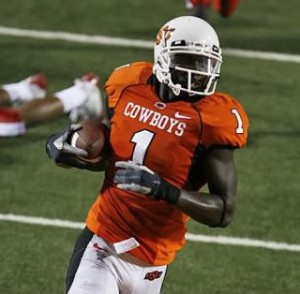 Round 2-Broncos: Corey Wootton-DE/DT-Northwestern
12. Miami: Jason Pierre-Paul-DE-South Florida: The Dolphins' defense isn't bad, but Pierre-Paul would add that speed rusher Jason Taylor used to be. He may be the first defensive lineman off the board.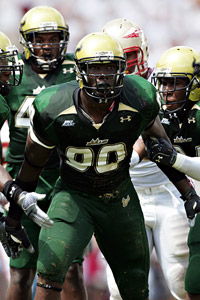 Round 2: Demaryius Thomas-WR-Georgia Tech 
13. San Francisco: Trent Williams- OT- Oklahoma: Williams would be the 49ers RT of the present and future. If Alex Smith is the starter there, they need to protect him.

14. Seattle: Jimmy Clausen-QB-Notre Dame: The Seahawks need offensive line help, but their quarterback play has not been good for three straight years and Carroll has a personnel history with Clausen.
15. New York Giants: Earl Thomas-S-Texas: Kenny Phillips went down and so did the Giants. Thomas is a playmaking S that the G-Men need and is another playmaking safety that is not afraid to hit.

Round 2-Giants: Jeremy Beal-DE-Oklahoma
16. Tennessee: Everson Griffen-DE-USC: Griffen can get to the QB, and Tennessee needs to do more of that.

17. San Francisco: Carlos Dunlap-DE-Florida: Great value here for the 49ers. Dunlap is a high-risk pick, but has huge upside. Mike Singletary will make sure this kid reaches his maximum ability. 

Round 2-49ers: Devin McCourtney-CB-Rutgers
18. Pittsburgh: Charles Brown-OT-USC: The Steelers need to make sure "Big Ben" stays upright and Brown will help with that.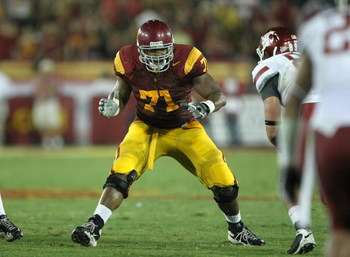 Round 2-Steelers: Trevard Lindley-CB-Kentucky
19. Atlanta: Sergio Kindle-OLB-Texas: I love this kid. He can do it all, but he is a great pass rusher and the Falcons will welcome his ability.

20. Houston: Bryan Bulaga-OT-Iowa: The Texans' offense was exciting, but they need to keep Matt Schuab upright in order to win games; Bulaga will make sure that happens.

Round 2-Texans: Perrish Cox-CB-Oklahoma St.
21. Cincinnati: Arrelious Benn-WR-Illinois: With the loss of Chris Henry, Chad "Ocho Cinco", and Carson Palmer get some help with Benn.  He can go over the middle or go deep on any play, a really nice fit in the "natti".

Round 2-Bengals: Aaron Hernandez-TE-Florida
22. New England: Ricky Sapp-OLB-Clemson: Ideal fit in the 3/4 as a rush backer and the Patriots need that. Their defense is young, but they are talented.

Round 2-Patriots: Dominique Franks-CB-Oklahoma
23. Green Bay- CJ Spiller-RB-Clemson: I know, the Packers have bigger needs (OT, CB, S) then a RB/KR, but Spiller is too good to pass up. He cures the Packers' return needs and will be Ryan Grants' primary backup.
Round 2-Packers: Chad Jones-S-LSU
24. Philadelphia: Navorro Bowman-OLB-Penn St.: The Eagles need to get more athletic at OLB and Bowman fits that need. He is a playmaking machine with a great motor.

25. Baltimore:  Jermaine Gresham-TE-Oklahoma: Joe Flacco needs another target in the red zone and Todd Heap has his heir apprent. Nobody is noticing that the Ravens are becoming a pretty good offensive team.

Round 2-Ravens: Kareem Jackson-CB-Alabama
26. Arizona: Kyle Wilson-CB-Boise St.: Another great young corner to play along side "DRC" and give the Cardinals a really good young secondary.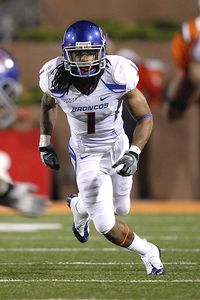 Round 2-Cardinals:  Kyle Calloway-OT-Iowa
27. Dallas: Dan Williams-NT-Tennessee: The Cowboys need offensive line help, but Williams would add depth to the Cowboys' line and make their defense even better up front.
Round 2-Cowboys: Marty Gilyard-WR/KR-Cincinnati
28. San Diego: Jahvid Best-RB-Cal: Norv Turner wants to have a playmaker that can "hit the homerun" any time he touches the ball, and Best can do just that.
Round 2-Chargers: Morgan Burnett-FS-Georgia Tech
29. New York Jets: Brian Price-DT-UCLA: He fills a need and would be a nice fit in Ryans' defense.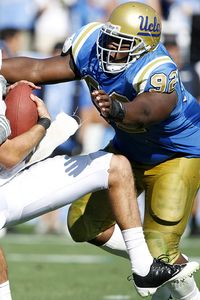 Round 2-Jets: Sean Weatherspoon-OLB- Missouri
30. Minnesota: Patrick Robinson-CB-Florida St.: The Vikings lost Cedric Griffin with an ACL sprain and made an already thin secondary even thinner.
Round 2-Vikings: Dan LeFavour-QB-Central Michigan
31. New Orleans: Taylor Mays-S-USC: Darren Sharper is getting older and the Saints have had success taking USC players. Mays is an enforcer that would bring a toughness to their secondary.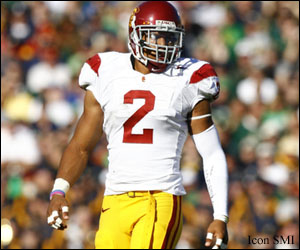 Round 2-Saints: Vince Oghobaase-DT-Duke
32. Indianapolis Colts: Greg Hardy-DE-Ole Miss: They have two DE free agents in Brock and Mathis next year. Polian is a smart GM and always thinks ahead, and Hardy is too talented to pass up.
Round 2-Colts: Jerome Murphy-CB-South Florida