2011 NFL Draft: Is Blaine Gabbert The No. 1 Quarterback Available?
January 23, 2011
Christian Petersen/Getty Images
First I will start this article off by saying there certainly has been a tremendous amount of hype surrounding Missouri QB Blaine Gabbert for the upcoming draft. 
The NFL Network's Mike Mayock has him as the No. 1 rookie QB at the moment and ESPN's Mel Kiper has him as the first QB off the board in his mock draft—going to the Arizona Cardinals.
I am going to give you two different quarterbacks' average college statistics for the seasons they started. See if you can guess which ones are Blaine Gabbert's:
3,389 yards passing, 20 passing TDs, nine interceptions
4,056 yards passing, 33 passing TDs, 13 interceptions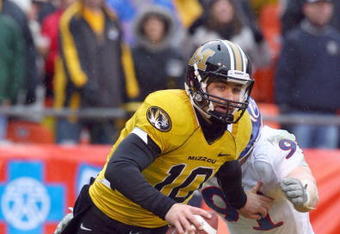 Jamie Squire/Getty Images
With all the hype surrounding Gabbert, one would think his would be the latter since everyone has been predicting he will for sure be a first-round pick.
Unfortunately, Gabbert's numbers are at the former.
What quarterback does the second and better list of stats belong too?
Interesting you ask. I gave those for a specific reason. They were the average college statistics for another recent Missouri Tiger graduate. His name was Chase Daniel.
What I am trying to get at here is that Missouri has an offensive "system" that produces nice quarterback numbers.
Chase Daniel went UNDRAFTED and ended up signing as a free agent with New Orleans, where he serves as Drew Brees' backup.
Blaine Gabbert wasn't even the best QB in the Missouri "system" over the past several years.
And lets face it—most "system" quarterbacks that have tried to make it in the NFL have failed miserably.
Danny Wuerrfel, Rex Grossman, Colt Brennan, Chase Daniel, Graham Harrell, Andre Ware and Alex Smith are just a sampling of the "system" quarterbacks that were suppose to have bright NFL futures, yet never made it anywhere. 
I don't count Grossman's Super Bowl appearance with the Bears...it definitely was defense/special teams and the running game that got them to that game.
If you feel he is the real deal and gets a great chance by being drafted by the Cardinals to play with Larry Fitzgerald, go ahead draft Gabbert.
He reminds me of another guy the Cardinals drafted to go with Larry Fitzgerald and Anquan Boldin a few years back.
Oh yeah, his name was Matt Leinart...where is he playing now?
Gabbert could prove the "experts" right and be a great quarterback.
I am just pointing out the fact that I would be extremely leery of drafting a "system" quarterback who's numbers aren't even better than an undrafted Chase Daniel playing for the same school.
For more dynasty debates and other 2011 football analysis, check out our 2011 preseason page.