Big Ten Breakdown: Indiana Hoosiers, Part 1 (Overview and Offense)
April 25, 2011
Team Overview: Next season, the Indiana Hoosiers will begin the era of former Oklahoma offensive coordinator Kevin Wilson, their fifth coach in eleven years.
During that time, the Hoosiers have had exactly one winning season—7-6 in 2007—and their overall record has been 41-77.
Of course, this is nothing new for IU. They have been the bottom feeders of Big Ten football for much of their existence. In fact, they have only had consecutive winning seasons nine times since 1900. They have had more than two consecutive winning seasons in a row once since 1900 (1944-1947).
In short, it's going to be an uphill battle for Wilson, but there's no reason to think it is impossible. After all, if Northwestern can be a consistently competitive team, Indiana should also be able to regularly win six games a year. Furthermore, that sort of against-all-odds success is something Wilson knows about, as he was former NU coach Randy Walker's offensive coordinator, first at Miami (OH) and then at Northwestern.
Nevertheless, achieving this sort of success may take a bit of doing.
In the end, the biggest challenge Wilson will face is the same challenge all coaches of perennially losing programs face: how to make a team of doormats believe it can compete with any team in the conference? 
Offensive Overview: 2010 scoring offense: 27.2 PPG (seventh in the conference), total offense: 387.5 YPG (7), rushing YPC: 3.46 (11), passing efficiency: 128.44 (9).
Average scoring offense conference ranking over last five years: 7.2
Best scoring offense conference ranking over last five years: Third (2007)
Worst scoring offense conference ranking over last five years: 10th (2008)
Returning starters: RB Darius Willis, WR Damarlo Belcher, WR Duwyce Wilson, TE Ted Bolser, TE Max Dedmond, OT Andrew McDonald, OL Justin Pagan, C Will Matte, OL Marc Damisch
Open positions: QB
Offensive Breakdown: The good news is that there shouldn't be a difficult transition from former coach Bill Lynch's offense to Kevin Wilson's offense.
Both run spread offenses that like to work out of shotgun and pistol formations. Neither depend on a dual threat quarterback or a power back or huge, physical receivers.
The two big differences are that Wilson's offense is no-huddle and is more inclined to look for the big play. On the other hand, while Lynch used elements of the no-huddle, his offense was more traditional, and it was almost exclusively focused on possession.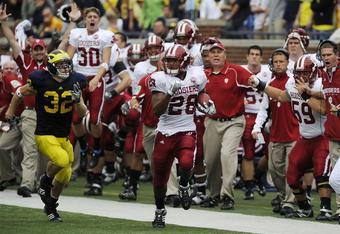 In fact, last year, though Indiana passed more than any other team in the conference, they were near the bottom of the conference in passing plays of 20 and 30 yards or more. On the other hand, Oklahoma was at the top of the Big 12 in both categories.
Quarterbacks: Ben Chappell graduated and took three years of starting experience with him. Chappell was not a great quarterback, but he knew the ins and outs and could play within a system.
Therefore, with a new coach and a new system being put in place, perhaps Chappell's graduation is a good thing. It might be easier to start with a clean slate.
And a clean slate is exactly what Wilson and quarterbacks coach Rod Smith will get.
The two most likely candidates to win the job are sophomores Dusty Kiel and Edward Wright-Baker. Their combined career stats are: 29 ATT, 9 COMP, 151 YDS, 1 TD, 3 INT, 65.46 EFF.
Wright also has 25 yards rushing in eight attempts while Kiel has 12 yards in seven attempts.
As Rod Smith is coming from four years of working under Rich Rodriguez, it is likely that he will want a mobile quarterback to lead his offense, and both Kiel and Wright-Baker fit the bill.
Kiel is reputedly the more polished passer of the two. At least, his high school stats point in that direction. Kiel also backed up Chappell in 2010, and he was still atop the depth chart for Indiana's spring game.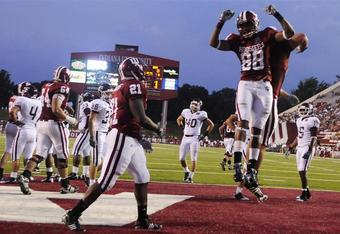 Nevertheless, his 2010 statistics aren't pretty. Certainly, he was a redshirt freshman, but a combined 2-12 with two interceptions against FCS Towson State and Wisconsin's second and third string defense?
Meanwhile, Wright-Baker was a little better against the same opponents. Moreover, he was statistically better in the spring game, and he passed the spring game eye test a bit more impressively.
On the other hand, I don't see them practice, and Kevin Wilson has forgotten more about football than I will ever know. Moreover, following the spring game, Hoosierstateofmind.com, which also is more knowledgeable than I am, felt the offense looked more fluid with Kiel under center. 
Still, in every tangible, comparable way that is available to the average fan, Wright-Baker has been the better signal caller.
Either way, Wilson insists that the competition is still wide open.
In the end, the Hoosier offense has some talent, but given the nature of the offense, the success or failure of the team will come down to the quarterback. I expect some bumps along the road. If the starter progresses as the year goes on, that will have to be considered a success.
Big Ten Position Group Ranking: 12 (Largely Unknown) 
Running Backs: Junior running back Darius Willis missed much of last year with a knee injury. In 2009, as a redshirt freshman, Willis was ostensibly impressive with 607 yards, a 4.93 YPC average and six touchdowns. Nevertheless, Willis picked up most of his yardage against second-rate defenses. In '09, against three of the conferences' four best D's, he averaged 2.19 YPC in 38 carries.
He is now healthy, but the coaches kept him very limited this spring in order to make sure he is 100 percent in the fall. He should be the starter come September, but with legal troubles potentially hanging over his head, a one-game suspension and a history of injury problems, depth could be an issue.
Coming out of spring practice, sophomore Nick Turner and redshirt freshman Matt Perez were at the top of the depth chart. Turner, among other things, picked up 103 yards against Wisconsin in 2010 (in garbage time against UW's second and third string defense).
Meanwhile, Perez has presumably climbed over sophomore Antonio Banks on the depth chart. Banks, like Turner, also has garbage time experience.
If Turner, Perez and/or Banks can establish themselves as legitimate threats, and Willis can consistently produce against top defenses, then the IU running backs will be a solid group. However, as of now, they are still largely unproven.
Big Ten Position Group Ranking: 11
Receivers and Tight Ends: Despite the early departure of All-Big Ten receiver Tandon Doss, the IU receiving corps has a number of solid, young playmakers.
Most notable is senior Damarlo Belcher, who led the Hoosiers in both receptions and yards in 2010. He will vie for all-conference honors this season.
Also, sophomore Duwyce Wilson is a 6'3" speedster that, at least physically, could step right into Doss' shoes.
Finally, inexperienced but talented sophomore Kofi Hughes finished spring ball as the third receiver.
Rounding out the depth chart is senior Dre Muhammad and redshirt freshman Logan Young.
On top of that, Indiana has two experienced tight ends in sophomore Ted Bolser and senior Max Dedmond. Last season, the two combined for 32 receptions, 444 yards and four touchdowns.
Due to supersaturating his staff with defensive coaches, Wilson will do double-duty as the tight ends coach, so this will be an area of particular concentration. 
Overall, pass catchers are not only Indiana's strongest position group, but given their youth, they also have the most upside on the team.
Big Ten Position Group Ranking: 5
Offensive Line: The final spring practice first team line was as follows (from left to right): senior Andrew McDonald, junior Marc Damisch, junior Will Matte, redshirt freshman Cody Evers, senior Justin Pagan.
The only surprise is Evers. The redshirt freshman supplants Colin Rodkey, who backed up tackle James Brewer last season. Rodkey began spring at the top of the depth chart, and is currently nowhere to be found on said chart. As I have heard nothing of any injuries, I can only assume Wilson hasn't been pleased with his performance. However, that is pure speculation.
Other than Evers, every current first string lineman has starting experience, with Matte and Pagan boasting three years of starting experience (though Pagan's experience is at guard and not tackle).
The question is will all of that experience translate into a dominant line?
Kevin Wilson's line will need to be better and more dominant than Bill Lynch's line, as required by the nature of the respective offenses. 
As previously mentioned, Lynch's offense was possession oriented. Despite way more passing attempts than any other team in the conference, it was still in the top half of the conference in time-of-possession. In other words, the O-line under Lynch didn't have to hold the pass rush off for a long time. Most plays required approximately two-three seconds of protection.
Therefore, the fact that last year's Indiana offense allowed the third least sacks in the Big Ten doesn't mean that much.
Meanwhile, the fact that 2010 Oklahoma (Wilson's offense) had the most passing attempts in the Big 12 also doesn't mean that much, because it also had the second most rushing attempts and the most offensive plays. In the no-huddle—and especially an extremely potent no-huddle such as OU last season—there are simply a lot of plays.
However, the Sooners also let up 22 sacks, which is 11 more than Indiana let up last season. The reason is the Oklahoma offense was big play oriented, and big plays require more time in the pocket for the quarterback. More time in the pocket typically equates to more sacks allowed, even in a prolific offense.
Will IU's line be able to provide that time for an inexperienced quarterback?
Moreover, will the line that paved—or failed to pave— the way for the worst rushing offense in the Big Ten last year, be able to take sizable steps forward? It would be easy to blame last year's lack of productivity on the injury to Willis, but a healthy Willis only managed 3.52 yards per carry against Western Kentucky, Akron and Michigan, the 86th, 72nd and 95th ranked rush defenses in the country.
Would Willis have helped IU's rushing game last season? Absolutely. Would he have made it a feared rushing game? Probably not.
In closing, the line will be the position group that will struggle the most with the offensive scheme change, because much more will be expected of them.
The success of the 2011 Hoosier offense hangs on the young quarterback's shoulders. But, as Kevin Wilson has suggested, the success of the quarterback rests in large part on the offensive line.
Expect improvement from last year's group. Don't expect a major turnaround.
Big Ten Position Group Ranking: 11
Big Ten Breakdown: Indiana Hoosiers, Part 2 (Defense and Specialists)