LeBron James' NBA Finals Post-Game Comments and Why Dwyane Wade Deserves Blame
June 13, 2011
Mike Ehrmann/Getty Images
The Dallas Morning News and other Dallas based newspapers may be the only ones in the country to feature the Mavericks as the lead story after their NBA finals victory.
The rest of the country is focused more on the failings of one LeBron James, who so far has proven to be a hero in the mold of a Shakespearean tragedy rather than the Herculean figure he physically presents to the world. 
LeBron once again had a hand in stealing the headlines by putting his foot in his mouth with an unnecessary remark directed at all his detractors.  Although he invited much of the criticism I think that James' press-conference remarks were justified and correct. 
Not only that, but the spotlight on every bruise on the former apple of our eye went a long way to unjustly averting the attention from another large failure of the postseason: Dwyane Wade.  In the end, will LeBron use this as a stepping stone to greatness, or will it all be another brick in the wall that he seems to build higher around himself everyday?
The Postgame
LeBron pitched an almost perfect game in his press conference; he credited the Dallas Mavericks with defending him well, admitted that he personally failed and expressed how the true pain lies in the disappointment that he inflected on his teammates. 
Unfortunately, LeBron didn't stop there, and one of his final pitches was hit out of the park.  The man who has been afraid to shoot all series seized the opportunity to take a shot at all his "haters":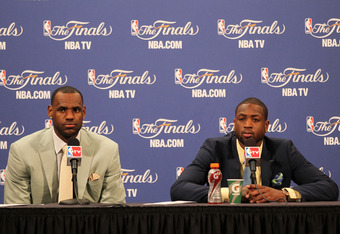 Mike Ehrmann/Getty Images
"At the end of the day, all the people that was rooting on me to fail, at the end of the day they have to wake up tomorrow and have the same life that they had before they woke up today. They have the same personal problems they had today. I'm going to continue to live the way I want to live and continue to do the things that I want to do with me and my family and be happy with that.

"They can get a few days or a few months or whatever the case may be on being happy about not only myself, but the Miami Heat not accomplishing their goal, but they have to get back to the real world at some point."
We are all too focused on making this man eat his own words rather than serving him up an ounce of reason.  I have seen and heard a slew of comments that bitterly interpret LeBron's comments as insinuations that we all lead miserable lives and that no matter what happens, he is rich and we are not.   
I do agree that LeBron's comments were resentful; a resentment that was born out of all the vitriol and personal hatred and anger that has been directed at a man that 99 percent of fans have never met.  We all gave birth to this persona of LeBron as the villain.  Did he do his share to exacerbate it by starring in "the decision," guaranteeing seven or eight championships and making other unsavory remarks?  Yes, he certainly did.  But does that give us the right to attack him the way that many of us have of late?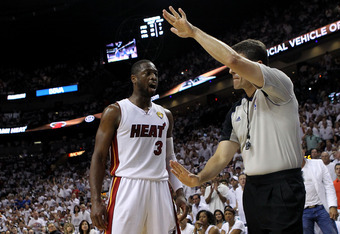 Ronald Martinez/Getty Images
LeBron is right; how is his loss going to fix any of our problems?  Conversely, would his success have fixed any of our problems either?  That is the nature of sports; they are a euphoric escape from reality.  LeBron makes a living based on our interest in him and his team, so his words are almost self-defeating by telling us to go back to the real world. 
However, LeBron never mentioned money once, and he never claimed that his life was better than ours.  He was a dog that had been kicked so many times that he finally decided to bite the kickers in the ankle.  Many of us retracted and cried out, "Whoa! He's not allowed to do or say that, is he?"
LeBron, in my opinion, was justified and correct in his remark.  However, he needs to better pick and choose his battles.  Lining up the very sporting fans that are the reason he is able to live the way he lives was rather unwise of him.
Furthermore, his postgame tweet was another example of how we should all talk less and say more:
"The greater man upstairs know when it's my time.  Right now isn't the time."
Shifting responsibility to "the man upstairs" was another example of LeBron shirking responsibility, which the public can't stand.  He sounded very individualistic in his tweet as well, using the phrase "my time" instead of "our time," which would have referred to his team. 
This tweet needed to be left on the cutting room floor instead of going to press, along with LeBron's "now or never" remark.  LeBron wants to put a championship ring on his middle finger and wave it around in front of all of his adversaries so badly that it is affecting his judgment off the court and his game on the court. 
Now that I have covered LeBron's failings in communication, let me turn to another man who has essentially ducked behind LeBron James while allowing him to take the brunt of the media bullets.  Throughout the whole ordeal, how often did you hear this man sticking up for his embattled teammate?
Dwyane Wade
As the heat from the press focused on burning a hole in the image of the Miami Heat's cold superstar; another possibly larger loser quietly slinked away into the muggy South Beach night.  Dwyane Wade did not ignite ire by waving the red flag in front of the media bull, but he certainly came up short in the series against the Bulls.
Wade only average a little over 18 points per game while never once shooting better than 50 percent while LeBron shouldered the lofty expectations and carried the team into the Finals.  Wade did have a few decent games early in the Finals series, but he too wilted in the final two games, averaging only 20 points, 14 shots, 4.5 turnovers, and shooting just better than 42 percent from the field with only one made three-pointer.  So how is he dodging all criticism?
Wade was at the same coming out party in South Beach with LeBron, made many of the same "the world wants to see us fail" comments as LeBron, instigated the whole coughing incident, and even cried equally if not more so than LeBron during the playoffs.  
Wasn't this the man with the leader label?  Shouldn't the leader take the lion's share of the blame?  You can delegate authority but you can't delegate responsibility.  It seems like the 2011 playoffs went a long way to rewriting the rules behind that old adage, as the fingers and questions were all pointed squarely at LeBron at the end of the game.
I found it comical when ABC commentator Jeff Van Gundy pointed out how even-keeled Wade was during the game; a few minutes later Wade find himself getting T'd up after arguing an obvious charge call on him.  I didn't see LeBron getting hit with a costly technical foul when he barreled into Tyson Chandler at the end of Game 5.  Did Van Gundy forget how Wade literally jumped up and down like an eight-year-old who just had his Nintendo taken away when he didn't get a foul call on a fast-break layup he blew a few games earlier?
LeBron folded the fourth quarter and possibly the season for the Miami Heat, but Wade was right there with him, fumbling the ball into the backcourt and rimming a potential game-tying free throw in Game 4 and then tossing up bricks and dribbling the ball off his foot in Game 6. 
Wade's only saving grace is the fact that LeBron stirred up more media angst than he did.  One could say that he wanted the ball and put a lot more effort into the end of the game than LeBron, but the results were still the same: not enough shots taken, too many shots missed, crucial turnovers and most importantly, a loss.
"The Better Part of Valor is Discretion"
Dwyane Wade aside, LeBron needs to heed these words spoken by the bulbous pontificator Falstaff in Shakespeare's play Henry The IV.  Falstaff faked his own death so as not to run foolishly into a battle while trying to protect his own honor.  After all, what is honor if you're dead?  Many might see Falstaff's act as cowardly, but then many might see it as wise.
LeBron could have gone a long way to repairing his damaged image by not chasing after honor in the form of entering into a battle of words with those who wish to see him fail.  LeBron could have faked his own death up there on stage before his "enemies" in the press and public.  He could have shuffled away quietly, comment-less, and tweet-less.
While we all spent the summer warring over whether or not LeBron and the Heat choked, LeBron's legacy and his on-court performance, he could have been putting his head down and improving his game as well as quietly hurdling any mental barriers preventing him from being the player we all know he can be.  Shouldn't we relate to an athlete who is humanly flawed like we all are in some way?
LeBron is tragic in that he clearly has issues with ego, anxiety and failure.  All of this weakness encapsulated in a frame of magnitude and muscle reminds us all that real strength comes from within.  That notwithstanding,  LeBron is the definitive athlete of our generation, and it bothers me that we want the face of our sporting world to wallow in his own suffering, regardless of whether it is self-imposed or not.
Since when did this society get so involved in kicking a man that is down?  Is it because he keeps fighting back with comments like the one in his press conference directed at those who wish for him to fail?
As Robert Schuller once said, "Nobody who tries to do something great but fails is a total failure.  Why?  Because he can always rest assured that he succeeded in life's most important battle—he defeated the fear of trying."
LeBron can learn from this and grow to eventual cumulative team-success like many great athletes before him, or he can shrink away into a world of frustration and resentment; all the while engaging those who wish to see him one day retire unsuccessful and ring-less.  I think we know which of those two is the wiser path.
 *I am not a LeBron James lover.  I am not a Miami Heat fan.  I have supported the Washington Wizards since I was old enough to tell one team from the other.  This article was written in response to the unjust treatment that I believe James was being exposed to in the media.  Feel free to comment, but please read the article and contemplate your words before you do.