MLB Trade Rumors: How a Felix Hernandez Deal to Yankees Could Be Semi-Realistic
July 22, 2011
Ezra Shaw/Getty Images
Brian Cashman has said all year.  He is not going to be so inclined to give up prospects like Jesus Montero, Manny Banuelos or Dellin Betances for decent pitchers.  He would need to get a huge return of value for these high-value prospects of the New York Yankees organization.
What are the odds of the Yankees dealing with the Seattle Mariners to acquire Felix Hernandez? To be honest, slim to none.  I have a very hard time believing that Cashman is going to stand pat at the trade deadline, with the Yankees getting inconsistent starts from Bartolo Colon and Freddy Garcia.
The only way this team could gain huge amounts of momentum in the postseason is if it acquires a big-name starting pitcher.
I have heard a great amount of criticism after writing an article about the Yankees potentially in on Ubaldo Jimenez. 
Several people are saying that I am overreacting to the starting pitching situation and that Colon and Garcia are pitching superbly this season.  These are all fine points, but you should always take a look at last season.
Going into the trade deadline, the Yankees thought that they were set in their rotation.  CC Sabathia was CC Sabathia, AJ Burnett was bad in July but a fixture in the rotation because of his contract, Phil Hughes was as good as can be in the first half, Andy Pettitte was looking like an ace, and Javier Vazquez looked decent, as his epic slump came later on in August after showing glimpses of a dead arm earlier on. 
The rotation seemed like it does today, just right.  You always have to prepare for the worst, however.
CC remained a mainstay ace of the rotation.  Andy Pettitte soon fell to injury and would be out until September.  AJ kept on struggling and would not be in the rotation for the ALDS.  Phil Hughes greatly struggled after the All-Star Break and continued bloating his ERA above four into September. 
Javier Vazquez was horrible with his half arm, as the Yankees could rely more on the September call-up Ivan Nova. 
In the playoffs, CC Sabathia, Phil Hughes, and Andy Pettitte pitched well enough to go past the ALDS.  In the ALCS, though, Sabathia was not as sharp, Burnett was just as bad, Hughes continued to regress, and Andy Pettitte pitched decent enough to lose a game. 
The Yankees could not get it done, especially against a team in the Texas Rangers that had two aces, essentially, in Cliff Lee and CJ Wilson. 
Referring back to the old adage "pitching wins you championships," the Yankees need to follow the same formula by adding another No. 1 or 2 starter.  You need to have insurance because all of the pitchers are not necessarily going to continue giving you good outings consistently.
That is why Brian Cashman needs to approach Felix Hernandez.  This starter has the greatest potential in all of baseball, and I understand like the rest of you that this is a pipe dream.
Every Yankee fan, and baseball fan for that matter, would love to see their team make a dramatic deadline move that can reel in a huge-name impact player.  The Yankees have the opportunity to do so right now.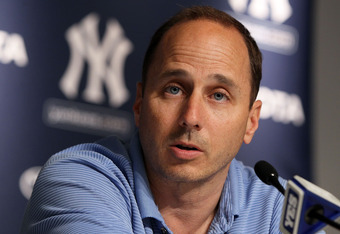 Jim McIsaac/Getty Images
The Mariners GM Jack Zduriencik has said that he does not plan on moving King Felix, but the Yankees should be persistent, up to the last minute at the deadline, in trying to deal for him.
Cashman has to center the package around Manny Banuelos, Dellin Betances, and Adam Warren or David Phelps.  Cashman needs to convince the Mariners that, by acquiring these three pitchers, Seattle could get help right now with Warren and get a huge boost from Banuelos and Betances at some point in the 2012 season. 
The team could get two pitchers who have the potential to become Felix Hernandez.  They even get Adam Warren who could become a very solid pitcher himself and is tested at the highest minor league ready.  He is ready for the bigs.
I would not necessarily go ahead in trading Jesus Montero.  Here is my reasoning: the Yankees need offense.  They are uncharacteristically second in the AL in runs scored (behind the Boston Red Sox).  There are no players on the market who could be of huge impact, as the Yankees would have to give up too much for players like Carlos Beltran, Hunter Pence, and Aramis Ramirez. 
Jesus Montero is better offensively than the starting catcher (Russell Martin), the DH (Jorge Posada), and the back-up catcher (Francisco Cervelli, aka bench warmer Cervelli).  I have been frustrated all season because of this. 
Montero is held back because of "behavior" problems.  I agree with Mike Axisa of the River Ave. Blues that Montero can only improve with these issues after being around clubhouse players like Derek Jeter and CC Sabathia.  Plus, players like Logan Morrison had these so-called issues and continue to produce offensively.  He is 21, give him a break.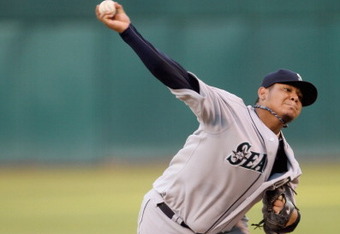 Ezra Shaw/Getty Images
Ivan Nova is also a name that you do not include in this trade.  He is sorely needed as a depth option in the minor leagues.  He could come up for full time starts if there is an injury.
If the Mariners desperately need more pieces in the trade, the Yankees should be willing to throw Phelps/Warren (assuming one of them was offered before), Jorge Vazquez, and maybe pitchers like Graham Stoneburner.
You have to trade away Vazquez if you are the Yankees.  He had a career year this season and probably will not reproduce these types of numbers again. 
The Yankees need to sell high on this guy.  Plus, they have never been interested in calling him up to the big leagues anyway.  Mind as well get some value for him.
So, at best, the Mariners could get a package like this:
Mariners Acquire:
Manny Banuelos
Dellin Betances
David Phelps
Adam Warren
Jorge Vazquez
Graham Stoneburner
Yankees Acquire:
Felix Hernandez
I know this has pretty much a 0 percent chance of happening, as the Mariners have said over and over that they do not plan on moving Hernandez.  But the Yankees need to be persistent and avoid another 2010. 
Logically thinking about it, a deal like this would benefit both sides.  The Yankees get a sure-thing in Hernandez. 
The Mariners get two shots at pitchers who could become King Felix and another two shots at solid pitchers who are tested in AAA.  They even get a nice-hitting AAA position player and a potentially solid reliever in Graham Stoneburner.