Season Preview 2011: Juventus Restarts Again with a New Coach and a New Stadium
September 1, 2011
Claudio Villa/Getty Images
It was deja vu all over again when Juventus announced the arrival of their new coach Antonio Conte. For the third time in as many years, they were beginning anew with a different coach. In 2009, it was Ciro Ferrera, the former Juventus great took over for Claudio Raineri with only a few games left in the season. He led the team in their rally for second place and many were optimistic for his first full season.
Some expensive and heavily hyped players arrived during the 2009 mercato. Diego and Felipe Melo (along with free transfer addition Fabio Cannavaro) were supposed to light up the Serie A. But of course, they failed. Despite a decent start, the 2009-2010 season had become a train wreck by January. There was one bright spot in December, when Juventus defeated Inter in a rainy and confrontational game. Fans with good memories will remember Gianluigi Buffon's choke hold on Mario Balotelli.
Ferrera was unceremoniously shipped early in 2010 and replaced with journeyman coach Alberto Zaccheroni. Zaccheroni's arrival seemed to be starting well (at least relative to that year's performance) as the squad drew their first match with the new manager. But after, things got stale and the team continued to slide. They somehow stopped the bleeding in the spring and were lucky to finish in seventh, which at least gave them a Europa League spot.
Zaccheroni (who had only been signed to finish out the season) left the team as planned and he was replaced by the experienced and wise Gigi Delneri, who had previously been coaching Sampdoria.
Delneri was coming off a successful year with I Blucerchiati, having led them to a high enough league finish to merit a spot in the UEFA Champion's League.
He arrived with many new players. Many veterans on-loan, with options to buy. These men, men such as Simone Pepe, Alberto Aquilani and Fabio Quagliarella, greatly helped the Turin side. Others, like Marco Motta, actively made the team worse.
Of course, there were other new players as well. Milos Krasic and Leonardo Bonucci, two players bought during the summer of 2010, appear to be important parts of Juventus. Granted, there were rumors of a move to Zenit St. Petersburg for Bonucci this summer. However, he has since stated that he is honored to stay at Juve.
We all know what happened last year, Juventus began the campaign slowly, but by the fall, they had ramped up their play. They were unbeaten from October to December, and seemed likely to break into the Scudetto race after the Serie A winter break. But, the bottom soon fell out.
Fabio Quagliarella went down in their first game back against Parma. This game also featured former Juventini Sebastian Giovinco fileting the Juventus defense as he led Parma to a 4-1 victory.
From there, things got worse. Through January and February, Juventus was a sorry side. Much blame went to Delneri and his reluctance to sway from his favored 4-4-2 formation, but the tactics weren't really the problem. The players were the problem. For whatever reason, the team seemed unable to even compete with some teams. This malaise was somewhat lifted as the Winter faded, but it never really lifted.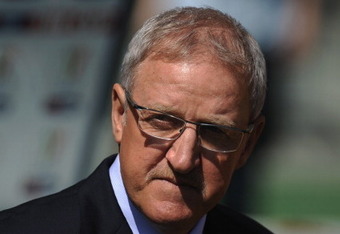 Valerio Pennicino/Getty Images
A small disclaimer: the arrival of Alessandro Matri (at the end of January) provided a small stimulus to the team. Cagliari went down in his first game, 3-1. Then, Juventus defeated Inter 1-0. Of course, this was followed by a scoreless loss to Lecce.
It seemed like maybe they could fight to finish fourth and qualify for the Champion's League, but looking back, that was a pipe dream. The team regained some form at the end of March and the beginning of April, but they lost that too. From there, they drew most of their games and ended the season in seventh place. Unlike the previous year, their performance was not good enough to even qualify for the Europa League.
In keeping with the recent tradition, Delneri was dumped in favor of a new coach. Now, former Juventus fan favorite Antonio Conte is about to begin his first season as Juventus skipper. He, much like Delneri before him, is coming off a successful tenure at his previous club, Siena. Last year, he led them back to the Serie A from Serie B.
Conte's arrival was, also much like Delneri's, accompanied by many new players. But Conte's new players appear to be more talented than Delneri's. Andrea Pirlo, Reto Ziegler (who it appears was never in Conte's plans and was signed off a request from Delneri, but more on that later) and Michelle Pazienza came on free transfers in May. Then, some of the more exciting loaned players from the previous season (and the also the worst player on loan) were signed to permanent deals. Fabio Quagliarella, Simone Pepe, Alessandro Matri and (unfortunately) Marco Motta had all become official Bianconeri.
From there, Juventus flirted openly with such stars as Sergio Aguero and Giuseppe Rossi. But Aguero instead went to Man City and Rossi stayed with Villarreal. Wingers Juan Manuel Vargas and Michel Bastos were also courted, but they weren't swayed.
Stephan Lichtsteiner was signed from Lazio to fill the gaping hole at right back. If Ziegler works his way into Conte's plans, then the Swiss duo (who play together for the Swiss national team) may help finally end the Bianconeri's fullback woes. Even if Ziegler doesn't make it into the starting 11, a healthy Paolo De Ceglie could possibly have a breakout year.
After Lichtsteiner, the signings became a bit more marquee. Young Bundesliga star Arturo Vidal was signed from Bayer Leverkusen. The Chilean international was coming off of a solid Copa America performance, and he chose Juventus over German greats Bayern Munich.
Despite failing to capture the world beating striker they originally wanted, Juventus still signed a very talented striker in Mirko Vucinic. While he has struggled for consistency with Roma, he has also shown that he has the ability to win games and show up big. Hopefully, he finds the consistency he has been searching for.
The final three signings were all exciting young wingers. Emanuele Giacherrini was signed as part of a co-ownership deal and he was solid last season for Cesena. Even better, the young Peruvian Marcelo Estagarriba (who lit up the Copa America, not unlike Vidal) was loaned out to Juventus.
As if the team hadn't already signed two capable left wingers, Juventus signed the young Dutchman Eljero Elia on transfer deadline day. Elia had previously denied Juve, but in the end, Beppe Marotta got the man he wanted. Estagarriba and Elia are both great young wingers (though Elia needs to work on his mental game) and if they both blossom this year then Juventus will reap great benefits.
Because the original starting weekend slate of games was postponed due to a player's strike (which will hopefully soon be over as the Serie A has opened negotiations with the players), the season will (assuming the strike is resolved) start next weekend.
The beginning of the season will give the revamped defense a chance to show the rest of Italy what they can do.
Like always, Gianluigi Buffon will be holding down the fort for Juventus in goal. One of the best keepers in the world, Buffon is sure to continue his fantastic career with another good season. But he can't do it alone, he needs help from the defense.
Giorgio Chiellini and Leonardo Bonucci are set to resume their promising center back partnership. There were rumors of a Bonucci move away from Juve (as I stated earlier) in addition to rumors about the team's interest in Chelsea defender Alex. Nothing came to fruition with Alex, and I personally am glad. As talented as Alex is, I really think Bonucci and Chiellini are a good duo and I think they are going to get better as they get more experience together. Both players have something to prove this year and hopefully they will both shine.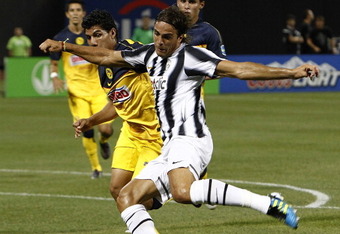 Jeff Zelevansky/Getty Images
The fullback situation looks good for the first time in years. Stephan Lichtsteiner will presumably continue the good form he had with Lazio and provide some stability at the right back position. Paolo De Ceglie seems set to start at left back, and I would argue that he deserves the chance to prove himself. He performed well last season before receiving a season ending injury during the first game against Milan in October. At this time, Reto Ziegler seems to have hit a dead end at Juventus. He was not signed by Conte's request, so when Conte arrived he had no use for Ziegler. Hopefully Conte will open up his mind a bit and give Ziegler some playing time, but only time will tell.
The young Dane Frederik Sorensen will hopefully grow more as he plays a sub role, alongside with veteran Andrea Barzagli.
The midfield is perhaps the most exciting part of the Juventus squad this season. New arrivals Andrea Pirlo, Michelle Pazienza and Arturo Vidal will join Claudio Marchisio. Everything I've seen up to this point seems to point to Conte using a 4-2-4 formation, with two central midfielders, two wingers, and two strikers.
Pirlo will probably play a slightly deeper role, one which Vidal could play. However, Arturo will probably not start there. I would guess that Marchisio and Vidal will split time in the center, with Pirlo sitting back and splitting some time with Vidal. Pazienza will back up the three other men as a substitute. Again, this is just my guess at Conte's tactics.
At the wings, last year's duo of Simone Pepe and Milos Krasic will be buoyed by the arrivals of Eljero Elia, Estagarriba and Giaccherini. Elia will probably start, with Pepe serving as a super sub. Look out for Estagarriba to get plenty of time as well, as he shows much promise. Giaccherini may get some time when the others need rest, or against weaker opposition.
The Juventus strikeforce could potentially be devastating this year. But, it could also be timid. Fabio Quagliarella is back from his season ending injury last season. He played well in pre-season friendlies, and hopefully, his injury will not have a permanent effect. Alessandro Matri looks like he is ready to resume his role as the new David Trezeguet. Matri has shown an impressive ability to sniff out goals, and his poaching was essential to any success Juventus had during the second half of last season.
Mirko Vucinic is the one who will really decide how dangerous the Juventus strikers are. If he finds more consistency, then the rest of the Serie A will be on alert. Vucinic, Quagliarella, and Matri all have the ability to be top level Serie A strikers. If they all do that this season, then Juventus will be a strong side in attack.
Il Capitano Alessandro Del Piero will also provide some more options in attack. Though he is getting up there in age, Del Piero still has it. He will continue to be a source of goals for Juventus, though he will probably see most of his minutes as a sub. Luca Toni helps add some experience and depth, while Iaquinta could also see some sub time if he can ever stay consistently healthy.
Amauri sadly remains at Juventus, having turned down chances to move to Palermo, Marseille, and Parma. His agent says he wants to prove himself at Juventus, but most spectators would agree that his time at Juventus is up. There is always the chance he sees some playing time, but it will most likely be the result of either an injury or extremely poor form from a striker.
Juventus have added some nice pieces, but their defense will be key. The center back pair could possibly be the best in Italy, but only if they live up to their potential as a duo. Chiellini is still the first choice defender for Juventus, but Bonucci has to prove himself to management this year. Many fans and commentators (such as myself) have approved of Bonucci. Despite this, the team's courtship of both Alex and Diego Lugano this summer seems to show a lack of faith in Bonucci.
The midfield looks sure to be great, and as stated above, the attacking corps has great potential.
Antonio Conte has a big job to do. He must make Juventus great again. His attacking tactics are certainly different from Delneri's, but the results may not be. Certainly, the Agnelli family and the rest of the Juventus management are hoping for a great season to inaugurate the new Juventus stadium. Perhaps Mirko Vucinic, Arturo Vidal and Antonio Conte are the men to bring Juventus back to the top.