NFL Season Preview: Dallas Cowboys Projected Team Roster for 2011, Final Edition
September 2, 2011
Hannah Foslien/Getty Images
The preseason may not be important when you base it on score or outcome, but a lot of lesser known players are fighting for their jobs. The bottom of the roster, while never settled, can change week to week based on standout performances by backups or third-team players.
This is an attempt to predict the final Dallas Cowboys roster on a week-to-week basis until the final cuts are held this Saturday.
After the fourth preseason game against Miami, the Cowboys team should look like this:
QB: Romo, Kitna, McGee
McGee led the league in preseason passing yards and yard per completion. He has shown remarkable improvements from when he was drafted.
RB: F. Jones, Choice, Murray, Tanner
Tanner has to make the team, which may leave Choice in a new city.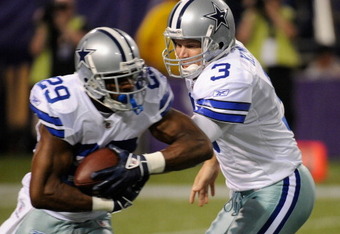 Hannah Foslien/Getty Images
FB: None
Choice is more valuable than Gronkowski and Chapas but if the Cowboys keep a fullback, I think they'll go Gronkowski.
TE: Witten, Phillips, Rucker
Bennett got hurt in the third game of the preseason, which means he will go to PUP, freeing up a spot for Rucker.
WR: Austin, D. Bryant, Ogletree, Harris, Holley
Holley looked real good against Minnesota with the first team offense and will make the team. If Dallas goes 6 wide, Manuel Johnson will get the call.
OL: Free, Nagy, Costa, Koiser, Smith, Arkin, Holland, Parnell, Young, Kowalski
After the surprise cut of Gurode, Nagy and Costa will start Week 1 for Dallas.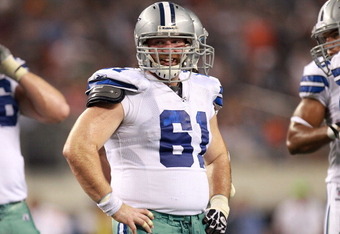 Ronald Martinez/Getty Images
DL: Hatcher, Spears, Ratliff, Coleman, Lissemore, Brent
Defensive line looks solid, Olshansky has to be on the bubble.
LB: Ware, Brooking, Lee, James, Spencer, Butler, Albright
With Carter on PUP, it frees up Albright's spot on the roster. Lemon and Cummings are potential bubble players as well.
CB: Newman, Jenkins, Scandrick, McCann, Ball, Thomas
Scandrick was given an extension (five years, $27 million) and will be a big part of the team's plans going forward. Butler is the bubble player at corner.
S: Elam, Sensabaugh, Owusu-Ansah, McCray, Church
Akwasi Owusu-Ansah was almost invisible in the preseason and could be released, but his potential helps keep him around for one more season.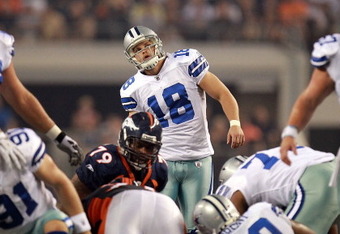 Ronald Martinez/Getty Images
K: Buehler, Bailey
Buehler for kickoffs, Bailey for field goals.
P: McBriar
One of the best punters in the league. Still.
LS: Ladouceur
PUP/IR - Bennett, Forbath, Carter, Radway
PUP means that the Cowboy's have six weeks to activate or place a player on injured reserve. To bring a player off PUP would mean another player has to be released.
There are a few bubble players that I can see making the team or missing the team, but overall the roster should look similar to this.
If you feel that some players are more deserving of others, let me know in the comments section.